** Darla Travels is reader-supported.
When you buy through our links, we may earn a commission at no cost to you. **
Part 2, Auckland and Paihia
Have you wondered about the best way to get around New Zealand? In Part 1 of this review, I explained why two Generation X tourists chose to take a North Island bus tour with Stray Travel. I covered New Zealand tours in general, how Stray works, Stray's recommended accommodations, and my rationale for choosing a backpacker bus tour on New Zealand's North Island.
This GenX couple wanted the convenience and value of hop-on-hop-off travel but also wanted to stay in private rooms with ensuite bathrooms. In this Part 2 of the New Zealand North Island bus tour review, I'll report on our trip to two of the four cities we visited: Paihia and Auckland.
In Part 3 of this review, I'll describe the remainder of our trip to Hahei and Rotorua, as well as our return back to Auckland.
Read on to find out how we got started our North Island bus tour. I'll note where we stayed without sleeping in hostel dorm beds and highlights of what we did.
Getting started in Auckland
As mentioned in Part 1, we chose the 8+ day Jerry Pass from Stray Travel to get around the North Island, starting and ending in Auckland. North of Auckland, we stopped at Paihia, then continued south to Hahei and Rotorua. Stray has discontinued the Jerry Pass, but they have kept all of these cities as part of their routes. If you want to visit all four, you now have to buy two separate passes. If you don't want to do that, you'll find several other destinations on Stray.
Stray buses leave from downtown Auckland early in the morning, which means you need a place to stay nearby the night before. Stray makes this easy to do with their "arrival packages." Arrival packages include transportation from Auckland Airport to downtown and two nights accommodation in a shared dorm room at a hostel.
Since we had alternate lodging with friends in the city, we didn't take advantage of an arrival package. If we had had to stay in Auckland, however, I would have chosen the YHA Auckland City in central Auckland, which I'll explain in more detail below.
Getting on the Road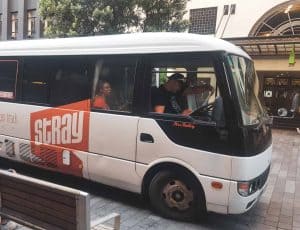 When we arrived outside the Stray office on Queen Street in downtown Auckland to start our trip, a small 23-seat bus with the orange Stray logo and a trailer for luggage was waiting for us. Our driver, Waka (like the canoe), appeared and got us organized and checked in. At 7:30 in the morning, the seven solo travelers, six of them women, and us, the GenX couple, departed on time. After a few stops in the city to pick up passengers, we got properly on our way. We were definitely the oldest people on the bus!
Warkworth and Whangarei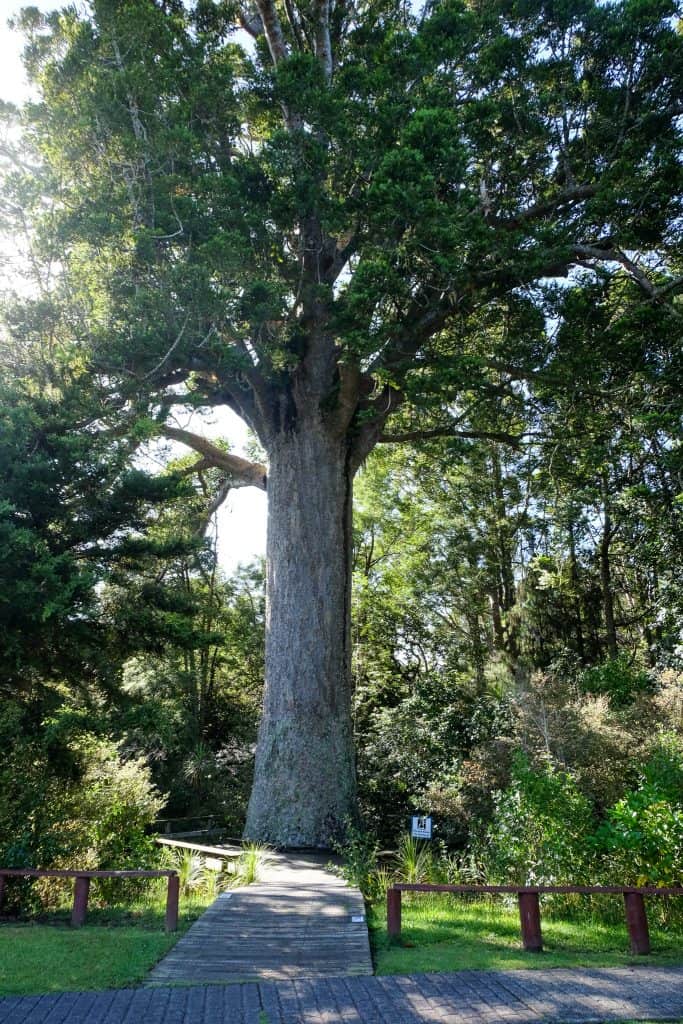 Waka gave us an introduction and information on the weather, the drive, and the route. Our first destination after leaving Auckland was Paihia, north in the Bay of Islands. Just outside of Auckland, however, we made an unscheduled stop at the Parry Kauri Park near Warkworth for about 20 minutes. We had just enough time to get a few photos of the 800+-year old McKinney Kauri tree and take a quick walk through the surrounding forest. Kauri is the national tree of New Zealand, and the McKinney Kauri is believed to be the most massive kauri tree on New Zealand's east coast. Dieback, a fungal disease, threatens the survival of the species, so we had to take precautions to clean our shoes after exiting the forest.
Already, I was impressed with Stray and the dedication of our driver, Waka, to making sure we had a good experience. It would have been easy to drive by this attraction, and I was glad to have a local point it out.
At about ten AM, we made a scheduled stop at the Whangarei i-SITE for a restroom break. i-SITES are visitor centers found all over New Zealand. This i-SITE had particularly good coffee, which we had plenty of time to enjoy. Although not an overnight destination, Stray passengers can hop off and on in Whangarei, and we picked up one new passenger here.
Back on the road, we had stunning views of green grass meadows, farms with an abundance of sheep and cows, and rolling hills as we headed north. It was good to be relaxing on the Stray bus and not worrying about driving, gas prices, or parking.
Paihia Lodging
We arrived in Paihia in the early afternoon. The Stray bus dropped us off at the Pipi Patch bar, adjacent to the recommended Base hostel on Kings Road. Kings Road and the surrounding area have several hostels and reasonably priced hotels.
The Base hostel chain has a reputation as somewhat of a place to party. We didn't need a party and also didn't want to be kept awake by the partying of others. Instead, we made our way to the Averill Court Motel, which was one block, and a 5-minute walk away. On Seaview Road, it was one of several options for places to stay. As I mentioned in Part 1 of this review, we used booking.com to reserve all of our rooms on this trip because we wanted to ensure that we got a private room with an ensuite bathroom close to the Stray dropoff and pickup points.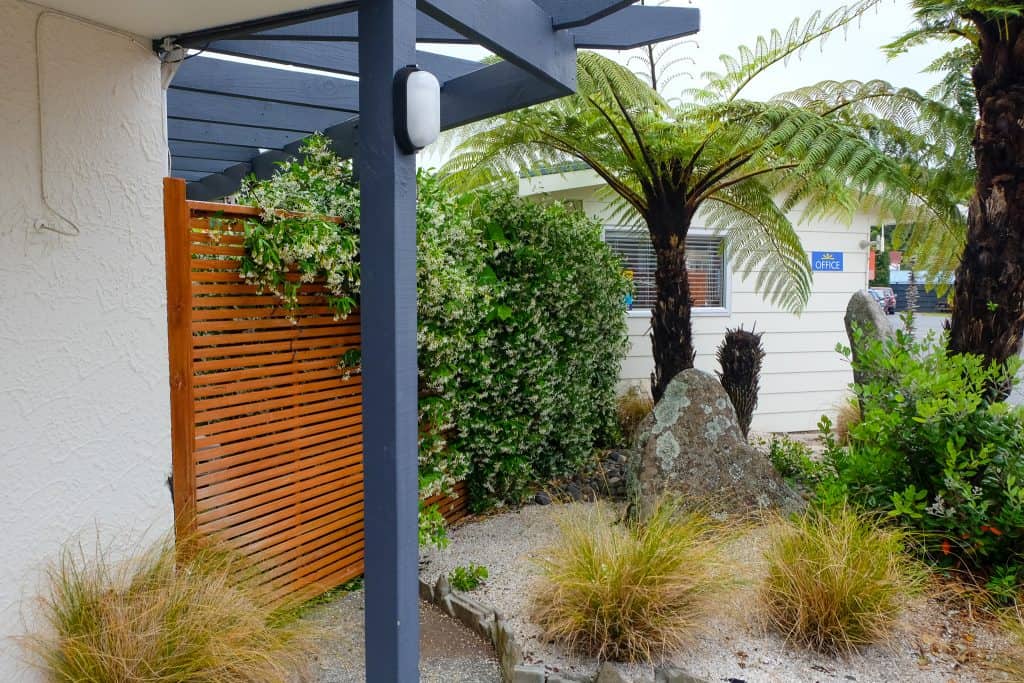 Our superior suite at the Averill Court Motel was NZ252 ($164) for two nights. Check-in and check-out were efficient, and the staff was kind and helpful. Our room was not air-conditioned, but it turned out that the weather was so mild we didn't need it. The room was large and included a bathroom with a shower, a kitchen, two beds, a table for four, and two comfy faux leather chairs. The grounds were nice and neat, with colorful landscaping, a pool, and a barbeque grill.
Activities around Paihia
We planned to be in Paihia for two nights, departing on the afternoon of the third day. We planned to explore the area on foot. Neither rideshare services nor taxis were available in Paihia, so walking was the best way to see the city anyway. Most of the commercial activities in town were near the Paihia Wharf, which was about a 10-minute walk from our hotel.
Food and Drink
Paihia has several dining options ranging from ultra-casual to elegant.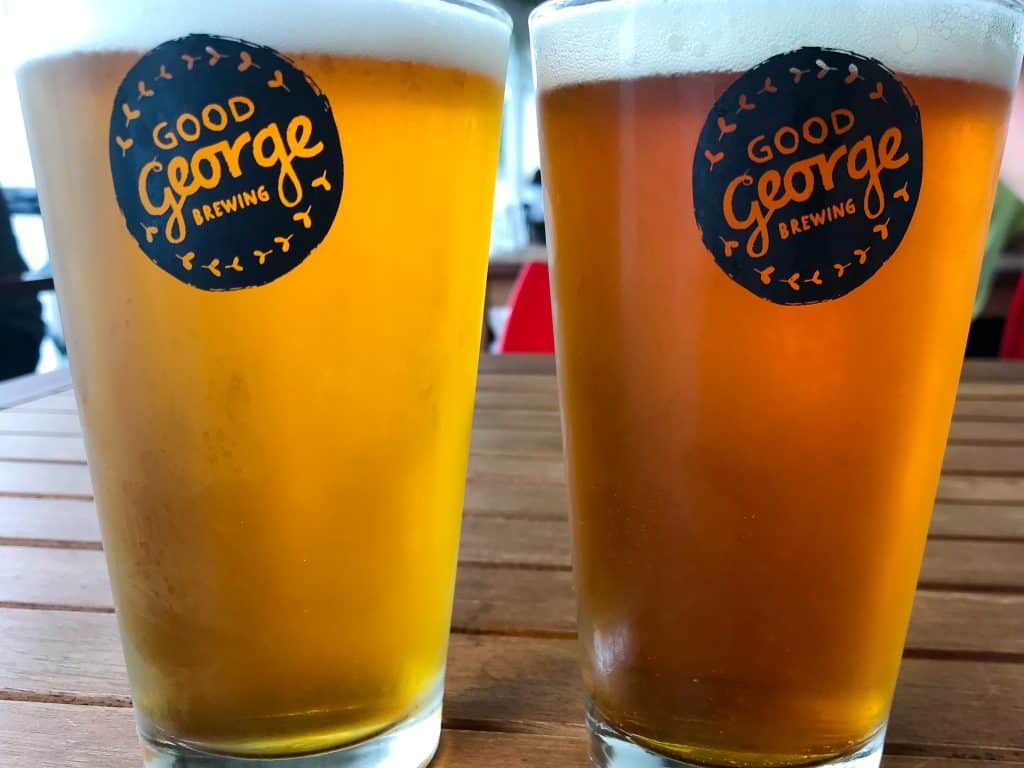 For those wanting to cook themselves, Paihia has two well-stocked grocery stores.
Get your morning coffee at El Cafe on Kings Road.
Enjoy a meal or drinks at one of the restaurants at the Paihia Wharf. The views of the bay never get old.
A small shopping area almost directly across from the Paihia Wharf has many cheap, casual restaurants. We had gyros at Kebabulous and sausages with a variety of condiments at Fritz's Wieners.
For a more upscale dinner, try one of the restaurants on Marsden Road, such as Alfresco's.
Along Marsden Road
In town, there are a surprising number of things to see walking along the main thoroughfare, Marsden Road. The beach is the obvious highlight. From the sidewalk, it's just a few short steps to the sand. There is beach access both south and north of the Paihia Wharf as you walk through town.
Just south of the Wharf is Maiki Hill. A short walk up the hill (less than 5 minutes) provides a sweeping view of the city and the bay.
At the base of Maiki Hill, you'll find the Paihia West Toilets. They were refurbished in 2012 rather artistically and are the nicest in town. (As a side note, Paihia has the most public restrooms per capita I've ever seen).
St. Paul's Anglican Church is also on Marsden Road a short distance further from the Paihia Wharf. Designated as a New Zealand National Historic Place, it was built in 1925 from blue stone with brick ornaments.
Nearby, a nearly 140-year old Norfolk pine tree, planted by missionary Elizabeth Fairburn Colenso, towers over almost everything else.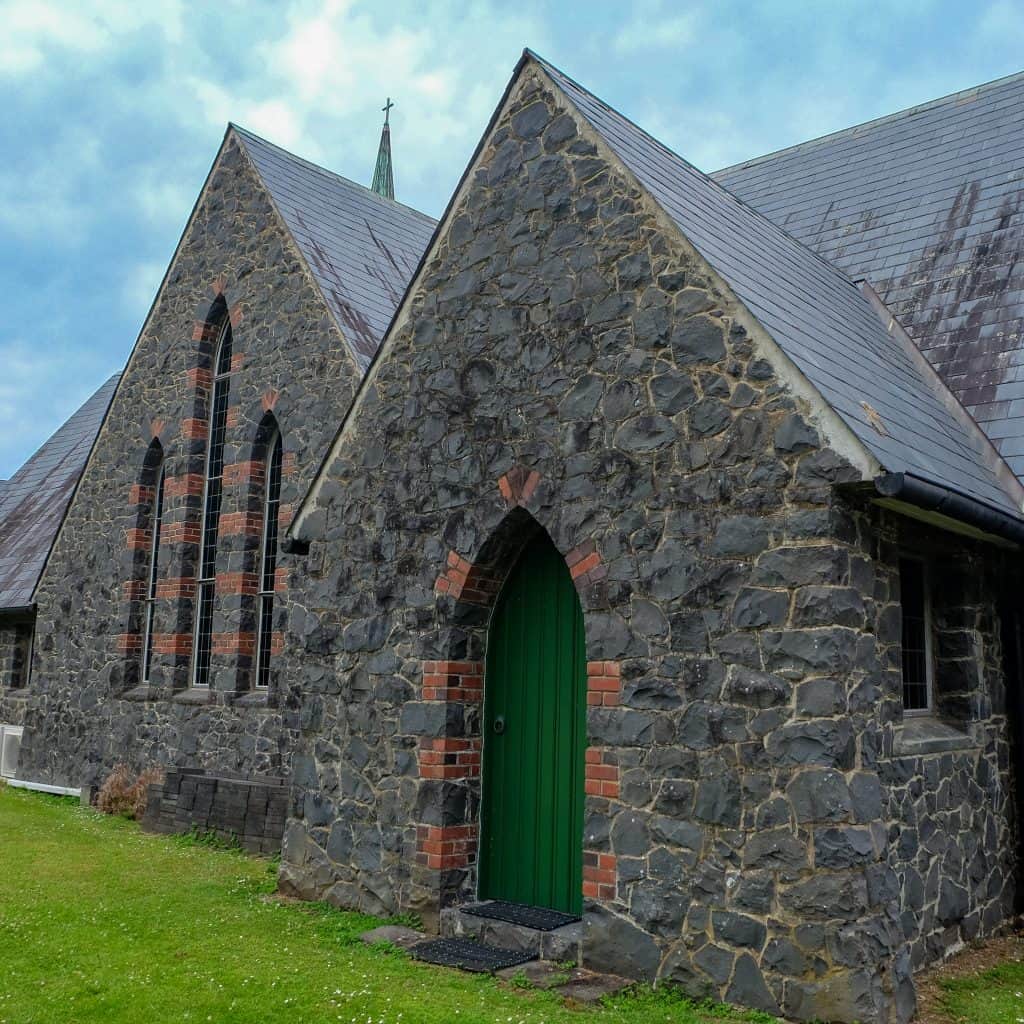 Walking north (technically northwest) of the Wharf, you'll pass a Maori Meeting House built in 1964. This is adjacent to the Waitangi Treaty Grounds, which we, unfortunately, did not have time to visit. The treaty, signed February 6, 1840, is considered New Zealand's founding document so this is a historically important area. A bit further north, cross the bridge and turn right. Here, the Waitangi Wharf offers a different view of the water and the town.
Hiking
Walk up School Road from its intersection with Marsden Road. In about 10 minutes, you'll reach a trail (called a track in New Zealand) for the Paihia Lookout that takes you through the lush forest.
Russell
Another fun thing to do is to take the ferry to Russell, New Zealand's first capital. You can buy ferry tickets (NZD13) at the Bay of Islands i-Site at the Paihia Wharf. The ferry leaves every 30 minutes and takes about 15 minutes to get to Russell.
Russell is charming and has more than enough activities to keep you occupied for an afternoon. It's not large, and it's very easy to walk around. The Strand is picturesque, lined with quaint restaurants and shops. The Russell museum provides a history of the area and development of the town. Without even going inside, you can see Maori carvings and a historic crane.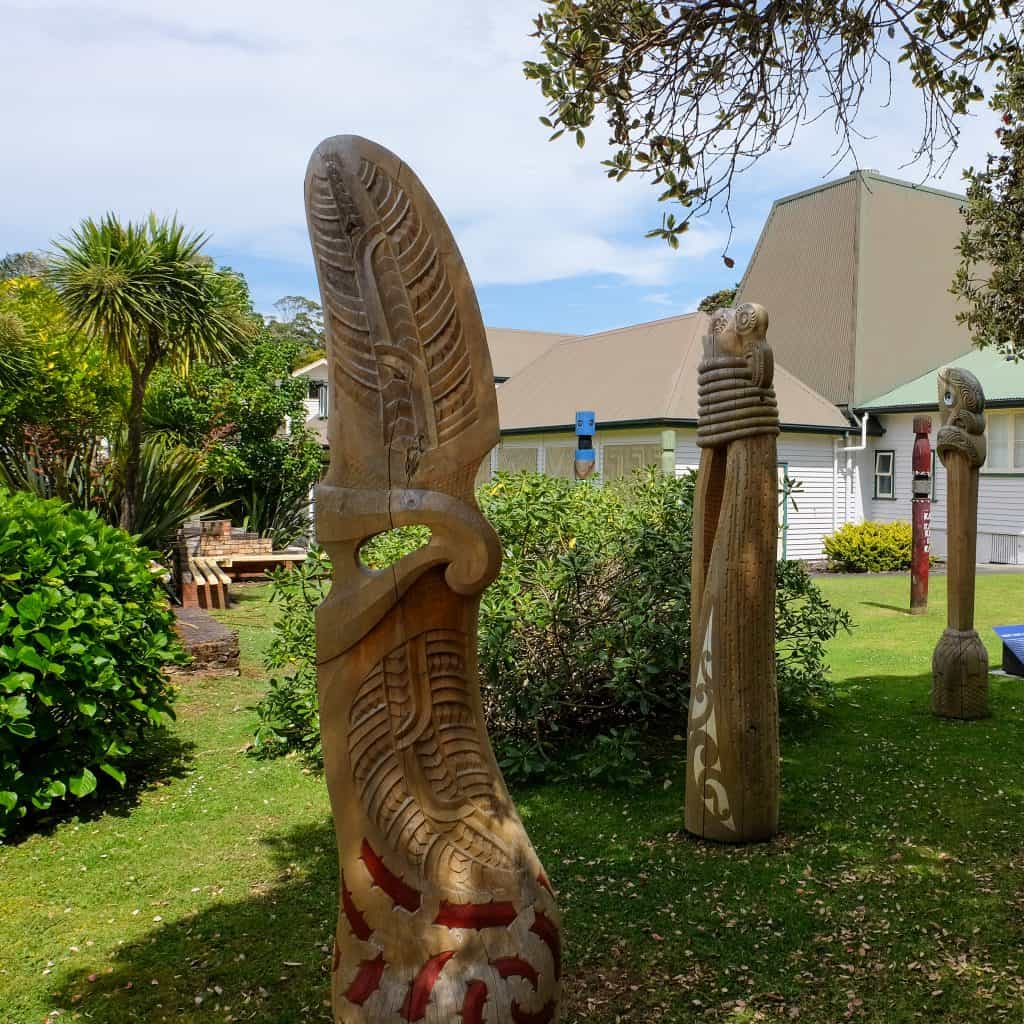 If you've got time, there are several hiking trails around Russell, but just walking through the streets is also enlightening. There are many historical markers like Medic Legends WW1 Monument and a cannon originally brought to Russell in 1840. Before catching the ferry back to Paihia, stop at the Duke of Marlborough Tavern on York Street for a bite to eat with a local beer. (Don't confuse this causal restaurant with the Duke of Marlborough Hotel on the Strand.)
More to do
We barely made a dent in things to do in and around Paihia during our short visit. These include various cruises and water-based sightseeing activities, touring the Waitangi treaty grounds, skydiving, helicopter tours, and taking a day trip to the northernmost point in New Zealand, Cape Reinga.
The bus tour from Paihia to Auckland
Only 11 passengers were on our return bus to Auckland. Again, we were on a small bus with Waka as our driver. I could certainly understand why some of our passengers hopped off and decided to stay for some extra time in this beautiful area. We kept to our original plan and departed Paihia on time at 2 PM to return to Auckland, where we would stay for the night before moving on to our next destination, Hahei.
Our scheduled arrival time in Auckland was 6 PM. We did not get dropped off until 6:40 PM due to the extremely congested traffic on the highway outside of the city. This traffic became near gridlock in the city center. This situation was the worst part of our entire North Island bus tour, by far. Fortunately, it was the only traffic jam we encountered on the whole trip.
Lodging in Auckland
On our return to Auckland, we chose to stay at the YHA Auckland City, recommended by Stray. YHA is a hostel chain with a reputation for being family-friendly. There is another YHA in Auckland, YHA Auckland International, which is also a dropoff point for Stray.
YHA Auckland City was an excellent choice for a couple of reasons. First, we had an early departure scheduled for the next morning. After our late arrival, it was good to know that my bed was only one block away from the pickup point.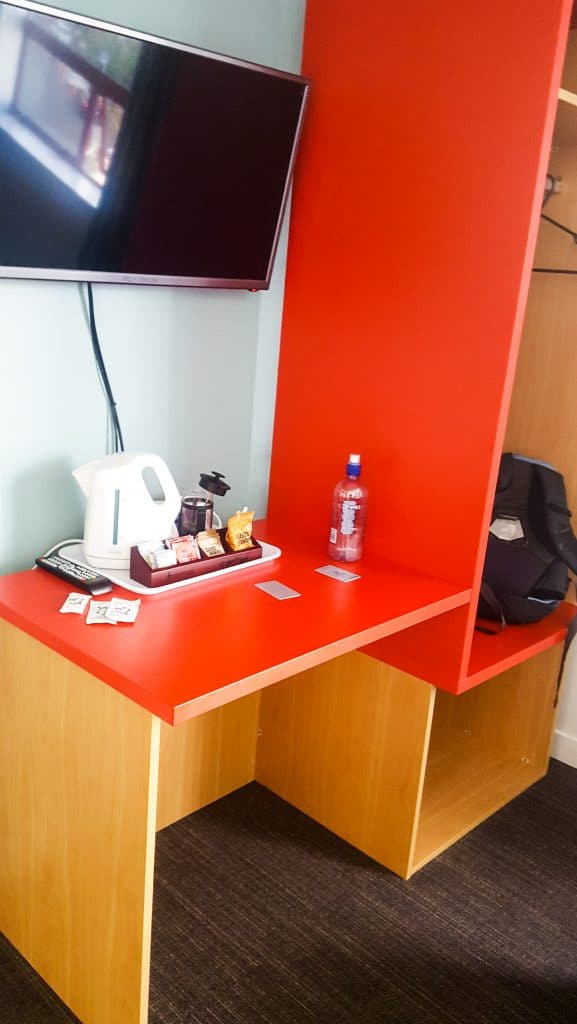 A second reason YHA Auckland City was a superb option was the great value. Our pre-booked room at the YHA Auckland City was a queen for NZD 125 ($82), quite a bargain. Other budget hotels in downtown Auckland were pricier, but I wondered what they offer for the extra amount. Reserving the room in advance was the right call for this location, as they had sold out for the night. This recently remodeled room was spacious, clean, and simply decorated, with adequate storage. In a corner on the fifth floor, windows in the bedroom and the bathroom would have provided ample ventilation, if needed, since there was no air-conditioning.
Check-in was efficient, despite the long line, and the staff was helpful.
The room included coffee, a french press, called a coffee plunger in New Zealand, with a kettle for boiling water. This was a perfect setup for the next morning. The headboard of the bed included USB charging ports and reading lamps. I didn't expect such a nice touch in budget accommodation.
After comparing notes with other passengers that stayed elsewhere, we were even more pleased with our choice of the YHA Auckland City.
An evening in Auckland
With our late arrival and early departure the next morning, we didn't have too much time or motivation to go out on the town, but we were hungry. Many of our fellow passengers, being younger and on stricter budgets, prepared their dinners in the hostel kitchen. Not so for the GenX travelers. We headed out to Queen Street, one steep block away, to get our evening meal. Multiple restaurants were open. Most were Asian cuisine, but we spied a French restaurant, Le garde-manger, that looked cozy and inviting. The hostess seated us after only a short wait.
Like any good French restaurant, there was no rush with service. We relaxed and sipped on chardonnay from the Loire Valley as we listened to conversations in French coming from the kitchen. The meal itself was flavorful and authentic. The escargot appetizer, as good as any I've had in France, was prepared expertly. Our entrees were equally classic. I enjoyed duck confit while my partner tucked into beef bourguignon. Both were delicious. We didn't travel to New Zealand for French food, but we were happy to have stumbled upon Le garde-manger.
After this indulgent meal, we returned to the YHA Auckland City to rest up before our early departure the next morning.
Our New Zealand North Island bus tour continued to our final two stops, Hahei and Rotorua. To find out what we did in these cities, read Part 3 of this review.