** Darla Travels is reader-supported.
When you buy through our links, we may earn a commission at no cost to you. **
Part 3: Hahei, Rotorua and the return to Auckland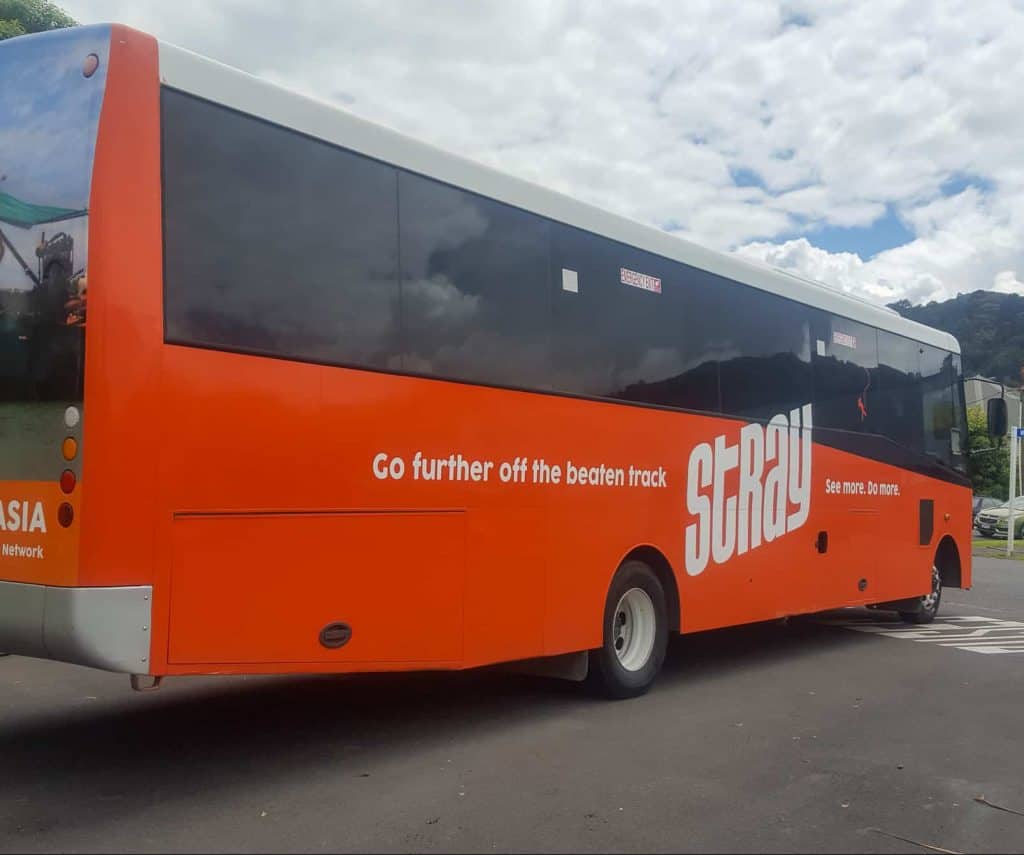 In this post, I'll describe the trip to the final two cities we visited on the North Island of New Zealand by bus, Hahei, and Rotorua. I'll also cover the return to Auckland.
If you're wondering why two Generation X tourists chose to get around New Zealand by bus with Stray Travel, take a look at Part 1 of this review. There, I covered New Zealand bus tours in general, how Stray works, Stray's recommended accommodations, and the rationale for taking a "backpacker" bus tour.
In Part 2, I dove into the first part of our trip, leaving from Auckland and heading north to Paihia in the Bay of Islands, then returning back to Auckland.
In this Part 3, I'll pick up where I left off in Part 2. Having spent the night in Auckland, we were up early to catch the Stray bus to our next destination, Hahei.
On the way to Hahei
As we stood on the corner of Queen Street and City Road in downtown Auckland at 7:30 AM, the Stray bus approached. This morning, we had a much larger and more comfortable bus than the one that took us to Paihia. With at least 44 seats, as well as a new driver, Thor from Sweden, our bus was about half full. We were still among the oldest passengers on the bus. After loading our luggage and some formalities, we got underway to our next destination, Hahei, on the Coromandel peninsula.
Hahei is one of Stray's so-called "Strademark Places," a destination not accessible by public transportation or other hop-on-hop-off tours. For this reason, I was especially interested in visiting this beachside town.
On our way to Hahei, we made a bathroom stop at, well, let's just call it an international fast-food chain with free WiFi. Here, Thor made sure everyone was able to log into the StrayMate app to book their upcoming lodging and activities. At the time of our trip, some of the app features were new, and there were some bugs with credit card numbers and other functions. Thor made sure to ask every person if they had been able to use StrayMate and helped with troubleshooting. Although I expected our Stray drivers to be helpful, this level of care and attention was quite a bonus.
Eventually, all of the issues with the app were taken care of, and we were on our way again. We drove through large areas of farmland, previously swampland, before arriving in the city of Thames for grocery shopping. Thor suggested that we stock up on supplies since Hahei had very little in the way of services. Most of our fellow passengers were going to be cooking meals for themselves while in Hahei, and they took his advice.
After settling back on the bus, we climbed some hilly, windy roads, before descending again, and eventually arriving in Hahei.
Lodging in Hahei
Stray has a partnership with Hahei Holiday Resort, and the guaranteed beds there have been built especially for Stray passengers. These newish cottages contained bunk beds and were otherwise typical of hostel accommodations. The community kitchen was spacious and clean.
Hahei Holiday Resort also has a variety of alternative accommodations, including numerous options for private rooms. This situation was fortunate since, one, there was nowhere else to stay within easy walking distance, and two, it's right next to the beach, where we wanted to be anyway.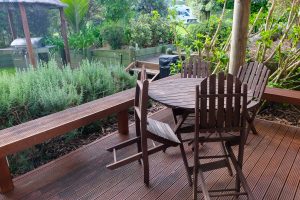 As with all of our other lodging on a trip around New Zealand by bus, we had booked in advance to ensure we had a private room with an ensuite bathroom. Because we wanted to be close to the beach, we splurged a bit and booked a studio with a garden view. The most expensive of all our lodging on this trip, the total for two nights was NZD 378 ($247). The studio had a well-equipped kitchen, a good-sized bathroom, a small table and chairs, and a comfy bed. It was the only air-conditioned room we had on our trip. The studio also had a spacious private deck that included a table and chairs, well-used for an afternoon of reading and relaxation.
Check-in was efficient since the Hahei Holiday Resort is used to dealing with busloads of Stray passengers. Because we didn't stay in the usual Stray lodging, there was a small glitch checking out, but it was not a big deal and was resolved quickly.
Activities in Hahei
Thor wasn't exaggerating when he said that there weren't many stores or services in Hahei. Many shops and cafes were closed, and we assumed this was due to the low numbers of tourists.
We would have tried a burger stand, the Serial Griller, inside the Hahei Holiday Resort, but they had limited hours and were not open when we stopped by.
Food and drink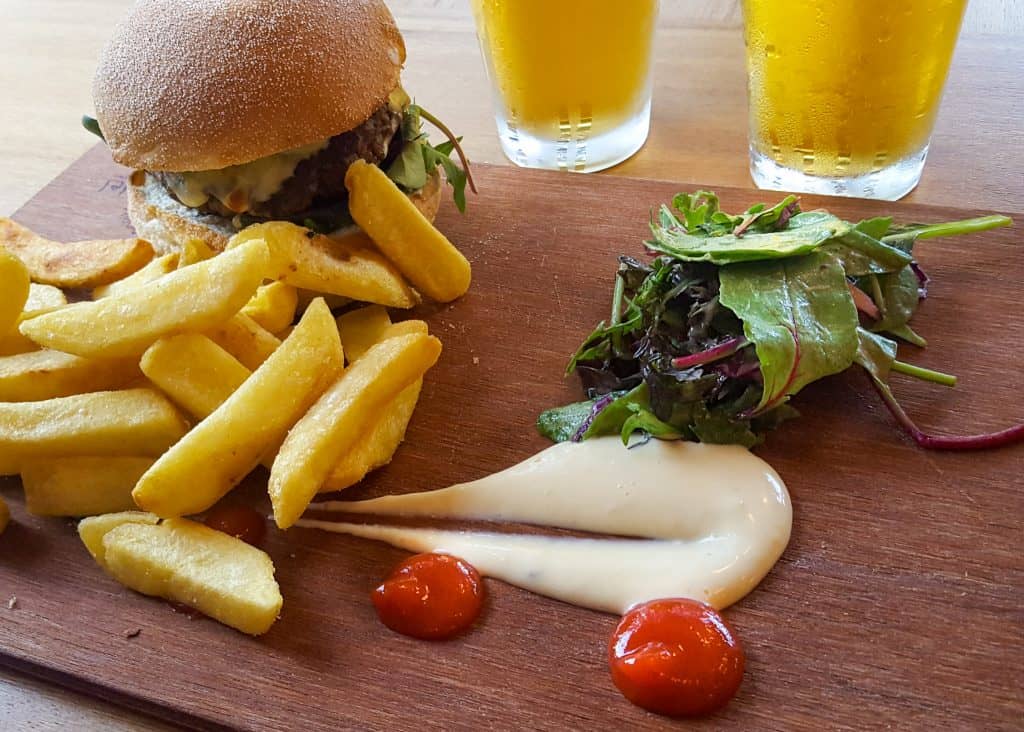 One of the few places to get a meal near the resort, the Pour House Brew Pub, was about a 10-minute walk. This family-owned restaurant serves craft beer and pub favorites such as pizzas, ribs, fish and chips, and burgers. I loved their Black Sea porter.
The main attraction in Hahei is the beach. It was remarkably uncrowded during our visit, and it was fantastic when it wasn't raining. Only about a kilometer long, it was ideal for a reflective walk.
Things to do in Hahei
At the north end of Hahei beach is the start of a hiking trail (or track, as it's called in New Zealand) that will take you to Cathedral Cove in about an hour. Cathedral Cove is a stunning natural rock arch that connects two beaches. Visiting this beautiful attraction was well worth the walk there and back. There are no services and no restrooms at Cathedral Cove, so planning is essential.
Te Pare Historic Reserve is a small natural area at the south end of Hahei beach. There was too much water to access the short, one-kilometer walk uphill when we approached from the shore, but we were able to walk through the town to get there. At the top, there are exceptional views in all directions. It's easy to see why this area was home to defensive settlements for Maori.
A "can't miss" natural wonder near Hahei is Hot Water Beach. The Hot Water Beach is only accessible at low tide, when thermal springs can bubble to the beach surface. The whole Stray group went together in our orange Stray bus on our last evening in Hahei, and Thor timed our visit well. The water on the beach was scaldingly hot and impossible to walk on in places. The main idea, however, is to dig a hole in the sand, constructing a hot tub that will naturally fill with the heated water. It was a constant effort to keep the sand walls intact and find a spot where the water is at just the right temperature. It was also hilariously fun.
To Rotorua by bus
I could have happily stayed in Hahei for a few more days, and if I'd been able to, I might have. It would have been easy to rebook the next leg on a future Stray bus with no problem. On the other hand, it was pretty rainy on the morning of our departure, so we were content to keep to the original schedule.
As we drove off in a downpour, away from the beach and up the hills we had traversed just a few days before, I was once again grateful for Thor's expert driving. We were headed to Rotorua, our final stop before finishing our New Zealand bus tour in Auckland.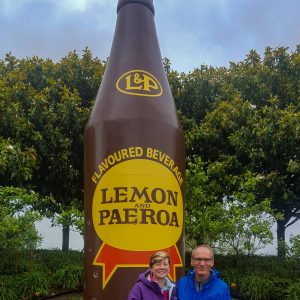 We stopped for a bathroom break in Paeroa, a town at the base of the Coromandel Peninsula. Paeroa is known as the origin of L&P, a soft drink made initially from local carbonated mineral water and lemon juice. We got a tourist picture next to the giant L&P bottle next to Ohinemuri Park.
At the second stop in Matamata, near the Hobbiton Movie Set, we had time for a quick lunch.
Lodging in Rotorua
On arrival in Rotorua, the Stray bus parked right outside the YHA Rotorua hostel, the recommending accommodation. For convenience, we opted to stay here at NZD94 ($62) per night. Again, we reserved a private room with an ensuite bathroom in advance.
It was the most inexpensive of all the rooms we stayed in, and it was also the most bare-bones. While the bathroom was large, the bedroom was pretty small and didn't have much character or storage. Once again, we had a corner room with a window in both the bathroom and bedroom area.
While our private room was plain, I was impressed with the rest of the hostel. The shared bathrooms were clean and well-kept, and the spacious kitchen area was sparking-clean. The hostel also had an emphasis on security, which was reassuring, even though I wasn't traveling alone. I would have no hesitation staying here again if I was on a solo trip.
Activities in Rotorua
Rotorua, next to Lake Rotorua, is known for its geothermal activity. The YHA Rotorua was less than 10 minutes walk to the city's i-SITE (visitor information center).
The Rotorua area is home to many adventure pursuits, such as rafting, bungy-jumping, and ziplining. Tours of the Hobbiton Movie Set in Matamata also leave from Rotorua. Partially because of the weather, we ended up doing none of these things. Still, our stay in Rotorua was quite satisfying, and we kept plenty busy.
Food and drink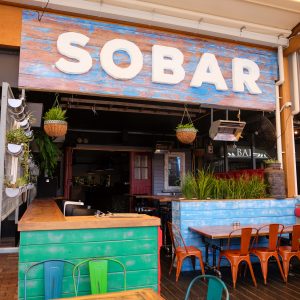 For food and drink, there are a variety of options at Eat Street, a pedestrian area near Lake Rotorua dedicated to restaurants. This area has a retractable roof over the street in case of bad weather. Along this stretch, we had local craft beer and a bite to eat at Brew and Sobar.
The rest of Rotorua also has an abundance of cafes and restaurants. Near the YHA, on the corner of Haupapa and Tutanekai Streets, we enjoyed the "classic Kiwi pub food" as well as local brews offered at the Pig & Whistle.
Around Rotorua
Rotorua proved a charming city for walking, and it was easy to get from one part of the central district to another. The public spaces are nicely kept with flower gardens and sculptures. One of these, Kuirau Park, was right next to the YHA Rotorua. The park, like many places in Rotorua, has geothermal pools for viewing.
Walking along the shore of Lake Rotorua was equally enjoyable. From the end of Eat Street, a park runs along the waterfront. Following the sidewalk to the east, you'll get into a park-like natural area which leads to Hatupatu Scenic Point, at the tip of a small peninsula. In addition to panoramic views of the lake, the birdlife was abundant in this area. Moving along Hatupatu Drive, you'll find another scenic lookout, Sulfur Point. Beyond here, the trail generally follows Hatupatu Drive but does meander a bit. We eventually crossed Hatupatu Drive and made a right turn, ending up in the Government Gardens park. Here, a large Tudor-style building dominates. Formerly a spa, it is now a museum. The remainder of the park has, as the name suggests, beautiful, flower-filled gardens, and numerous artistic and historical sculptures.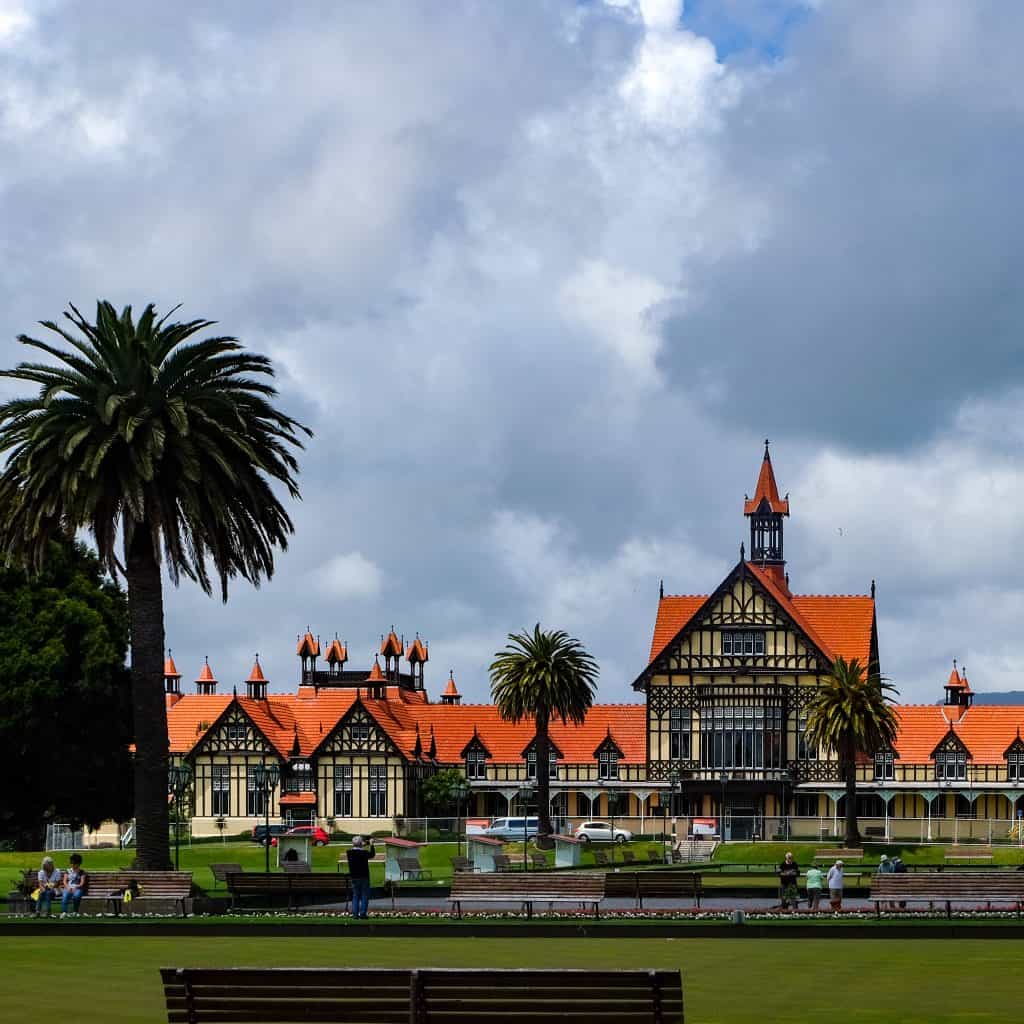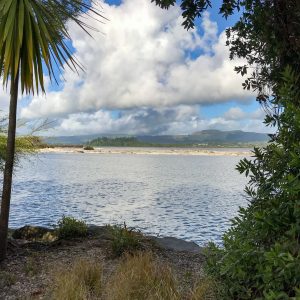 We couldn't leave Rotorua without soaking in some natural hot springs, and for this activity, we chose the Polynesian Spa, about a 15-minute walk from the YHA Rotorua. Several types of passes are available, depending on your budget and the kind of experience you want. We chose a Lake Spa pass. This entry provided access to both alkaline and acidic mineral hot pools, as well as locker rooms and thermal loungers. The five outdoor pools ranged in temperature from 36-41°C (about 97-106°F). There was also a cold plunge pool. This outdoor area delivered a splendid view of Lake Rotorua.
Returning to Auckland
After two nights in Rotorua, we were due to return to Auckland. The Stray bus we were on was headed further south, as were most of our fellow passengers. To return to Auckland, Stray arranged a ticket on an InterCity bus. You might recall from Part 1 of this review that InterCity has an extensive bus network, with a straightforward way to organize your travel by bus.
This InterCity bus was large, comfortable, and full. In contrast to the younger crowd on Stray, many of the passengers were older than us. There were also a few families with young children. While the ride was smooth and efficient, it was just a bunch of people going from point A to point B, not a group setting out for a shared experience. Our driver was competent and friendly enough, but he only made announcements about stops and departure times.
While very different from Stray, I appreciated the efficient and professional service from InterCity. On my next visit, I'll look into both Stray and InterCity when planning my route around New Zealand by bus.
New Zealand by bus – Conclusions
The idea of exploring New Zealand by bus looked appealing after determining that most tours didn't meet my needs, and renting a car had too many disadvantages. Stray passes provided the right amount of structure for planning purposes, with the flexibility to allow personalization of the trip. It was also economical.
Stray caters to younger travelers, but that doesn't mean that GenXers won't get a lot out of a trip with the hop-on-hop-off tour provider. Stray provided the basics we needed to plan our trip, namely, a flexible itinerary with a route to appealing cities and towns. We didn't take advantage of Stray's guaranteed lodging in the form of a hostel dorm bed at each stop, as most of our fellow passengers. Since we wanted to stay in a private room with an ensuite bathroom, I looked for alternate places to sleep. It was easy to find clean, comfortable, and affordable options in all of our destinations near or at Stray's recommended properties.
All of the cities we visited had good options for dining out, ranging from casual and cheap to more upscale.
Our destinations were walkable, and we didn't need a car. Whether beaches, museums, trails, or hot springs, there were plenty of things to explore. In actuality, there were far more activities and attractions available than time.
Both Stray and InterCity are viable options for touring New Zealand by bus. Stray is a more inclusive experience, while InterCity is an efficient option with few bells and whistles.
I'm still not a bus tour lover, but under the right circumstances, I'd consider it again. If you're like me and look for value in your travel plans, exploring New Zealand by bus is something you should contemplate. No matter what your age.