** Darla Travels is reader-supported.
When you buy through our links, we may earn a commission at no cost to you. **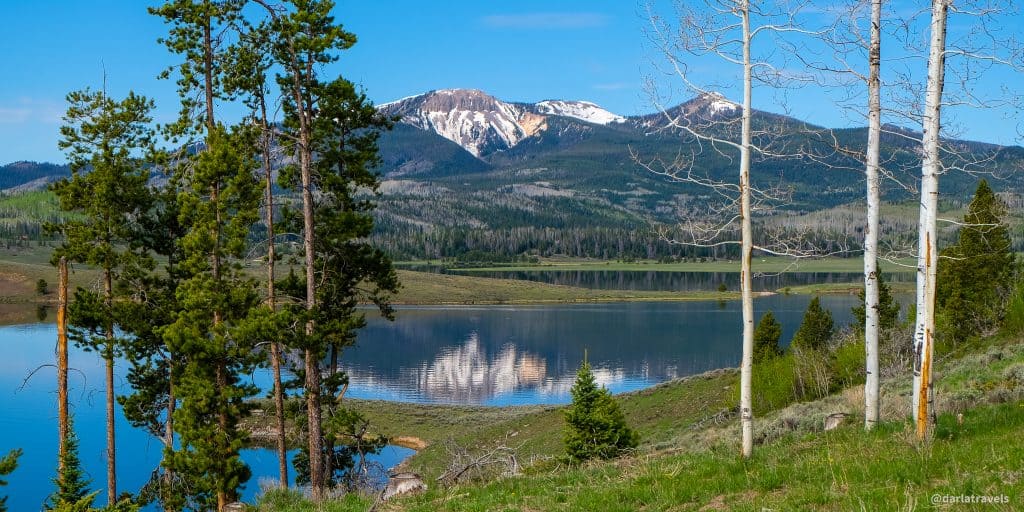 Hiking in Steamboat Lake State Park delivers jaw-dropping views of Steamboat Lake and mountain peaks in all directions. Walking in this picturesque park doesn't require massive climbs or anything technical, just an appreciation for natural beauty and the serenity of the valley. Keep reading for more about hiking Steamboat Lake State Park.
About Steamboat Lake State Park
In Clark, Colorado in Routt County, Steamboat Lake State Park features a 1,055 surface acre (427 ha) body of water that covers a former cattle ranch. At an elevation of 8,100 feet, this valley surrounded by mountain peaks is a glorious example of Colorado's natural beauty.
John Fetcher owned this land as part of his ranch and sold it in 1967 for the express purpose of creating a recreational lake. Soon after, construction of an embankment dam across Willow Creek started. The 95-foot-high dam, completed in 1968, holds back water from multiple streams in the Hahns Peak Basin to form Steamboat Lake, originally named the Willow Creek Reservoir.
Officially designated a state park in 1972, it's one of Colorado's 43 state parks managed by Colorado Parks and Wildlife (CPW). In addition to recreation, the reservoir's stored water is also a backup water source for the Hayden Station power plant.
More than just another mountain stop, Steamboat Lake is a jumping-off point for multiple outdoor activities year-round. This post, naturally, will focus on hiking in the park.
Hiking in Steamboat Lake State Park
There are less than six miles (9.6 km) of trails within the park. With water activities dominating in the summer months, and winter sports taking over in the snow season, hiking trails appear to be low on the park's priority list. Still, there is more than enough to enjoy on a day trip, as I'll explain below.
Tombstone Nature Trail
I'll start with a short loop trail, the Tombstone Nature Trail. At 1.1 miles (1.8 km), it won't take long to complete, unless you slow down to take in the mountains, lake, and historical markers. The trail starts at the end of the Visitor Center parking lot and climbs uphill into tall evergreen trees and aspen groves. Around the top, the trail's high vantage point enhances views of the lake and the surrounding mountains.
One must-see is a memorial stone near the top of the hill. This marker contains a short description of the first homesteaders on what is now park land. The settlers, James and Rose Wheeler, arrived in 1921 with their three children. The Wheelers had several more children during their homesteading years. Unfortunately, they buried two who died at birth at this spot. Reading the monument, I have to admit that I found this story a bit jarring. But I could also see why this beautiful scene was selected as a gravesite. Headstones for three other Wheeler family members are also here.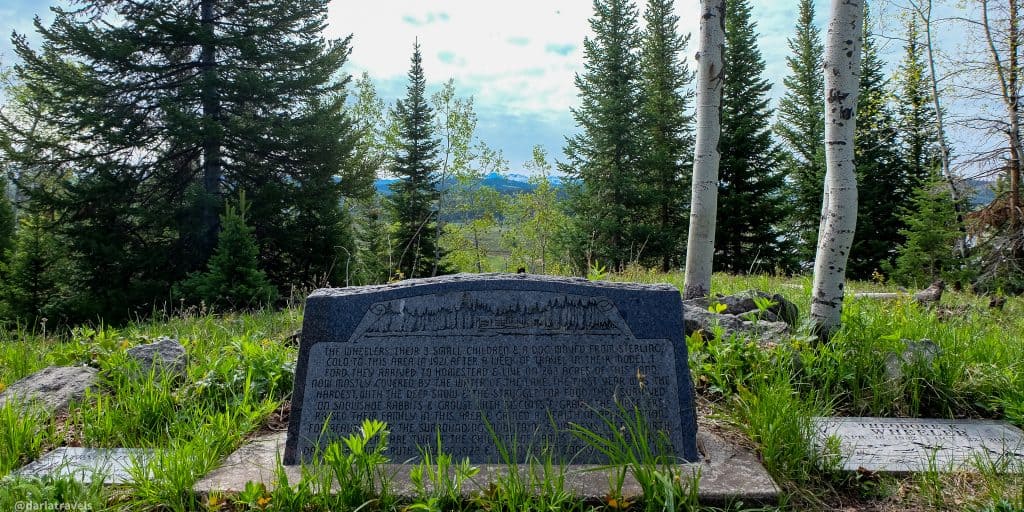 For more Wheeler family history, visit the Hahns Peak Museum across County Road 129 from the park.
Willow Creek Trail
The main trail in the park is the Willow Creek Trail at 3.8 miles (6.1 km). It connects the Sage Flats day-use area to the Visitor Center, moves through a meadow parallel to County Road 129, and finally follows the lakeshore through campgrounds to the marina and swim beach.
Other Colorado state parks have trails that form completely loop around reservoirs and include walking on dams, for example, Chatfield State Park and Cherry Creek State Park. In contrast, the Willow Creek Trail only partially circles the lake, and the hike does not include the dam. Nevertheless, this trail still offers a lot, as I learned on an early summer day.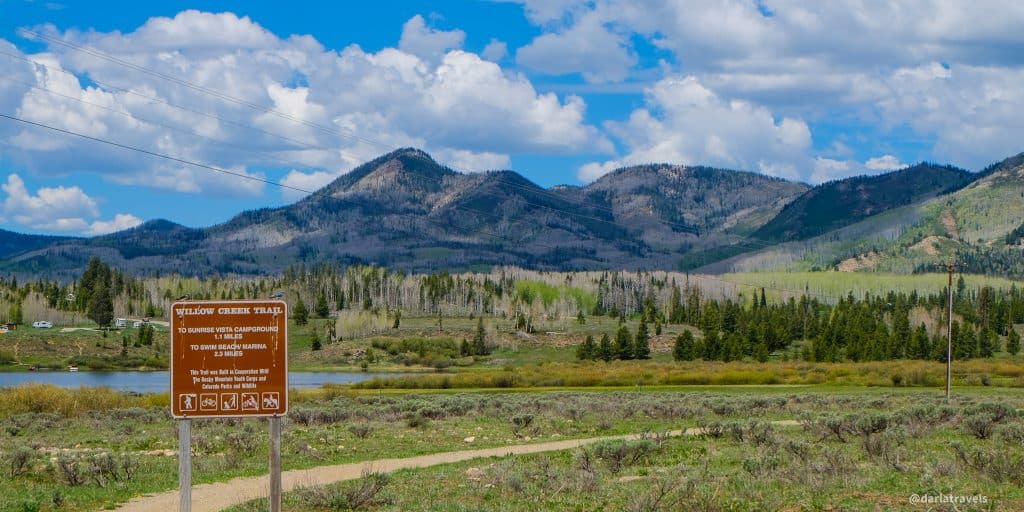 This unshaded trail warmed up quickly as the sun rose. With scant trees, there were excellent views in all directions. The mountains peaks visible from the park are part of the Elkhead Range. These peaks formed by volcanic activity include Sand Mountain to the southwest, Diamond Peak to the west, Farwell Mountain off to the east, and the iconic, cone-shaped Hahns Peak, an extinct volcano, to the north and slightly east.
On the trail and convinced I was in a spot with the absolute best views in the park, I stopped for a minute to appreciate the view. Then, a few steps later, I thought, "No, no, now this is the best view!" And on and on it went for most of the trail as the viewing perspective shifted.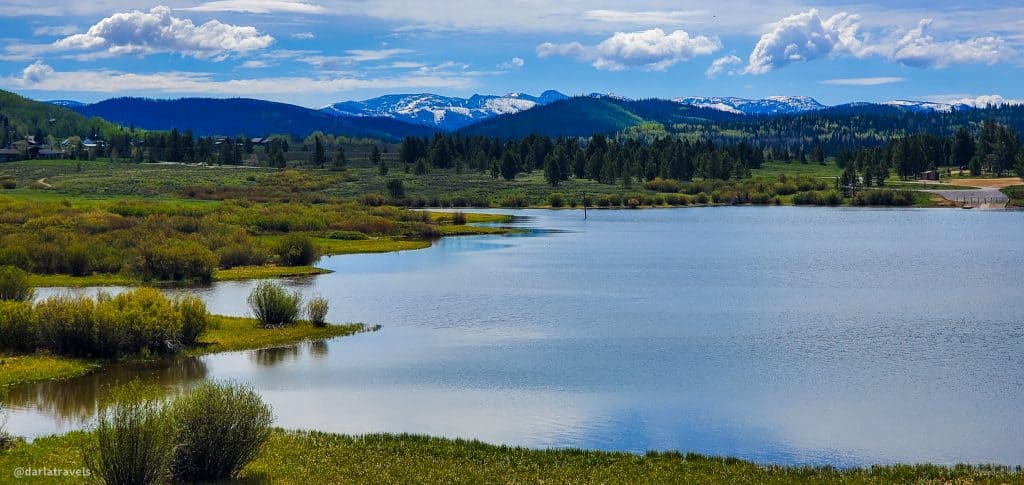 Outside of the mountain views, there was still a lot to see. The grass was green, wildflowers were blooming, and birds (including mountain bluebirds and swallows) were making their presence known. There was even a bear sighting near the trail (by someone other than me)!
While the grassy meadows near the Visitor Center were flat, the path became hilly as it followed the lake shoreline. Closer to the campgrounds, paddleboarders were carrying their boards down to the water. At the trail's end, a few families were taking advantage of the swim beach.
Standing next to the swim beach, I found the views continued to be inspiring. Heading back to the start of the trail was another opportunity for taking in the vistas and the valleys. American essayist John Burroughs said, "I go to nature to be soothed and healed, and to have my senses put in order." After a morning of hiking around the park, I felt the truth of this statement.⁠
Trail connections from Steamboat Lake State Park
The Routt National Forest surrounds the park, and within are many trails for hiking, mountain biking, and even driving off-highway vehicles.
The Poverty Bar Trail starts within the park and intersects the Willow Creek Trail. It crosses County Road 129 and then heads uphill in a more or less straight line parallel to Hahns Peak Village for 1.1 miles (1.7 km). This trail gets its name from a gold mining site established in the 1860s.
Steamboat Lake State Park Hiking Routes on AllTrails
I marked the park routes on an AllTrails map for convenience.
Don't see the map or want to see the original? Click here to go to the map page on AllTrails.
More about Steamboat Lake State Park
As mentioned above, Steamboat Lake State Park trails tend to take a back seat to lake-based activities, including boating, fishing, jet-skiing, water-skiing, sailboarding, paddleboarding, and swimming. The park's marina provides services for these boaters and fisher(wo)men. The fishing opportunities at Steamboat Lake are exceptional and, for this reason, the lake earned "Gold Medal" status, a designation from the Colorado Parks and Wildlife Commission.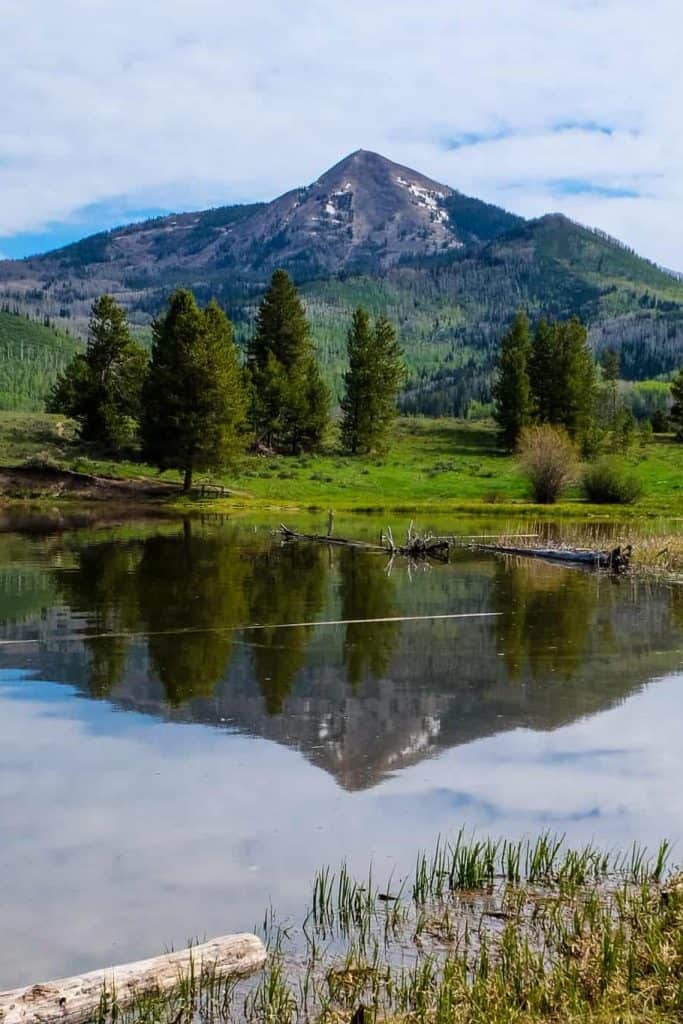 The lake's large no-wake zones are ideal for non-motorized watercraft, and the sandy swim beach near the marina will be welcome on days with a hot summer sun; however, the water temperatures rarely exceed the low 70's F (21 C).
The park's snowshoeing, snowmobiling, and cross-country skiing trails appear in the winter, and the lake is available for ice fishing.
Food and Drink
The park's marina convenience store might have some quick bites, but there are no vendors. Plan on bringing any needed food and drink with you. Besides the supermarkets of Steamboat Springs, groceries and a deli are available at the Clark Store in Clark, Colorado, on Routt County Road 129. I'll recommend taking a picnic to the Meadow Point day-use area. See the map below for recommended picnic sites.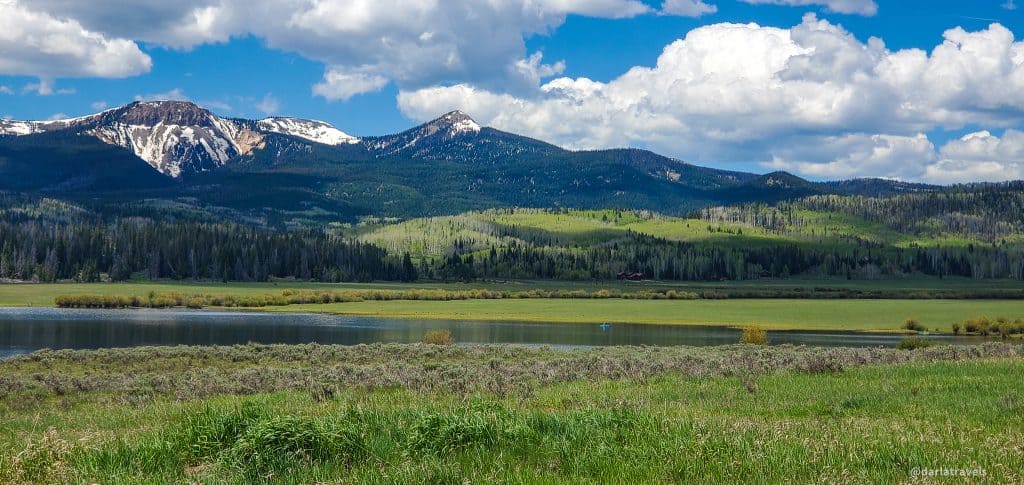 Do you want a sit-down meal but are too hungry to go all the way to Steamboat Springs? Hahns Peak Cafe and Hahn's Peak Roadhouse are just outside the park in Hahns Peak Village. There is also the Glen Eden Restaurant in Clark.
Accommodations
Steamboat Lake State Park has two campgrounds with electric, non-electric, and walk-in tent sites. In addition, the marina parking lot has 14 electrical hookups for winter campers. Campers can access coin-operated showers and laundry facilities at the Camper Services building. Campsite reservations can be made for the summer season up to six months in advance. For online reservations, go to the CPW shop.
Steamboat Lake State Park also has ten 12×12 camper cabins managed by the Steamboat Lake Marina, each with a heater and refrigerator. Bring your own linens for the beds.
For non-campers, Steamboat Springs has multiple hotels and vacation rental options. Closer to the park, look for camping and resorts near Clark, Glen Eden, and Hahns Peak Village. Also, see this list of options from CPW.
Park Fees
Daily Vehicle Pass: $9
Individual Daily Pass: $4
Annual Affixed Pass (one vehicle): $83
Additional affixed pass $40
Family Annual Pass (multiple vehicles): $123
Aspen Leaf Annual Pass (64+) (one vehicle) : $73
Aspen Leaf Multiple Pass (64+) (multiple vehicles): $36
Be aware that there is a park entrance fee (Individual Daily Pass, $4) if entering Steamboat Lake State Park on foot (or bike) unless you can show a receipt from a yearly vehicle pass.
Getting There
Steamboat Lake State Park is a 30-40 minute drive from downtown Steamboat Springs, Colorado. Steamboat Springs is approximately 160 miles (257 km) from Denver. Allow at least 3-3.5 hours to get to Steamboat Springs if driving from Denver. Be aware that the route requires traveling over the Continental Divide as well as Rabbit Ears Pass before reaching the city.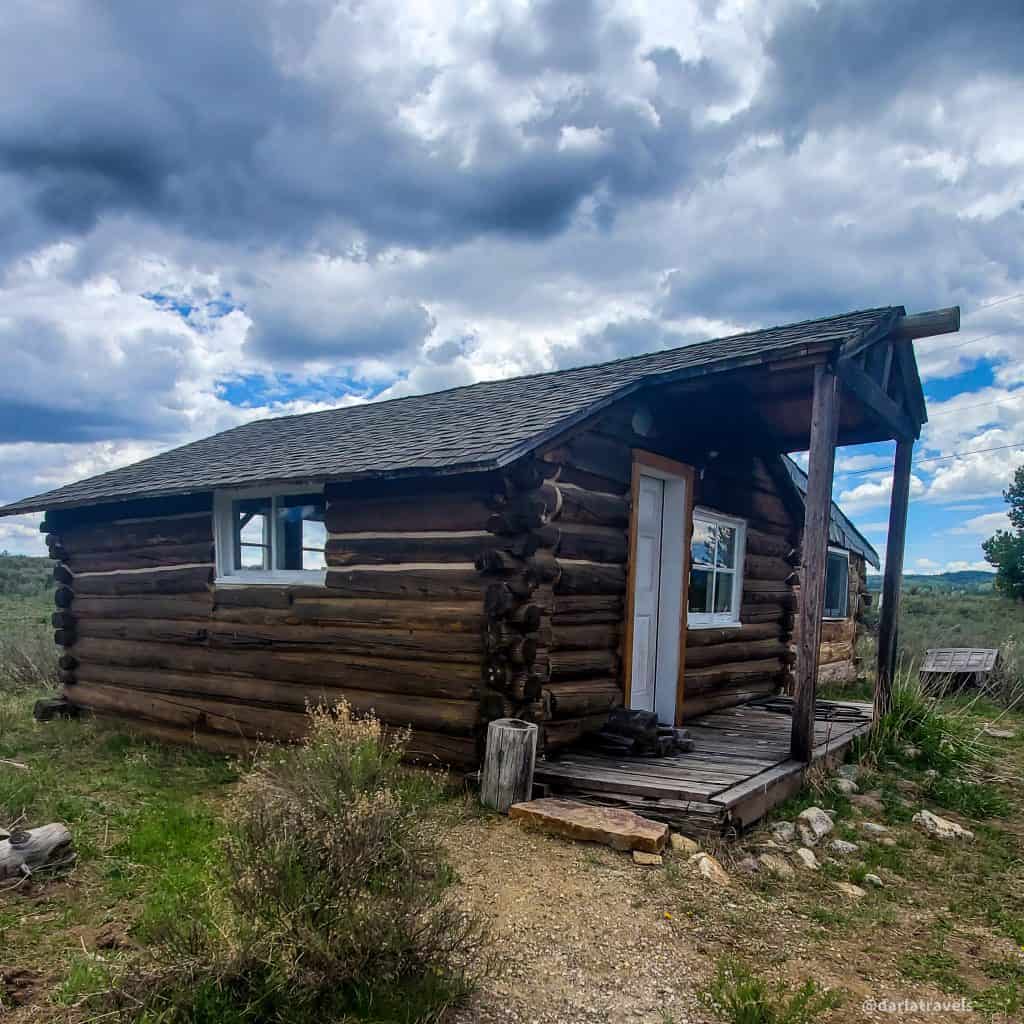 To get to the park Visitor Center coming from Steamboat Springs, take Elk River Road (Co. Rd. 129) to the north. The driveway is just past mile marker 25. On my first visit, I blew past the entrance and later saw others doing the same because it isn't well-marked. The access is about half a mile (0.8 km) past the Sage Flats day-use area and Hahns Peak Village. To get to the campgrounds, marina, and other day-use sites from the Visitor Center, continue on Co. Rd. 129 for about a mile (1.6 km), then turn left on Co. Rd. 62.
The Colorado State Parks Passport
Get your Colorado State Parks Passport stamped at the Steamboat Lake State Park Visitor Center. The free State Parks Passport has a page for each of Colorado's 43 state parks, and every park page has a spot to record a visit with the park's unique symbol. For example, the logo for Steamboat Lake State Park features the state flower of Colorado, the columbine. While in Steamboat Lake State Park, be sure to get the stamp for nearby Pearl Lake State Park as well.
Pin it for later
Steamboat Lake State Park may not have as many trail miles as other state parks, but the mountain backdrops from every spot around the lake make for scenic treks. A walk in this pristine valley is a treat that shouldn't be missed.
Have you been to Steamboat Lake State Park? Leave a comment below!