** Darla Travels is reader-supported.
When you buy through our links, we may earn a commission at no cost to you. **
Hiking in Roxborough State Park can be an enchanting experience. With its incredible geology, several microclimates, and peaceful trails, it's no wonder that almost 200,000 visitors flock to this Colorado gem every year. Whatever your reason for hiking, Roxborough State Park has a route for you. Keep reading to learn how to explore the beauty and history of Roxborough State Park on foot and discover why it should be on your "must-hike" list. 
About Roxborough State Park
Roxborough State Park is a pristine natural area located at the far southwest edge of the Denver metropolitan area.
In addition to being a State Park, it also has the following designations:
National Natural Landmark
State Natural Area
National Archeological Register District
Leave No Trace Gold Standard Site (via Leave No Trace Center for Outdoor Ethics)
Important Bird Area (via The Audubon Society)
In other words, it's an exceptional place.
One thing Roxborough doesn't have is a lake or reservoir, which is a feature of many Colorado State Parks. For water-centered activities, try nearby Chatfield State Park, which has a large reservoir of 4,822 acres (1,951 ha).  
The Roxborough landscape, a transition between the mountains and plains, is biodiverse and a showcase for geologic history, which goes back over 1.2 billion years. The hiking trails pass dramatic red rock formations and traverse lush riparian zones.
10 Reasons to Hike in Roxborough State Park
Once you reach the parking lots, the only way to get around Roxborough is on foot. This includes hiking, but also snowshoeing, and cross-country skiing in the winter. This natural space seems built for trekking and is free of distractions like dogs, horses, bicycles, and boats. But it does have 15 miles (24 km) of scenic and serene hiking trails, plus the hikeable County Road 5 running through the park. Picking a trail to hike will depend on what you want to get out of your Roxborough experience. Use the following 10 reasons as a guide, and remember to hike on designated trails only.  
Reason 1 to Hike in Roxborough State Park: The Fountain Valley
Driving toward Roxborough, you may already be able to see massive walls of red rocks. The park is renowned for these stunning Fountain Formation exemplars around 300-350 million years old. The towering formations resulted from sediment deposition, compaction, uplift during the building of the Rocky Mountains, and subsequent erosion by wind and water.
While Fountain Formation rocks are visible throughout the park, the Fountain Valley Trail loops around the most significant landforms, allowing viewing from all angles.
The family-friendly trail starts from the main trailhead next to the Visitor Center. It's a 2.5 mile (4 km) "lollipop" with a modest elevation gain of about 344 feet (104 m). Allow around 1.5 hours for this hike.
Along the trail, two overlooks provide even more views. The Fountain Valley Overlook is only about 100 yards (91 m) in, and the Lyons Overlook, which is on top of the Lyons Formation (another rock layer visible throughout the park), appears at around one mile (1.6 km).  
Close to the far point of the trail, look for the historic Persse Place stone house. This 1903 structure was restored in 1995-97. Builder Henry S. Persse wanted to build a resort on this land.  The resort never materialized, but Persse did build a house.  Persse was also responsible for the name Roxborough, his homeland in Ireland. Unfortunately, the house is no longer open to visitors and must be admired from a distance.
Reason 2 to Hike in Roxborough State Park: Accessible Trails
Many sources consider the Fountain Valley Trail wheelchair accessible; however, the official park webpage indicates that "ADA accessibility is minimal, though most wheelchairs can maneuver the Fountain Valley Trail with little or no difficulty during good weather conditions." 
Another option is the Rox Ride Program, which takes visitors around the Fountain Valley Loop in a five-passenger electric golf cart. Things to know about the Rox Ride: 
Free with park pass
Reservation is required at least two weeks in advance
Reservations are subject to cancellation by park staff for weather or any other reason.
Reason 3 to Hike in Roxborough State Park:  Climbing to the Top of Carpenter Peak
Hiking to the top of a mountain sounds like an impressive feat, but Roxborough Park makes it doable with a trail to the highest point in the park, Carpenter Peak, at 7,166 feet (2184 m) above sea level.
Give yourself at least 3 hours to take the path to the top and back. On the way, you'll go through gambel oak patches, tall shrubs, meadows, and forest before reaching the peak, where you should plan to spend some time taking in the views.
To get there, take the Willow Creek Trail from the Visitor Center and then move to the Carpenter Peak Trail after about 0.5 miles (0.8 km). The total out-and-back distance is about 6.5 miles (10.5 km) round-trip. The trail climbs most of the way with a total elevation gain of about 1,000 feet (305 m). At the summit, look for downtown Denver far in the distance and the Pike National Forest in the opposite direction. 
Reason 4 to Hike in Roxborough State Park:  The Willow Creek Falls
Hiking to a waterfall is always worthwhile, and Roxborough State Park obliges with Willow Creek Falls at the end of the Bear Canyon Trail. This small waterfall is seasonal, so visit in the spring or after consistent rainfall.  
Take the Willow Creek Trail to the Carpenter Peak Trail from the park's Visitor Center. After crossing the unmarked Douglas County Road 5, the Bear Canyon Trail will be on your left.
This is a reasonably easy trail suitable for families. The round-trip distance is about 2.7 miles (4.3 km) with 91 feet (83 m) of elevation gain. Be aware that at the end of the trail, there are approximately 60 steps that descend to the Falls. 
Note: The Willow Creek Falls are no longer accessible from County Road 5–this trail has been closed.
Reason 5 to Hike in Roxborough State Park: Panoramic Views from the Dakota Ridge Overlook
The Dakota Ridge Overlook is a high point with sweeping views over the park. Getting there is a little work, but the payoff is worth it.
Take the Willow Creek Trail to the Carpenter Peak Trail from the Visitor Center for a short distance until reaching the unmarked Douglas County Road 5. Turn left on County Road 5.
There are opportunities to view historic buildings and more red rock formations along the road. You can also get a peek at estate-like private homes. The road rises gently at first, then more steeply as it approaches a nearly 90-bend, beyond which the uphill continues. Look for the Dakota Ridge Overlook Trail to your right. This 0.3-mile (0.5km) trail ends at the overlook, which is fenced and includes a bench.
The one-way distance to the overlook is about 3.1 miles (5 km) for a round-trip total of 6.2 miles (10 km).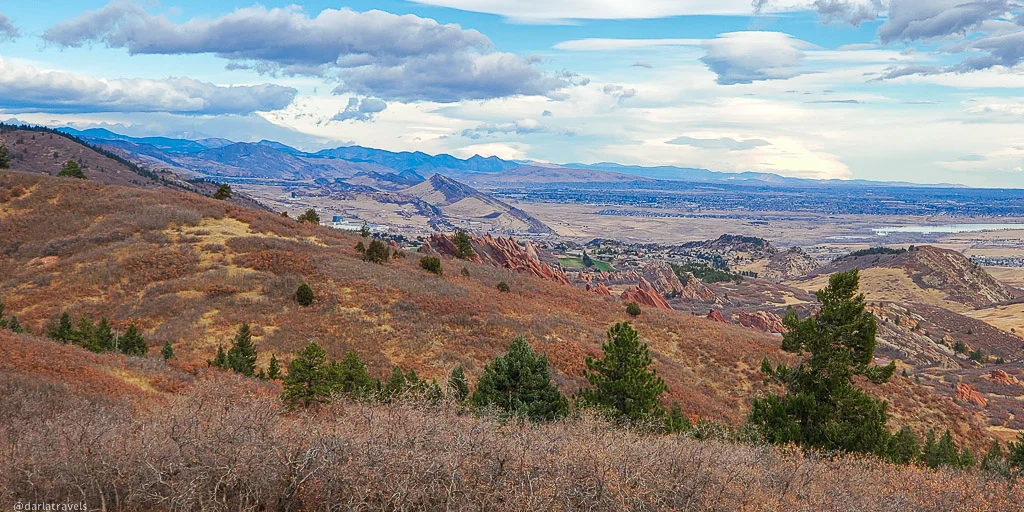 Reason 6 to Hike in Roxborough State Park: Hiking through multiple microclimates
Ecologically, Roxborough State Park transitions between the Rocky Mountains and the Great Plains. This fact and the area's geological structure foster a range of microclimates. As a result, seven distinct plant ecosystems showcase a blend of prairie and mountain species. This abundance makes the park home to wildlife like black bears, mountain lions, and deer.
The Carpenter Peak Trail described above is good for exploring the park's various plant communities. Another option is the Willow Creek Trail, which winds through shrubs like scrub oak and the Willow Creek riparian area. In season, look for wildflowers and watch for different bird species.
This easy-to-moderate trail starts at the Visitor Center Trailhead and officially ends at the lower parking lot, but you can return to the Visitor Center via pavement. Plan on spending about an hour on this 1.5-mile (2.4 km) trail.  
Reason 7 for Hiking in Roxborough State Park:  Views of the Dakota, Lyons, and Fountain Formations
As impressive as the Fountain Formation is, there is much more to see rock-wise. To experience more rock formations and glimpse the geological evolution here, consider the South Rim Trail, which takes hikers up on the Dakota Ridge.
To access the South Rim Trail, take the Willow Creek Trail From the Visitor Center to the Carpenter Peak Trail. Just before reaching Douglas County Road 5, take the South Rim Trail on your left.
During the ascent and as the trail moves in a semicircle shape, trekkers will see how the Fountain Formation rocks, the ridges of the Lyons Formation, and the Dakota Hogback line up across the valley.
Remember that the red Rocks of the Fountain Formation are about 350 million years old. The Lyons Formation sandstone is much lighter in color and is about 250 million years old. Finally, the Dakota hogback is another sandstone layer, around 70 million years old. 
In addition, this route also has exposure to different microclimates, passing through meadows, scrub oak, cottonwood trees, and the Willow Creek riparian area.
At the end of South Rim Trail, continue on the Willow Creek Trail to the end and then through the parking lots to return to the Visitor Center. This loop is an easy to moderate 2.8 miles (4.5 km) and around 500 feet (152 m) in elevation gain. 
Reason 8 to Hike in Roxborough State Park: More Peaceful Hiking Trails
The Carpenter Peak Trail described above is narrow and can be crowded at peak times. If you're up for more effort and distance, you might want to get to Carpenter Peak via the Elk Valley, Powerline, and Carpenter Spur Trails.
The 0.7-mile (1.1 km) Elk Valley Trail branches off of the Carpenter Peak Trail and connects to the more strenuous Powerline Trail (which may also be called Forest Road 800). After hiking 2.4 miles (3.9 km), the short (0.45 mile, 0.7 km) Carpenter Spur Trail reconnects with the Carpenter Peak Trail shortly below the summit.  
Trail Map – Carpenter Peak, including the Carpenter Spur, Powerline, and Elk Valley
show more
Reason 9 to Hike in Roxborough State Park: Archeological significance
The evidence for human activity in Roxborough dates back thousands of years to hunter-gatherer times. The park has over 40 archaeological sites, and over 200 artifacts found in the park and nearby are kept in the Visitor Center.
Collecting artifacts is illegal, so if you find an artifact while hiking, leave it where you found it and report it to the Visitor Center.
Reason 10 for Hiking in Roxborough State Park: Multiple connections to other trails 
Roxborough State Park has connections to multiple trails outside the park.
Note: If you're entering the park on foot from an outside trail, be aware that a $4 Individual Pass is required.
From County Road 5
The Sharptail Trail, accessible from County Road 5 before it turns west, meanders through the park's open space before entering Douglas County's Sharptail Ridge Open Space. The Sharptail Trail is 4.1 miles (6.7 km) one way.  
Please Note: Sharptail Ridge Open Space closes for some time every fall for hunting.
Also from the same spot on County Road 5, the Swallowtail Trail crosses into Douglas County's Nelson Ranch Open Space and includes two loops around distinctive rock formations. The Swallowtail Trail further connects to the Ringtail Trail, a 5.7-mile (9.2 km) trail (one way) that moves through Nelson Ranch Open Space, Pike Hill Open Space, and the Pike National Forest. 
From Carpenter Peak
Near the summit of Carpenter Peak, a wayfinding sign points toward Waterton Canyon and the Colorado Trail. The Waterton Canyon Trailhead is the start of the Colorado Trail, a 486-mile (782 km) trail that ends in Durango, Colorado.  
Finally, the Powerline Trail intersects the Indian Creek Trail (Forest Trail #800) in the Pike National Forest (9.3 miles, 15km).
More about Roxborough State Park
There is only one way in and out of the park for vehicles. There can be a long line to get into the park at peak times, and the parking lots aren't that big, so plan accordingly.
Hiking with Pets
Dogs and other pets are NOT permitted in Roxborough State Park due to the fragility of the ecosystem.  If you'd like to exercise your dog, go to nearby Chatfield State Park, which has an off-leash dog park.  
Anyone that accidentally brings a dog can take advantage of doggie daycare at the nearby A Dog's World pet care facility. 
Other things that aren't allowed are drones, camping, mountain bikes or horses, rock climbing, fires, and marijuana.
Food and Drink
You won't find any food or drink in the park, so bring anything with you that you might need. There is a picnic area outside of the Visitor Center.
Accommodations
There is no camping in Roxborough State Park, so plan to stay in nearby Highlands Ranch, Littleton, or other Denver suburban area, where there are a multitude of hotels.
Park Fees
Daily Vehicle Pass: $10
Annual Affixed Pass (one vehicle): $83
Additional affixed pass
Family Annual Pass (multiple vehicles) : $123
Aspen Leaf Annual Pass (64+) (one vehicle) : $73
Aspen Leaf Multiple Pass (64+) (multiple vehicles): $36
Individual Daily Pass: $4 (For individuals entering the park by foot or bicycle.)
Getting There
Roxborough is about 27 miles (43 km) from central Denver.  Use the park office address of 4751 East Roxborough Drive to navigate.  South of Highway C-470, and Chatfield State Park, take Highway 121 (Wadsworth Blvd.) or Highway 85 (Santa Fe Dr.) and follow your map app directions.  
The Colorado State Parks Passport
Bring your Colorado State Parks Passport passport to the Visitor Center if you collect passport stamps, . The Passport book is a fun way to memorialize your day of hiking in Roxborough State Park.  
Pin it for later
Here are two pins to add to your Pinterest boards.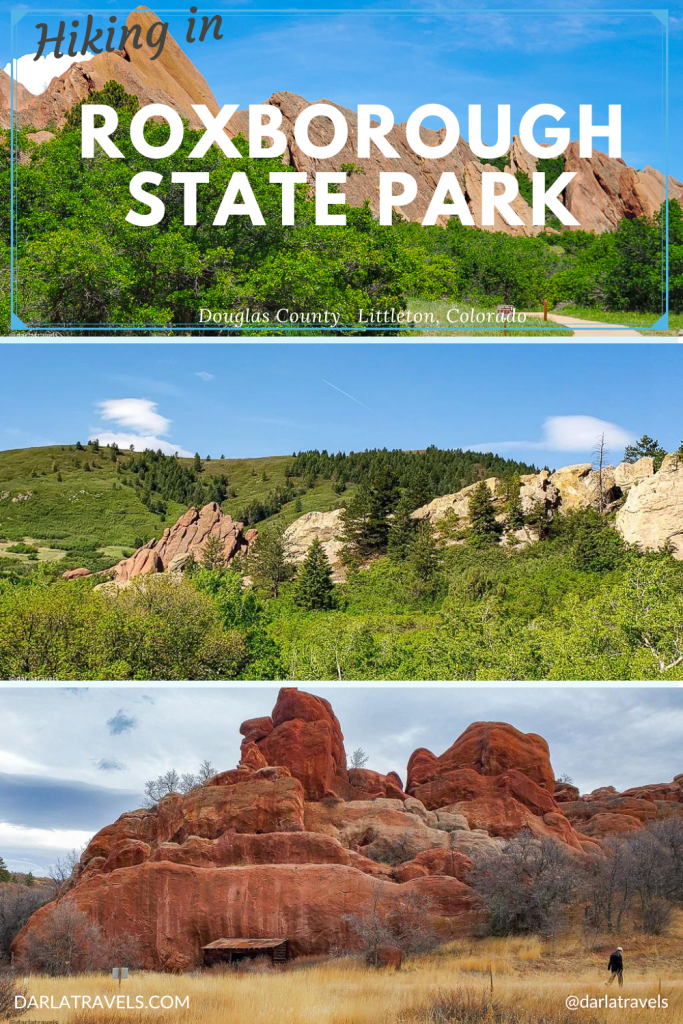 What's your reason for hiking in Roxborough State Park? Leave a comment below!