** Darla Travels is reader-supported.
When you buy through our links, we may earn a commission at no cost to you. **
Colorado's Staunton State Park is a hiker's playground. Twenty-nine miles (48 km) of trails include easy loops around fishing ponds, 1200-foot (366 m) climbs to epic overlooks, and everything in between. So whether you're partial to grassy meadows, waterfalls, or geological features, Staunton State Park has a hike for you. This mountainous retreat with a remarkably remote feel is an easy drive just 40 miles (64 km) southwest of downtown Denver. Keep reading for 14 reasons to hike in Staunton State Park.
Table of Contents
The gorgeous trails in Staunton State Park follow mountain creeks, lead to historic buildings, climb stunning overlooks, weave through aspen and pine forests, and reach the base of a 75-foot (23 m) waterfall. Use the Table of Contents to make it easy to find the hikes you are looking for.
Reason 1 to Hike in Staunton State Park: Its Amazing History
Staunton, which opened in May of 2013, is one of Colorado's newer State Parks. The park's origin was a 1,720-acre donation of the former Staunton homestead and ranch in 1986. Today, the park has over 3,800+ acres ready for outdoor recreation.
Staunton's Geological History
Staunton gets a lot of its character from craggy granite cliffs visible throughout the park, some of which top out at nearly 10,000 feet (3,048 m). While the highest formations are barren rock, the rough granite appears to push through pine forests on steep slopes around the property.
The granite formation is the Pikes Peak batholith, which has an interesting genesis, starting at 1.08 billion (yes, billion!) years ago. That's when underground molten rock, magma, started pushing up toward the earth's surface. This magma "intruded," as geologists say, into existing Precambrian rocks. But before the magma could break through, it cooled and solidified, forming an intrusive igneous rock.
Over the intervening millennia, the Precambrian rocks disappeared due to various forces, including the geologic uplift of the earth's surface during the formation of the Rocky Mountains and erosion. As these structures wore away, the billion-year-old granite was exposed. Today, some of the most impressive granite formations in Staunton State Park have been named Chimney Rock, Lions Head (the tallest mountain within the park), and Staunton Rocks.
Settlement of the Staunton area
The Ute Indians inhabited the Staunton area around a thousand years ago. American and European explorers began traveling in the area in the 1840s, and settlers arrived in the 1860s. Dr. Archibald Staunton purchased 80 acres of land in 1918, the start of Staunton Ranch. He and his wife, Dr. Rachel Staunton, began raising livestock and planting crops. They built a cabin and other buildings and continued to acquire additional land to improve. The ranch eventually grew to 1,720 acres.
In addition to ranching, Dr. Rachael continued to practice medicine and treat patients, including Ute Indians remaining in the area. The ranch likely included a tuberculosis sanatorium where Dr. Rachael treated these patients during the warmer months of the year ca. 1920-1930. From 1930 through the 1950s, the ranch hosted boys and girls camps, and tourists were able to rent cabins on the property.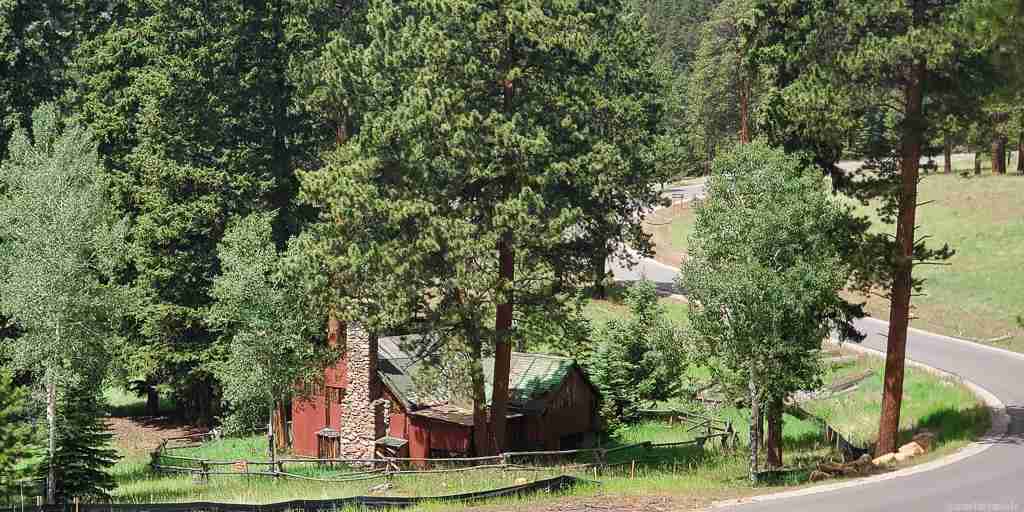 Frances Hornbrook Staunton, daughter of Archibald and Rachel, inherited the ranch. She transferred the land to the State of Colorado in 1986, just a few years before her own death in 1989 at age 89. She specifically intended the former ranch to become Staunton State Park for the enjoyment of Coloradans.
Opening Staunton State Park
Although the original Staunton ranch donation took place in 1986, the state needed many years of additional land acquisition and planning before Staunton State Park could open to the public. Properties added to the park include Elk Falls Ranch (1999, 510 acres), Davis Ranch (1999, 1000 acres), the Chase property (2006, 80 acres), and the Dines property (2014, 80-acre donation). In addition, the park leases an additional 540 acres south of the Elk Falls Ranch area. The park was ready for visitors in 2013, with over 3,800+ acres available for outdoor recreation.
Keep all this history in mind when exploring the park's extensive trail system.
Reason 2 for Hiking in Staunton State Park: An Exceptional Trail System
The official park webpage says it all:
The park trail system is exceptionally well-marked, and each trail has a two-letter abbreviation to assist navigation. For example, the Staunton Ranch Trail is abbreviated to SR on maps and park trail signs. The park's 19+ named trails cover over 29 miles (48 km) and can combine to create epic treks, including loops of varying sizes, all over the park grounds.
Park improvements are ongoing: in the last couple of years, a few new trails have been added, and others have had slight modifications. However, some of these more recent features and routes don't appear on popular trail maps or apps. So make sure you're using an updated trail map on your next visit to the park.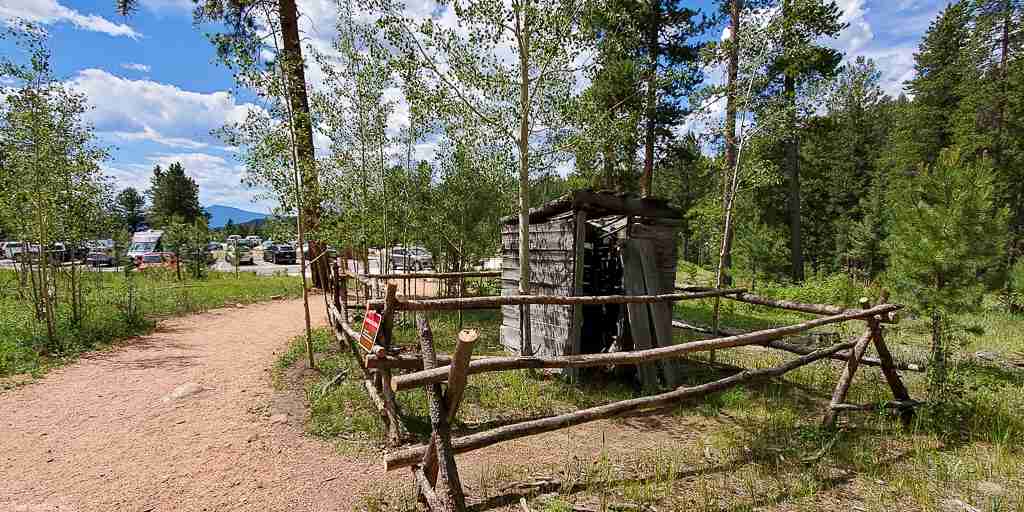 I also note that most trails in Staunton State Park are open to mountain bikes and horseback riding. Additionally, specific trails are closed seasonally for wildlife and environmental protection.
Where to Start a Day Hike?
Staunton has six parking areas with varying capacities. If you have a hiking route in mind, decide which parking lot is best situated for the hike in advance.
The Meadow Lot is a good starting point for routes to the Pike's Peak, Catamount, and Eagle View overlooks, as is the Mason Creek Lot. There are also adjacent dirt lots if the Meadow Lot is full.
The Lazy V Parking Lot opened in 2021 with 135 new parking spots. Starting a hike here instead of the Meadow Parking cuts off about 1.5 miles (2.4 km) one way from routes to the western part of the park, such as Elk Falls.
The park has a dedicated parking lot for horse trailers near the Lazy V lot.
The remaining two parking lots are at the Visitor Center and the Ranch Hand group picnic shelter.
While there's nothing wrong with simply picking a trail to explore in Staunton, the routes in Reasons 3-7 highlight some of the park's best features.
Reason 3 for Hiking in Staunton State Park: The Davis Ponds
The Davis Ponds area is worthwhile for families, not only for fishing but for the hiker-only trails leading to and around the ponds. The 2.25 mile (3.6 km) "figure eight" loop is convenient to start from the Visitor Center lot, the Ranch Hand lot, or even the Meadows lot (via a short walk across the road to the Ranch Hand lot.)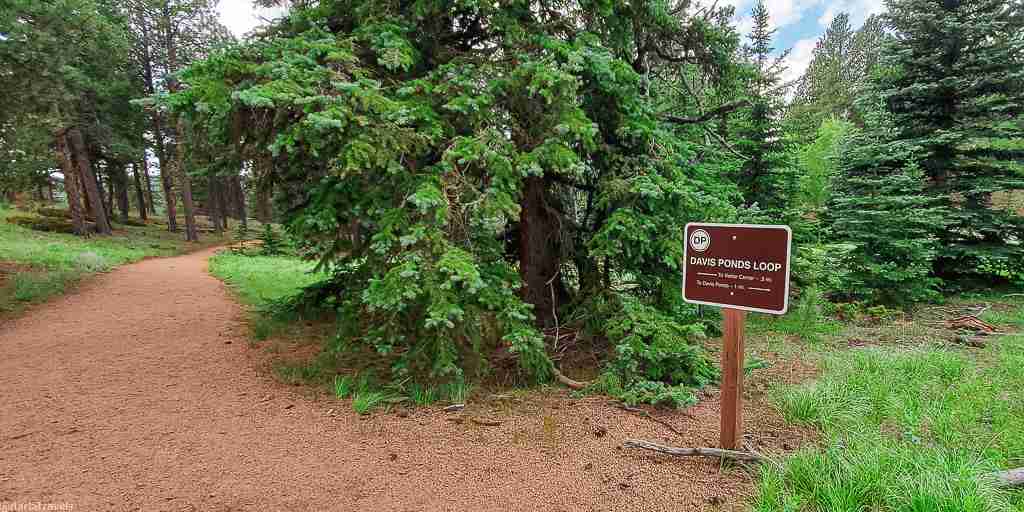 If you'd like to fish at the ponds, either from the shore or the ADA-accessible fishing pier, ensure you have a valid Colorado fishing license (available at the park visitor center). To improve your odds of success, the park stocks pond with rainbow trout from May to September.
This trail passes through rolling, grassy meadows dotted with evergreens and around the ponds. To extend this hike, take the connecting Chase Meadow Trail (CM, 0.6 miles, 1 km), which further connects to the Historic Cabins Trail (HC, 0.7 miles,1.1 km). More on those trails is below.
Reason 4 to Hike in Staunton State Park: Historic Cabins and Buildings
Several historic buildings from the Staunton Ranch still stand on the park property and are listed on the National Register of Historic Places as Staunton Ranch Rural Historic Landscape. I'll note that many buildings have fences, and no entry is permitted, so only view them from the outside. All structures have signage, and some have "talking signs" with a speaker that will describe the building. Here's how to find some of them.
The Chase Cabin
The Chase Meadow Trail (CM) passes by the Chase Cabin, once owned by Denver native Mary Coyle Chase. Chase was the author of Harvey, a Pulitzer Prize-winning play. This trail connects the Davis Ponds Trail (DP) and the Historic Cabins Trail (HC).
Structures on the Historic Cabins Trail
The Historic Cabins Trail (HC) passes most of the park's historic structures. Get to this trail via Chase Meadows (CM). HC is also easily accessible from the Lazy V Parking lot. If starting near the Meadow Lot, take the Staunton Ranch Trail (SR) and look for the intersection HC just shy of one mile (1.61 km) into the hike.
The Staunton Cabin, constructed in 1918 for the Staunton family and their daughter, Frances, still stands next to the trail. The Stauntons lived in this 20×40 foot (6×12 m) building during summers. They grew oats and potatoes on their homestead, and remnants of their terraced gardens are also visible from the trail close to the cabin. Unfortunately, the Staunton Cabin was in poor condition before the start of restorations in 2020, but dedicated volunteers have worked to ensure that the historic house remains a dignified landmark.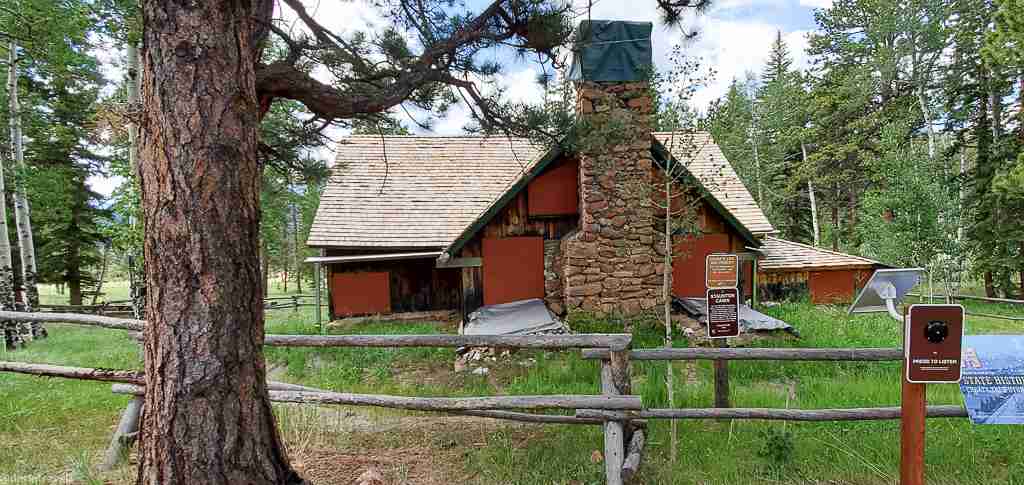 The smaller and charming Brola Cabin (ca.1922-1936), constructed for a ranch caretaker, is another building directly adjacent to the HC trail.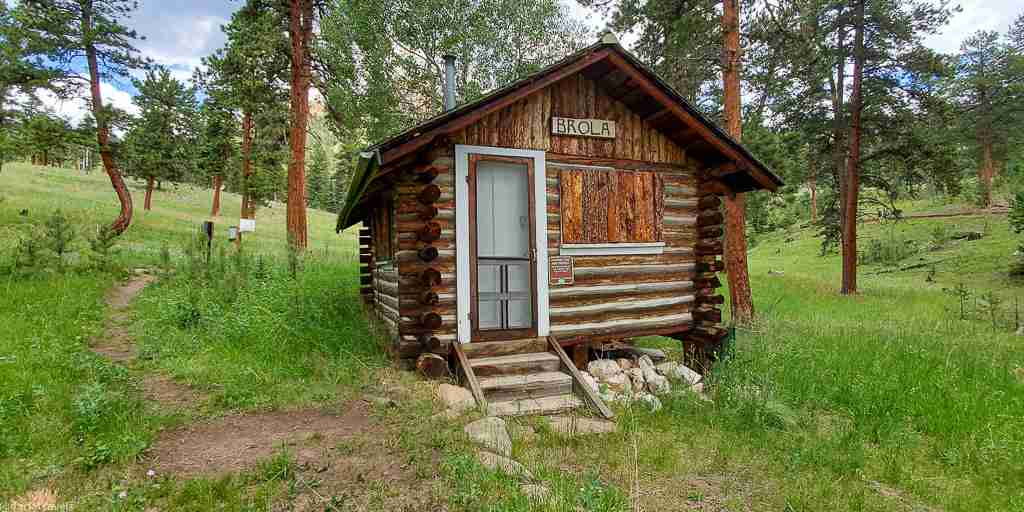 In my opinion, the most intriguing building on this trail is the Shower House (ca.1922-1936). This building has remnants of shower stalls, plumbing, and a sink. It was likely part of the tuberculosis sanitarium run by Dr. Rachael Staunton.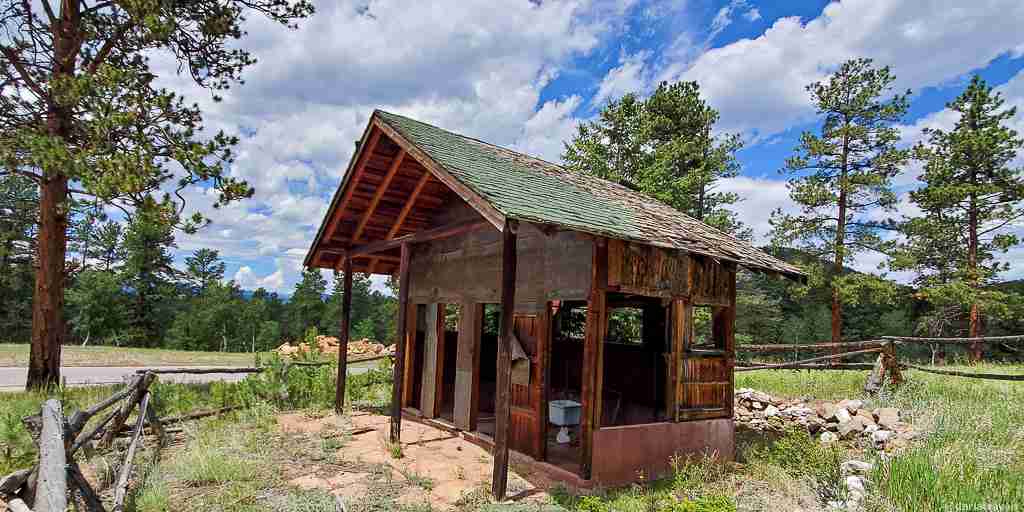 Other buildings visible from the trail include the oldest building in the park, the Blaine Cabin, built in the late 1800s, and the two-story Richardson Cabin (ca. 1922-1931), first built as a workshop and later used as a lodge.
The Old Mill and the Bunkhouse
Two additional structures are at the top of the Old Mill (OM) Trail, at its intersection with the Border Line (BL) Trail. These include a collapsed sawmill building (built in the 1920s) and the Bunkhouse, 1930's-era lodging for loggers and sawmill workers.
Get to OM from the Lazy V lot (less than 0.1 mile, 0.2 km) or via the Staunton Ranch Trail (SR) starting at the Meadows Lot (1.8 miles, 2.9 km).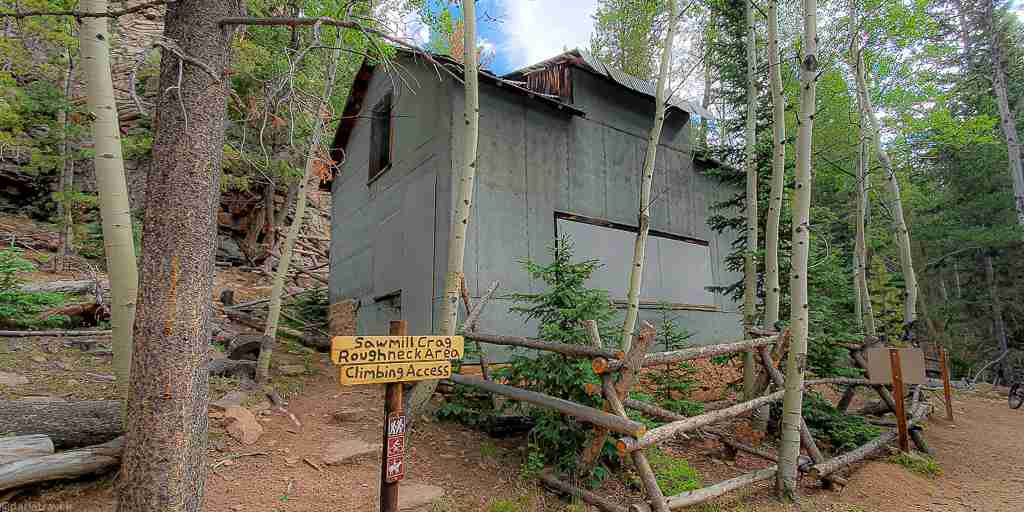 Old Mill (0.8 mile, 1.25 km) heads uphill in a reasonably straight line following Black Mountain Creek. Once you've contemplated the sawmill and Bunkhouse at the top, take the Border Line (BL) or Mason Creek (MC) trail for a delightful hike through the pine forest.
Policeman's Cabin
One final historic building built in 1922 is known as the "Policeman's Cabin." The building is marked and visible from the hikeable park service road accessible near the Lazy V Parking Lot.
The building is so-named because its occupant provided security for the ranch in the Stauntons' absence.
Reason 5 to Hike in Staunton State Park: Pike's Peak, Catamount, and Eagle Cliffs Overlooks
Staunton State Park has five named overlooks accessible from the park trails. Hikers can reach three of these from the 1.5-mile (km) Bear Paw Trail (BP). The three viewing points, Pike's Peak Overlook, Catamount Overlook, and Eagle Cliffs Overlook, provide breathtaking views in slightly different directions.
The Bear Paw Trail (BP) forms a loop with the Mason Creek Trail (MC). In addition to accessing the overlooks, BP becomes a detour for a part of MC that is closed seasonally to protect nesting raptors.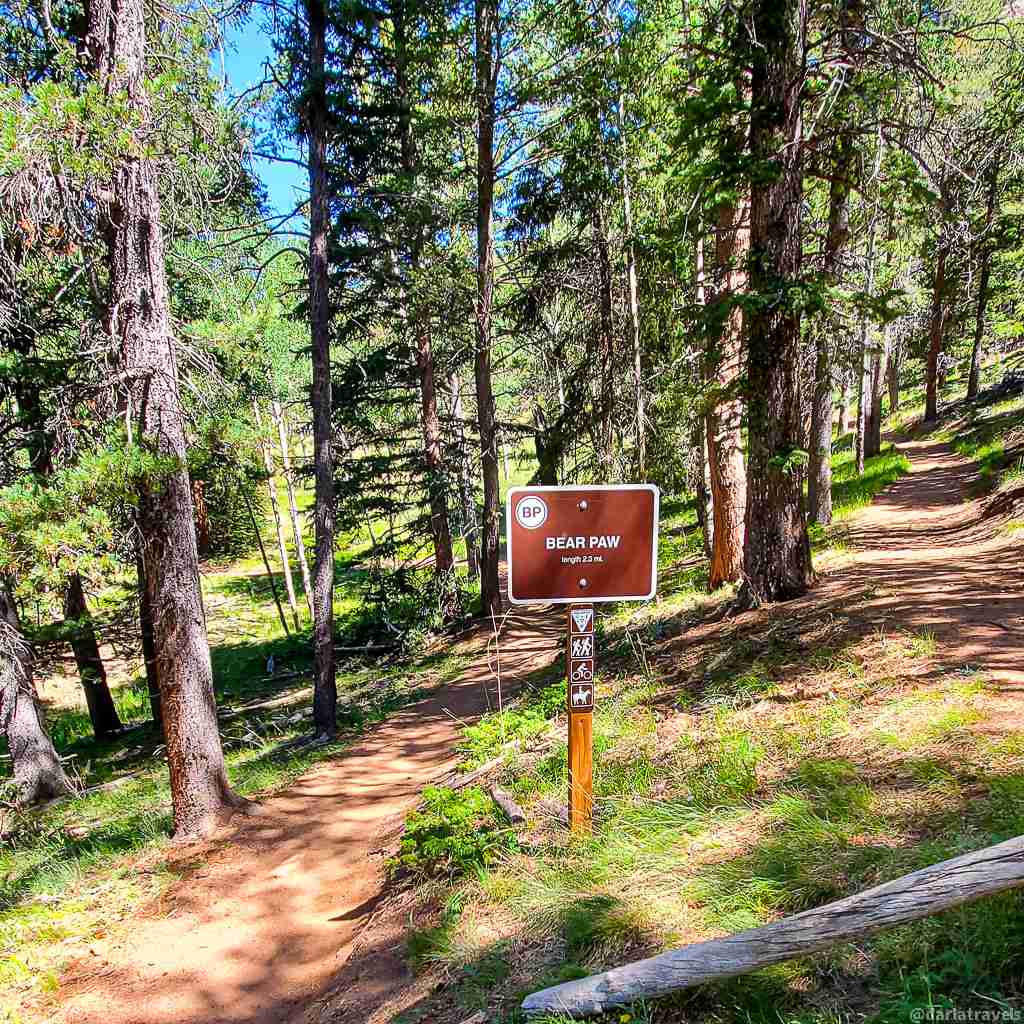 The Catamount and Pike's Peak viewpoints are just off the Bear Paw Trail (BP), while a short 400-foot (130m) hiker-only spur trail leads to Eagle Cliffs. Expect to scramble over a few rocks to get to the full view at Eagle Cliffs.
I recommend a loop route to get to these overlooks. From the Meadow parking area, take the trails in the following (or the reverse) sequence: Staunton Ranch (SR)-Old Mill (OM)-Mason Creek (MC), Bear Paw (BP), Mason Creek (MC), Dines Meadow (DM). This loop is about 8.7 miles (14 km) with 1,584 feet (483 m) elevation gain.
For longer routes, follow this sequence from the Meadow Lot: DM-MC-BP. From the Mason Creek Lot, the way is simply MC-BP. Return via the same path, or, if MC is open, continue down on MC back to your starting point.
Reason 6 for Hiking in Staunton State Park: The Staunton Rocks Overlook
A fourth overlook, the Staunton Rocks Overlook, sometimes called the Staunton Ranch Overlook, can be reached on the Border Line Trail (BL). Get to BL by hiking up Old Mill (OM) to the historic sawmill ruins. Then turn left on BL. OM is a short walk from the Lazy V lot or a 1.8-mile (3 km) hike from the Meadow Lot on Staunton Ranch (SR).
About one mile (1.6 km) ahead on BL, look for the sign pointing the way to the overlook. This short (⅛ mile, 0.2 km) trail leads to the cliff edge. Views to the south mean lots of sun and visibility to Pike's Peak, about 50 miles (80 km) away and beyond.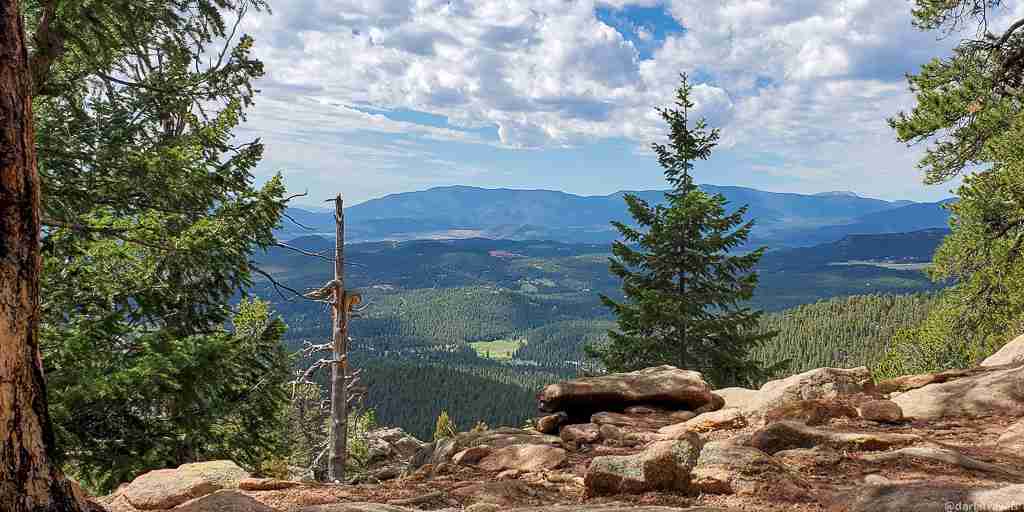 After taking in the view at this vista, consider continuing on BL to turn this hike into a loop. Borderline (BL) twists and turns through the pine forest, descending back to Staunton Ranch (SR), which leads back to the Lazy V and Meadows lots.
From the Meadows Lot:
The out-and-back route (SR-OM-BL-overlook and back) is about 7.4 miles (11.9 km) with 1,220 feet (372 m) elevation gain.
The loop hike (SR-OM-BL-overlook-BL-SR) covers approximately 8.4 miles (13.5 km).
Starting at the Lazy V lot bypasses the first last 1.8 miles (2.9 km) on SR. The numbers for these routes are as follows.
Out-and-back (OM-BL-overlook and back), 3.9 miles (6.4km) with 820 feet (250 m) elevation gain.
Loop hike (OM-BL-overlook-BL-SR-OM), 4.8 miles (7.8 km), 820 feet (250 m) elevation gain.
Reason 7 to Hike in Staunton State Park: Elk Falls Pond
The overlooks in Staunton State Park have jaw-dropping views, but they're not the only feature worth an uphill trek. For example, consider the Elk Falls Pond, a modestly-sized water feature that further beautifies the surrounding grassy valley. In addition, the pond has a good-sized rock formation at the far end, supporting a marmot colony.
Fishing from the shore is allowed at Elk Falls Pond with a Colorado fishing license (available at the park's visitor center).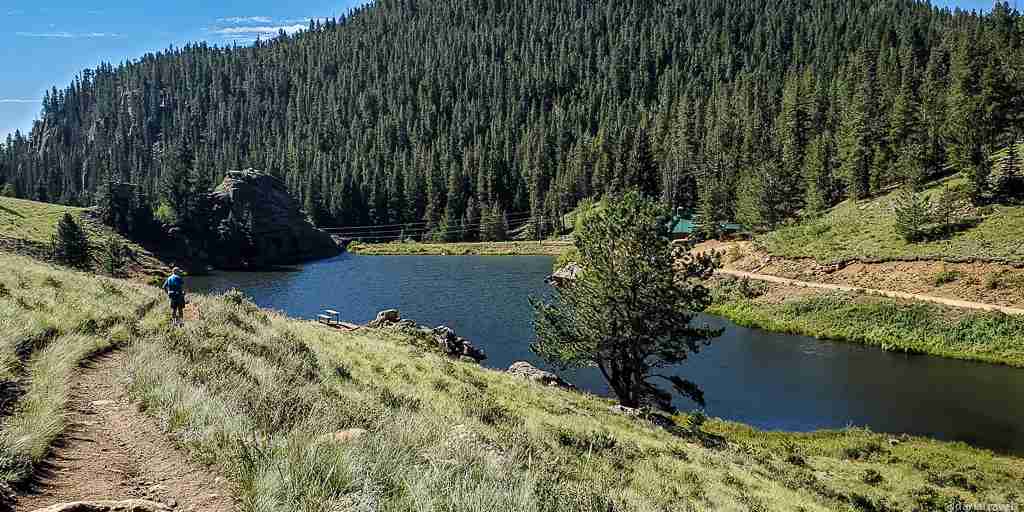 The most straightforward route to Elk Falls Pond is Staunton Ranch (SR) to the end of Bugling Elk (BE). The round trip distance from the Lazy V trailhead is 5.5 miles (8.9 km). From the Meadow Lot, it's about 8.4 miles (13.5 km).
Several trails converge at the pond. As a result, this landmark is also the starting point for getting to some of Staunton's other spectacular features: the Elk Falls Overlook, Lion's Head, and the Elk Falls themselves. Keep reading to learn how to reach these points of interest.
Reason 8 to Hike in Staunton State Park: The Elk Falls Overlook and Lion's Head
One final Overlook in Staunton is the aptly-named Elk Falls Overlook. To get there, hike to the Elk Falls Pond as described under Reason 7. Then, keep moving along the trail past the pond, which changes its name to Lion's Back (LB). On LB, it's about 1 mile (1.6 km) and 268 feet ( 81.7 m) in elevation gain to get to this overlook at 9,150 feet (2,789 m of elevation).
From this spot, Elk Falls looks like a tiny stream far below. Additionally, this overlook also allows sweeping views of the park's landscape toward Highway 285 and beyond.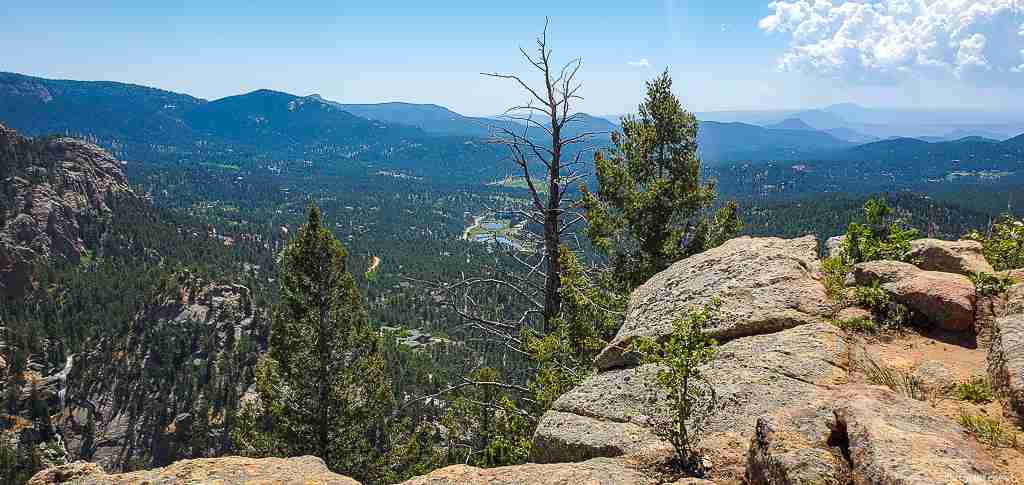 To continue on to Lion's Head, the highest peak within the park (elevation 9,450 feet or 2,880 m), continue on the LB trail past the overlook, where the trail is now named the Lion's Head Trail (LH). LH is a 0.8-mile (1.3 km) "lollipop." Note that the Lion's Head (LH) loop is closed yearly from March 15 – July 31 for habitat protection.
Reason 9 to Hike in Staunton State Park: Elk Falls Waterfall
While the Elk Falls Overlook is spectacular, you really need to see Elk Falls up close.
To get to Elk Falls, hike to the Elk Falls Pond as described under Reason 7. Walking past the pond, move to the Chimney Rock (CR) Trail on your left. This trail is so named for a distinctive rock formation–keep an eye out for it! The work of the park managers is evident on this trail, which includes a section that seems almost paved with stepping stones on the side of an otherwise rocky hill.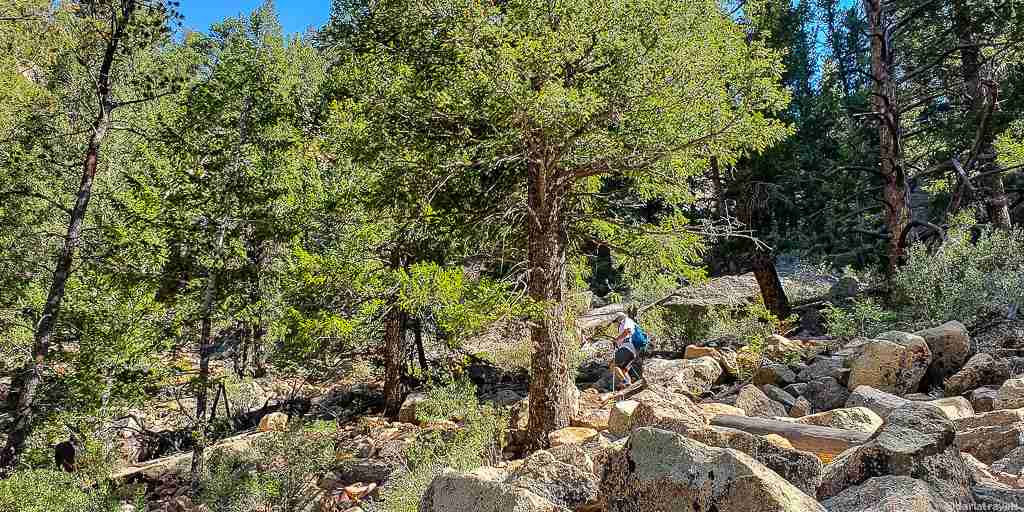 You'll reach the intersection with the Elk Falls Trail (EF) after about 0.7 miles (1.1 km). EF is a narrow, steep, and rocky trail that switchbacks 278 feet (85 m) down to the base of the falls over about 0.3 miles (0.5 miles ). If you use hiking poles, you will definitely appreciate them here.
Even though it's one of the more challenging routes in the park, standing at the base of the 75-foot (23 m) tall Elk Falls, listening to the roar of the water, and watching it cascade into Elk Creek is a "totally worth it" experience.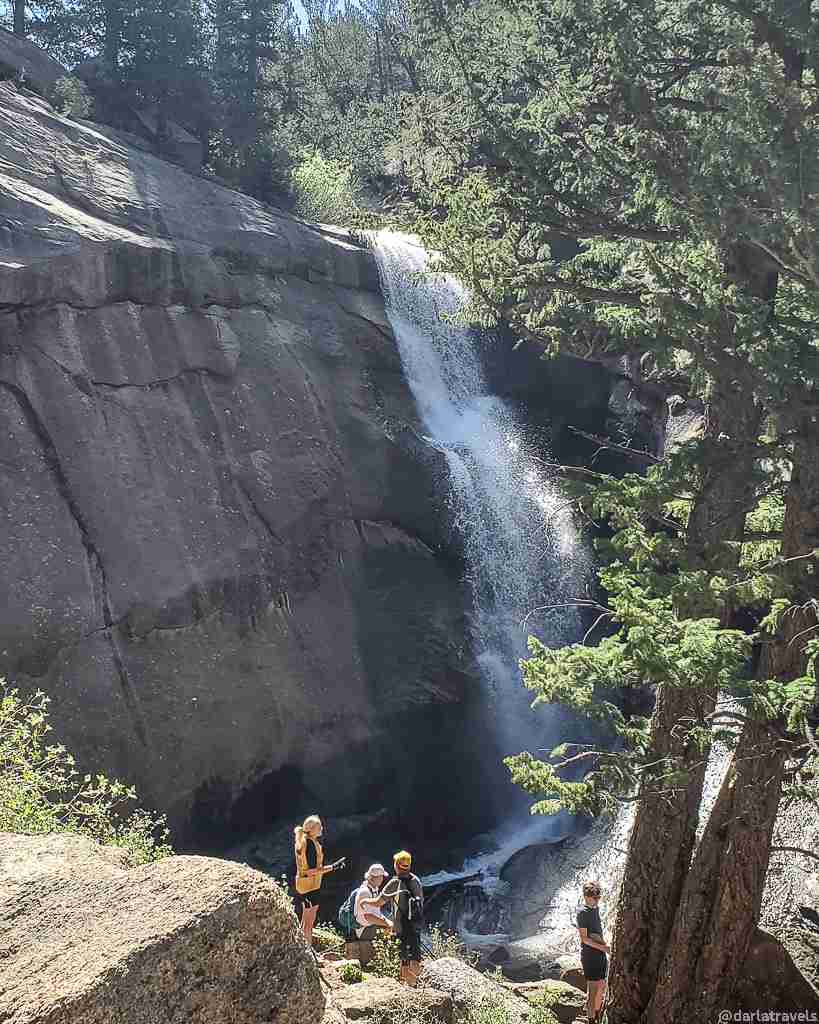 So plan to take a break to enjoy the falls before ascending back up the trail.
Reason 10 to Hike in Staunton State Park: Peaceful Hiker-only Trails
Most trails in Staunton State Park are open to mountain bikes, horses, and hikers. Although the park can't reasonably be described as "crowded," you may find hiking interrupted by mountain bikes here and there on some of the more popular routes.
Fortunately, many miles of hiker-only trails allow for relative solitude and quiet. Most of these have already been mentioned above in connection with other landmarks: Old Mill (OM), Chase Meadow (CM), Lion's Head (LH), Elk Falls (EF), and Davis Ponds (DP).
The other major hiker-only trail is Scout Line (SL). SL is a 1.5-mile (2.5 km) trail that climbs up 676 feet (206 m) through the evergreens. The path rises quickly, getting away from it all with multiple viewpoints along the way. SL starts close to the Lazy V lot, just off an unnamed park service road, close to the intersection of SR and OM.
The end of SL intersects with Marmot Passage (MP), a 2.5-mile (4 km) multi-use trail with similar terrain. Turn left (southwards) at MP to continue to its end point at Elk Falls Pond. On the way, listen for the sound of running water- that's Elk Falls below you, and look for the Chimney Rock formation.
At the intersection of SL and MP, turning right (northwards) will get you to the Staunton Ranch Trail (SR) to continue your park exploration.
Reason 11 to Hike in Staunton State Park: Geocaching
Staunton State Park promotes geocaching to engage visitors in the park's history and environment. Geocachers search for and navigate to hidden containers, called "geocaches" or "caches," at precise locations using a GPS-enabled device. In Staunton, multiple geocaches line the park trails. In this high-tech hide-and-seek pursuit, once a cache is found, it is customary to sign the included log book and to swap a small item, such as a keychain or toy, with an item already within, before returning the cache to its hiding place.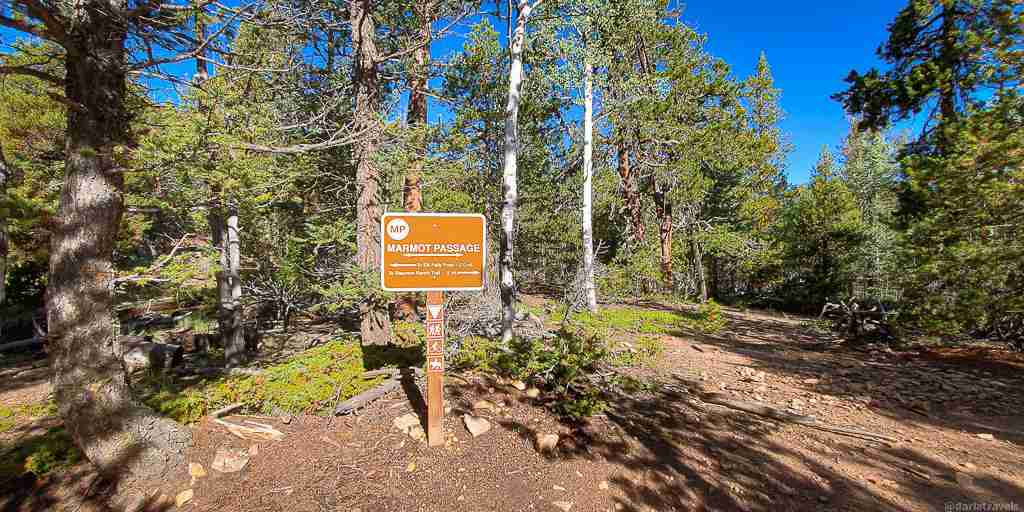 To date, Staunton has 18 traditional geocaches, 3 mystery caches (which require solving a puzzle to access the cache location or contents), 1 virtual cache (which requires obtaining information rather than finding a container), and one earthcache (a place with a lesson about the geology or earth science of that area).
While geocaching is totally optional, it might be a way to add a little treasure-hunting flavor to a day of hiking. See the park's Activities page for more on geocaching in Staunton State Park.
Reason 12 to Hike in Staunton State Park: Trail Connections
In the park's northeast corner, trails extend outside of the park and into the Pike National Forest for anyone wanting to add some serious mileage to their hike.
The North Elk Creek Trail (NE), also known as Forest Service Trail #764, branches from Staunton Ranch (SR). It intersects the Cub Creek Trail after 5 miles (8 km). The Cub Creek Trail, also known as Forest Service Trail #40, is an 18-mile (29 km) trail (one-way) popular with hikers and mountain bikers that originates in Evergreen, Colorado.
The Rusty Buckle Trail (RB) is a 3-mile (4.8 km) trail between the Border Line Trail (BL) and NE. Alternatively named Forest Service Trail #769, it opened on July 18, 2022. It's another way to get to Cub Creek, but it can also be part of a route with other park trails. For example, form a loop of RB-NE-SR-BL (about 6.4 miles, 10.3 km).
Finally, FS Administrative Road 103 (also called Shadow Mountain Road) branches from the Bugling Elk Trail (BE). It, too, intersects with NE on its way to the Cub Creek trail.
Two notes on these external trails:
Both NE and RB are subject to spring/summer trail closures for wildlife protection and trail preservation.
You must have a $4 individual pass to enter the park on foot or by bike without a daily or yearly vehicle pass.
Reason 13: Staunton's Track Chair Program
I include Staunton's Track Chair program here because it allows anyone with limited mobility to enjoy the park trails alone or alongside hiking companions.
A track chair is an all-terrain version of a wheelchair. Instead of wheels, the chair has independent left and right tracks and an electrically powered motor.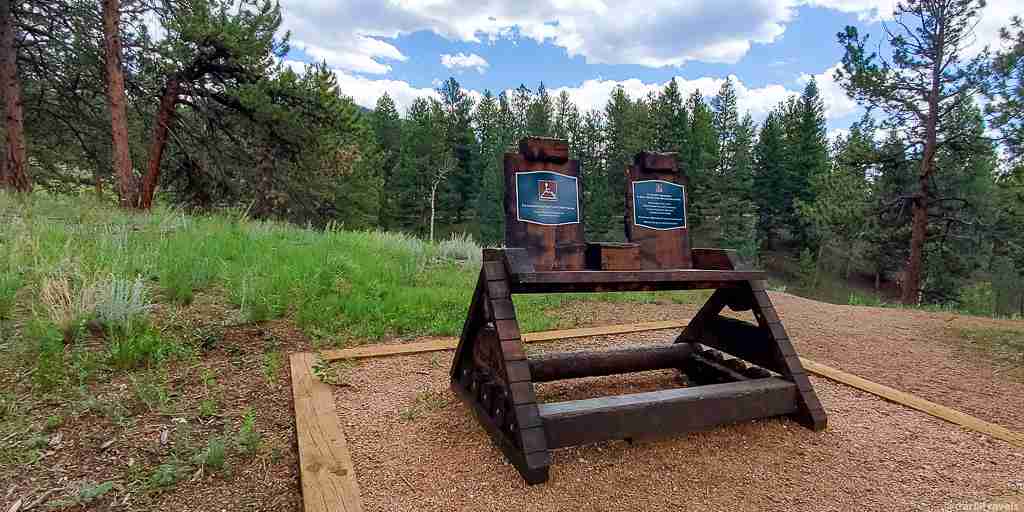 The track chairs can be taken on three routes in the park, the Davis Ponds (DP) Loop described above, a loop combining parts of the Mason Creek (MC) and Dines Meadow (DM) trails, and an out-and-back route on the Staunton Ranch (SR) trail.
While the track chair can't go everywhere, the accessible routes feature some of the best aspects of the park: grassy meadows, the smell of pine forest, the Davis Ponds, and views of granite rock formations, including Staunton Rocks and Lion's Head. Additionally, the remains of a small building in the meadow adjacent to the MC trail can be seen.
To use the track chair, a reservation is required. For more details on the track chair program, click here.
Reason 14: Tent Camping in the Park
With so many trails in Staunton, it will take more than one day even to approach hiking them all. For multi-day hiking, consider camping overnight at one of the 25 walk-in tent camping sites spread out over three separate campgrounds. Hike on Day 1, camp overnight, then hike again on day two!
Campers must reserve a spot online and carry their tents and other supplies to the campsite from the Meadow lot, up to 800 yards (731m) away.
For more information on camping and making a reservation, visit the park's camping information page.
Additional Information about Staunton State Park
The park trails lend themselves to epic day hikes, but Staunton offers even more.
Rock Climbing and Archery
Since the opening of Staunton, rock climbing in the park has exploded. Climbing access trails lead to over 180 named routes of varying types and difficulties. Third-party sources like Mountain Project have the most information on rock climbing.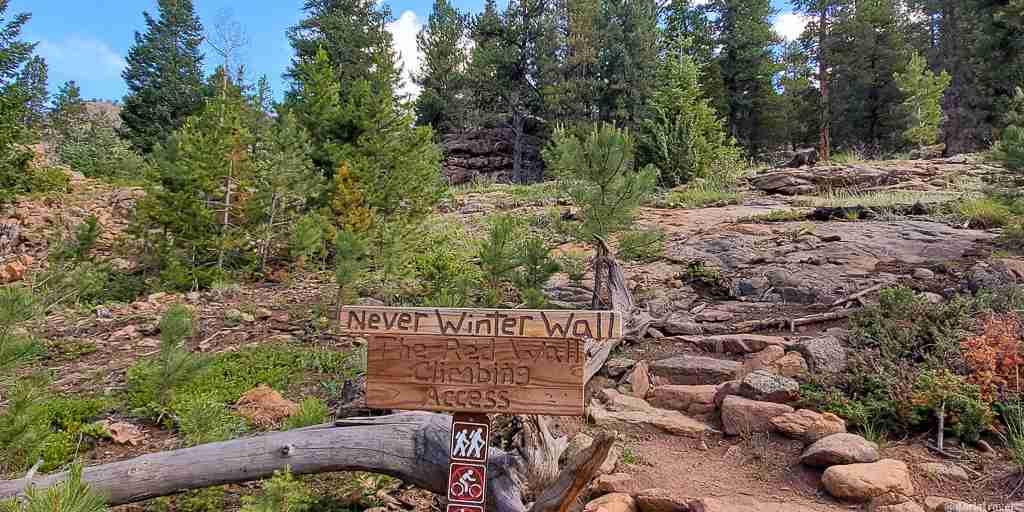 The park also has an archery range! Park at the Mason Creek Lot and take the Mason Creek Trail (MC), about one-third of a mile (500 m) to get there. If parking at the Meadow Lot, take the Dines Meadow Trail (DM) north, then turn right (south) at the intersection MC. The DM-MC loop is an easy 1.4 miles (2.2 km).
Food and Drink
Water is available in the park-look for drinking water faucets at the Mason Creek, Ranch Hand, and Meadow parking lots.
Food is another matter. In this respect, the park is strictly a bring-your-own affair. So pack a picnic cooler and take advantage of one of the many picnic tables throughout the park.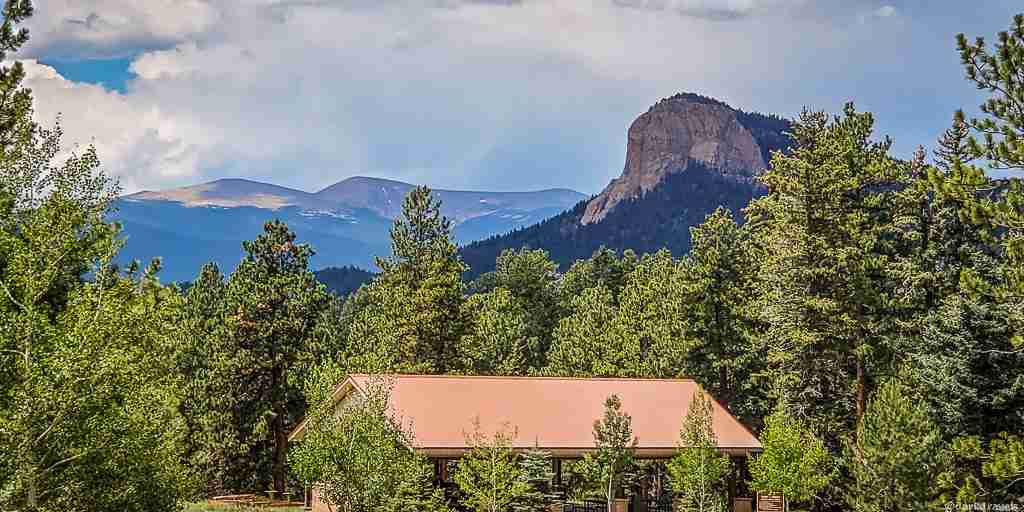 For a casual post-hike meal, try one of the restaurants near the park and just off Highway 285. The Crossroads Pub & Grill (16 Mt Evans Blvd, Pine, CO) serves up burgers, beer, and other pub grub, while the Snowpack Taproom & Pizzeria (11863 Springs Rd #210, Conifer, CO) specializes in pizza, salads, beer, and wine.
Next to the Crossroads Pub & Grill, the Coffee Bean N Bakery (16 Mt Evans Blvd, Pine, CO) serves breakfast bites, sandwiches, and, of course, coffee. In Conifer, get your coffee at Starbucks and Dutch Bros. chain shops or a local favorite like Ernie's Mountain Bakery & Cafe (30403 Kings Valley Dr Suite #105, Conifer, CO) or The Bean & The Leaf (25797 Conifer Rd, Conifer, CO).
Accommodations
The park has 25 walk-in tent camping sites in three separate campgrounds. For more on camping here, see Reason 14 above.
If you demand more creature comforts, but still want a mountain experience, try a nearby bed and breakfast such as at a working horse ranch, Anchorage Farm (12889 S. Parker Ave.Pine, CO). Other options include the 420-friendly Arrowhead Manor Bed & Breakfast Inn (9284 US Hwy 285, Morrison, CO 80465).
If you'd prefer a suburban hotel, multiple properties from major chains are minutes away from Highway 285 in the southwest Denver metro area.
Park Fees
Daily Vehicle Pass: $10
There is a park entrance fee (Individual Daily Pass, $4) if entering Staunton State Park on foot (or bike or horse) unless you can show a receipt from a yearly vehicle pass. Individual Daily Pass: $4
Annual Affixed Pass (one vehicle): $83
Getting There
Staunton State Park is approximately 45 minutes from central Denver by car. From the metro area, take Highway 285 to Conifer and then continue for about six miles (9.7). Turn right at S Elk Creek Road (Shaffer's Crossing) and travel for about 1.5 miles (2.4 km) to reach the park entrance. A prominent sign announces the entry to Staunton State Park. The park address is 12102 S. Elk Creek Road, Pine, CO, 80470.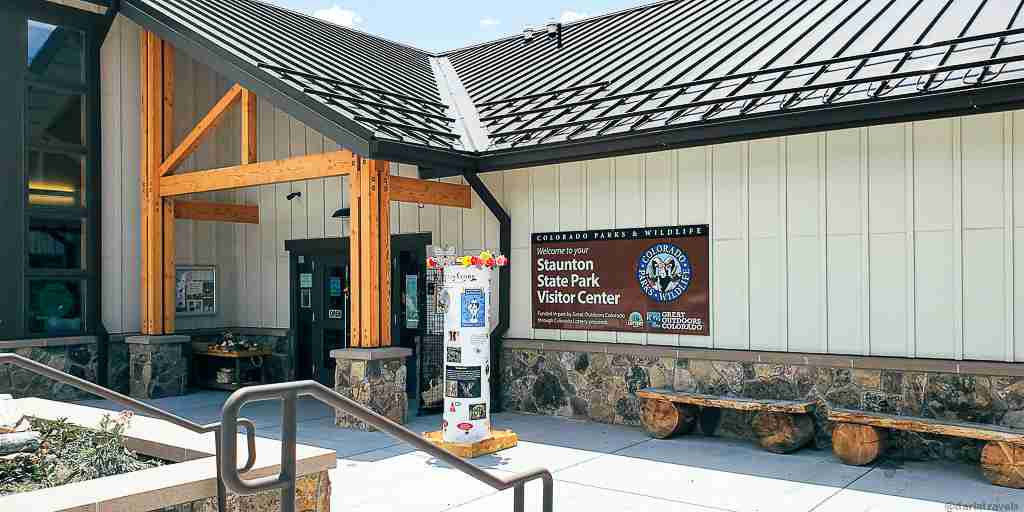 The Colorado State Parks Passport
The Colorado State Parks Passport is an enjoyable way to track visits to Colorado's State Parks. The passport book has a page for each state park with a spot for a park employee to stamp the park's logo. Head into the Visitor Center for the Staunton stamp, which features a beaver.
Pin it for later!
Pin one or more of these images for Staunton State Park to your Pinterest boards: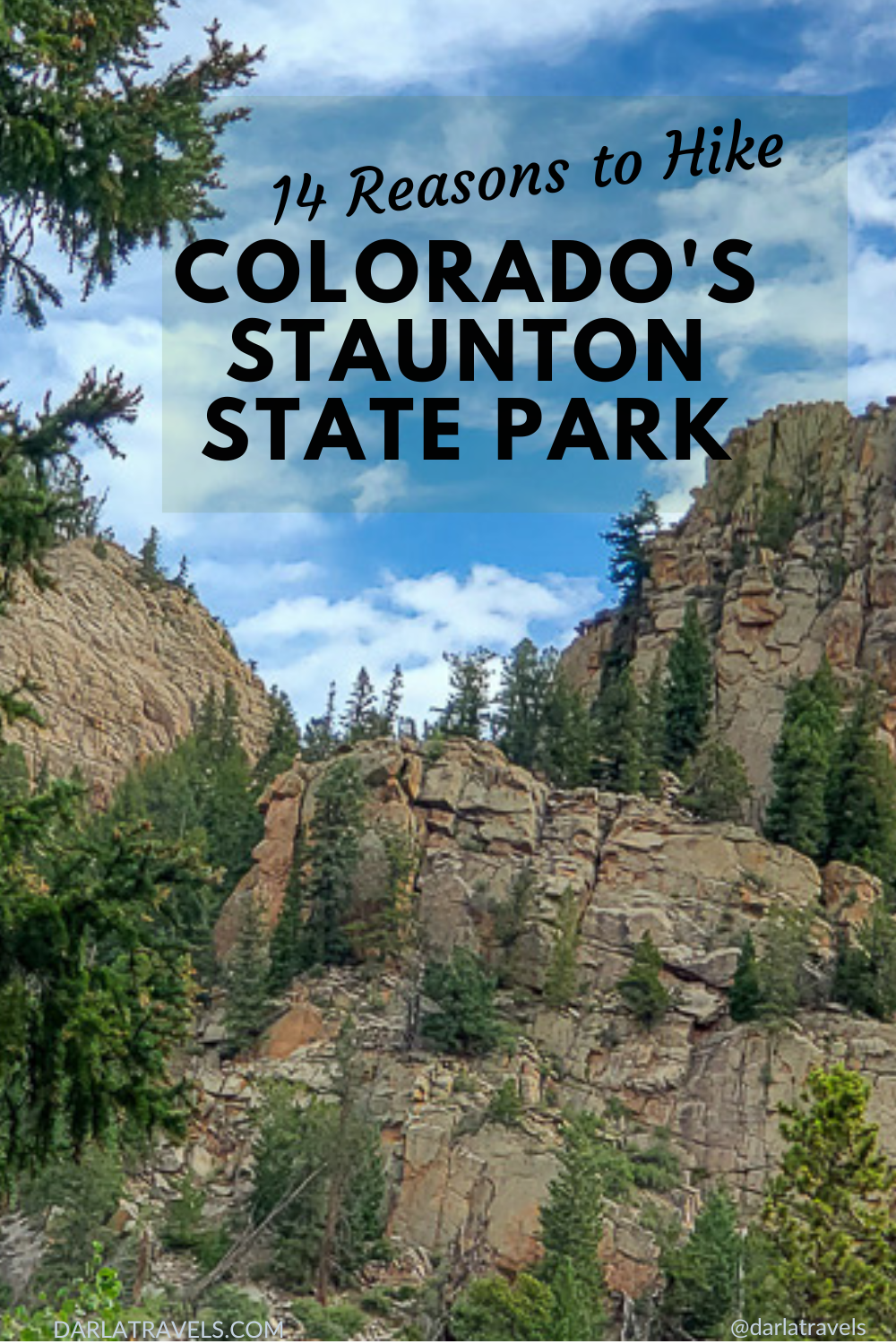 What's your favorite hike in Staunton State Park? Leave a comment below!