** Darla Travels is reader-supported.
When you buy through our links, we may earn a commission at no cost to you. **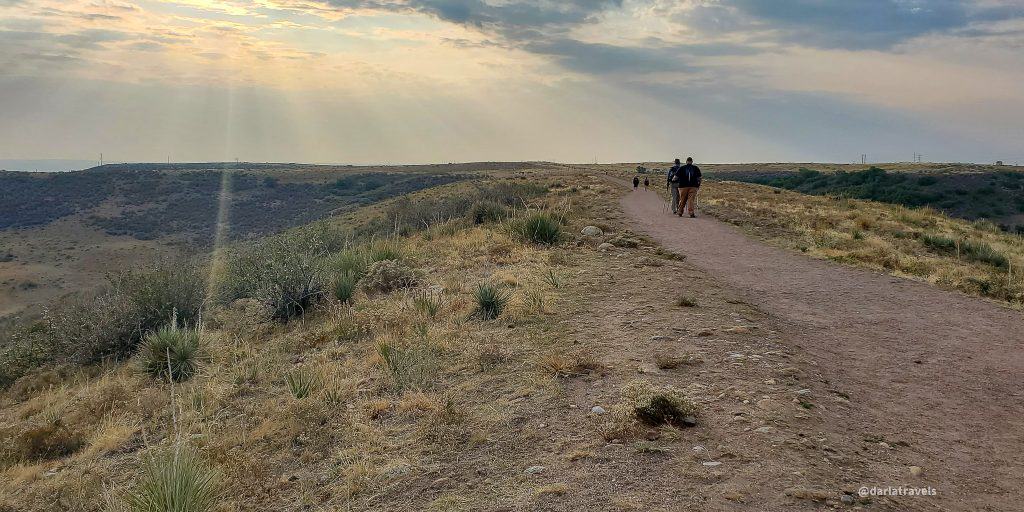 Bluffs Regional Park is a gem of a recreation area tucked into a corner of the city of Lone Tree. Open to mountain bikers, pedestrians, and equestrians, it's a favorite with locals who want to get outside for an hour or two. Even if you don't live particularly close, the spectacular overlooks from the park's namesake bluffs make it well worth the drive to this park at the edge of suburbia. Keep reading to find out what's unique about Bluffs Regional Park.
About Bluffs Regional Park
Located in the city of Lone Tree, Colorado, Bluffs Regional Park carves out a natural area in a region with an onslaught of high-end subdivisions, shopping centers, and business parks.
The park name gives away the most impressive feature of this 235-acre (95.1-hectare) tract: the two bluffs, or rounded cliffs that rise above the rest of the landscape by about 200 feet (61 meters). To explain, bluffs are typically adjacent to water and form when moving water erodes a riverbank or shoreline or when a plain floods. So what are bluffs doing in this semi-arid, high-desert area? They're evidence that at some point in Bluffs Regional Park's geological history, the plain surrounding the bluffs was covered by a body of water.
One of Bluffs Regional Park's benefits is that visiting does not require a trip to the mountains. Whether short on time or just avoiding mountain traffic or road conditions, Bluffs Regional Park provides the outdoor experience you crave without the hassles.
The park is accessed by a residential street, shown in the map below, and has a small parking lot, only 56 spots plus three spaces for horse trailers. In warmer weather, it fills up quite early on weekends, and a couple of times, I've had to alter my plans after circling the whole lot in frustration.
The corner of the lot, conveniently located close to the trailhead, has a portable restroom. It's the only one in the park, so take advantage before you set off on the adjacent path.
Now, let's get on the trail.
Hiking in Bluffs Regional Park
To start, the trail system is simple, with one 2.8-mile (4.5 km) loop and two spurs. From the parking lot, there is a short climb to get to the main loop trail. You can choose to take either direction on the loop. Most of the path is easy to moderate. There are some ups and downs, and a few short climbs where the grade can go as high as 8%.
The wide trail has a natural dirt surface. Vegetation includes short plants, such as grasses, gambel oak, agave, and almost no trees.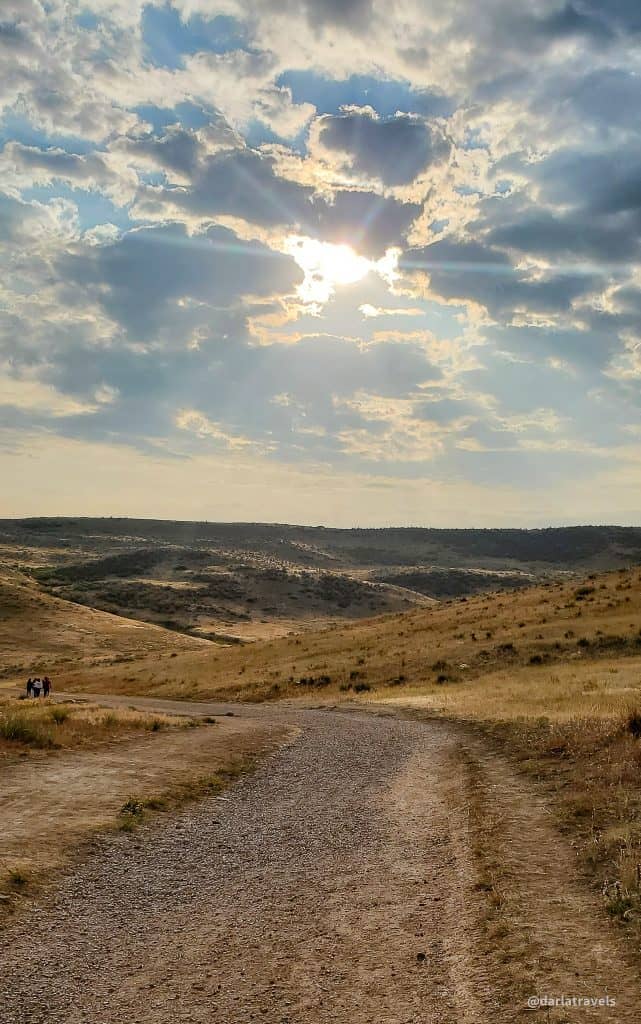 While Bluffs Regional Park is popular, it's large enough that it doesn't feel crowded. The busiest parts of the trail tend to be the overlooks, described below. Even here, I find there is plenty of room for everyone.
Climbing to the Top
During the climb to the top, sweeping views of the surroundings begin to appear. When you get to the highest elevation, well, that's where it starts to become spellbinding. From the main loop, about 0.2 miles apart (0.32 km), two out-and-back spurs end in overlooks with impressive panoramic views of the surrounding area. The spurs have one-way distances of about 0.2 miles (0.32 km) for the Bluffs Overlook Trail and 0.3 miles (0.48 km) for the Tepe Overlook Trail. The Tepe Overlook Trail is named for the Douglas County official that was instrumental in preserving this land.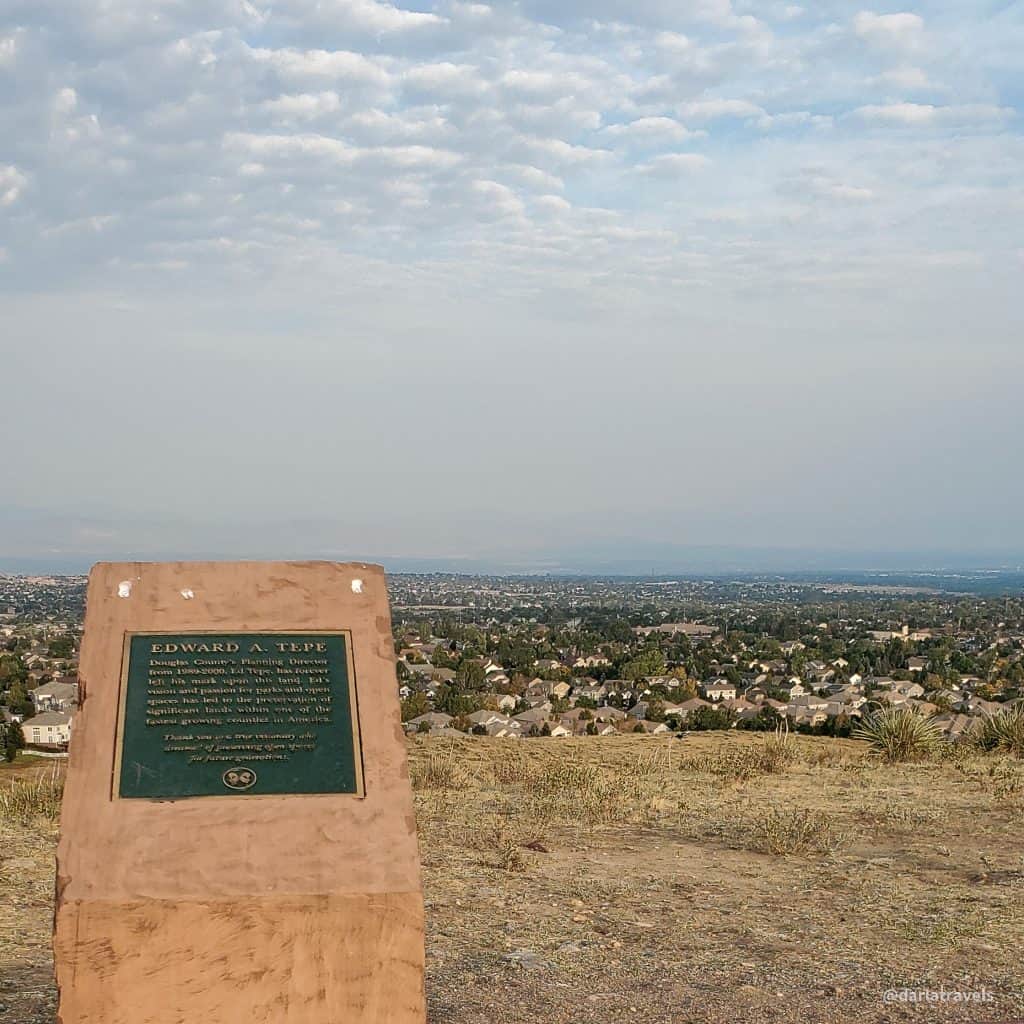 While some effort is required to get up to the top of the bluffs, the overlook trails are flat. The hike is not terribly long, just under four miles, even if walking the entire loop and both bluffs. Thus, the hike is accessible to most reasonably fit people.
As with the main loop trail, the overlook trails are wide and allow for passing others going in the opposite direction. Walking along the bluffs, I almost get the sensation of floating on the clouds–there's just that much open air around you. Benches on these overlooks make it convenient to sit and reflect on the views, or just let your mind wander.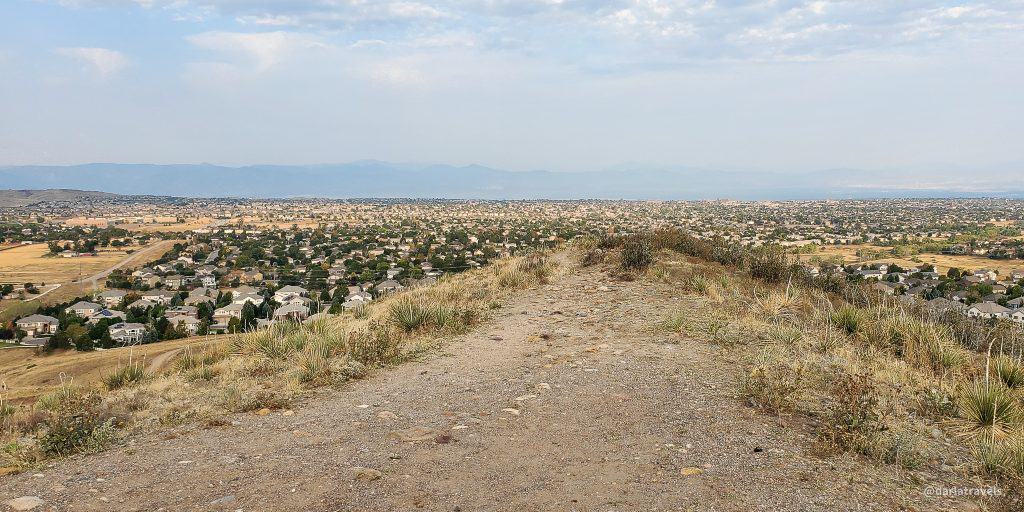 While the stunning Rocky Mountains are to the west, the most provocative feature of the views from the overlooks is the ability to take in the breadth of the Denver metropolitan area. The suburbs start right at the park border and continue west to the foot of the mountains. There is little to no vacant land as far as the eye can see to the west and north. Downtown Denver and the Denver Technological Center in the southeast part of the metro are easily visible. To the south, it's not quite so crowded but is still fairly populated. The only significant open space is to the east, and even there, it's possible, to some extent, to see how development is, well, developing.
Precautions to prepare for Bluffs Regional Park
Knowing a few things about Bluffs Regional Park will contribute to an enjoyable visit.
Although Bluffs Regional Park is enveloped by suburbia, it has only basic amenities: a portable restroom and one picnic shelter. There are no water sources or electricity. As Colorado has a dry climate and the park is effectively without shade, water and sun protection should be top of mind before arriving. Colorado's sun can be unforgiving, especially on hot summer days. Bring water, a hat, sunglasses, appropriate clothing, and sunscreen.
Second, while Bluffs Regional Park is a place to get away from everyday life, it's not in the middle of nowhere. If you don't want to see houses on your hike, this might not be the place for you. On the other hand, it is a natural area, and I believe the perspective and views are worth it.
Third, I would also avoid going to the park if the weather forecasts rain or thunderstorms since there is no protection from the elements.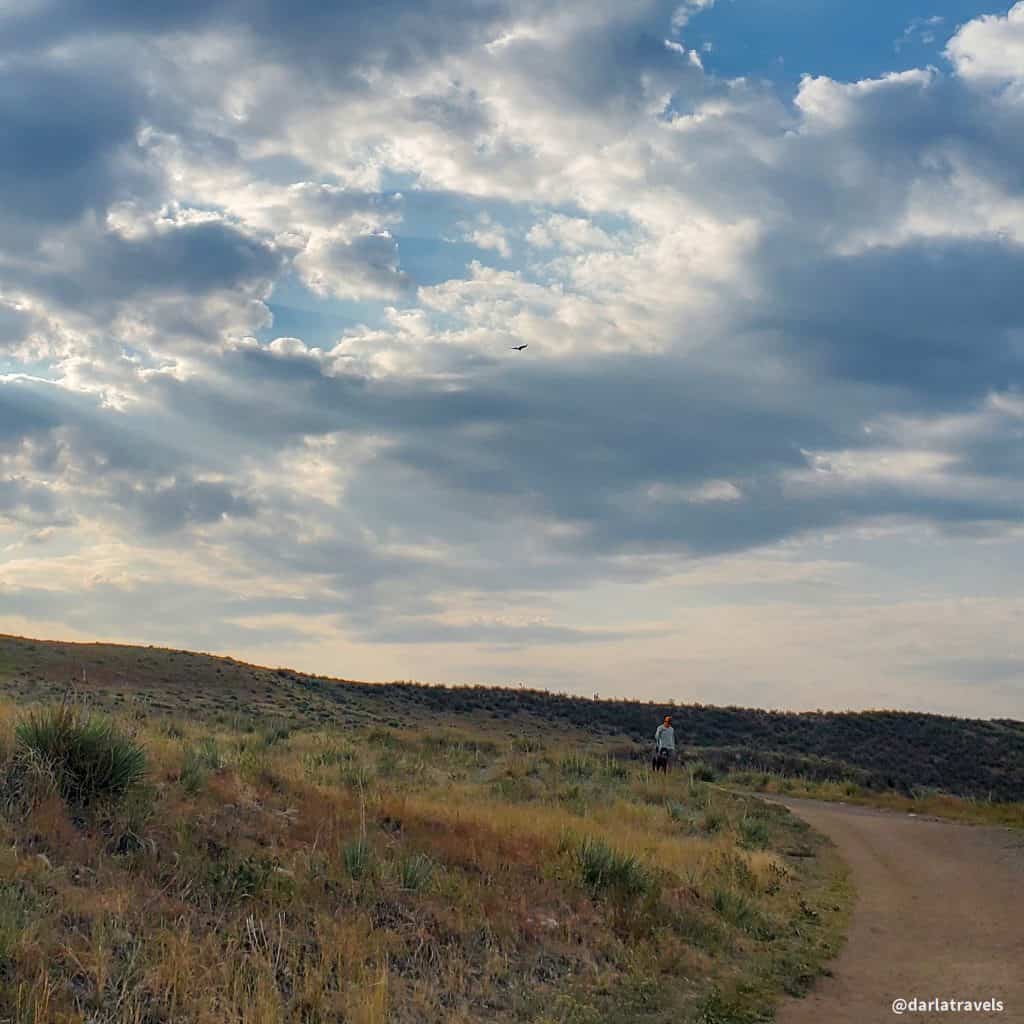 I've read some reports that viewing a sunrise or sunset from the bluffs is a beautiful way to mark the day. However, the posted park hours are sunrise to sunset, so I can't recommend hanging around and flaunting the rules.
Finally, be alert to the presence of other outdoor enthusiasts. While there is room for everyone at Bluffs Regional Park, you may encounter a speeding mountain biker or even a horse.
Trail connections
If the park parking lot is at capacity, the next best bet is Prarie Sky Park in Lone Tree. From here, it's about half a mile (0.8 km) to Bluffs Regional Park. Prairie Sky Park has water fountains and restrooms. If the Prarie Sky parking lot is full, consider the adjacent Lone Tree Recreation Center. It has a larger parking lot and parking here would add just a few more minutes to the hike.
The loop trail in Bluffs Regional Park has a section that is also part of the 20+ mile (32.2 km) long East/West Regional Trail (EWRT) that reaches from west Highlands Ranch to east of Lone Tree and Interstate-25. So another option to avoid a full parking lot is to start at the EWRT trailheads on Cabela Drive or Schweiger Ranch. Note that these alternate starts will increase the total hike distance to up to 5 miles (8 km). For information on the EWRT, read my post or click here to go to my custom map page for the EWRT on AllTrails.
There are a couple of other access points to Bluffs Regional Park from the surrounding neighborhoods, but no off-street parking is available. Conversely, it's also possible to exit the park on one of these trails and walk through the subdivisions. I have not done this myself, so I can neither recommend nor discourage you from trying this route; however, these options are shown on the custom map below.
Custom Map of Bluffs Regional Park
I created this map on AllTrails to summarize all of the access information to Bluffs Regional Park in this post.
Legend:
Red: Bluffs Regional Park
Blue: Connectors or neighborhood access
Purple: Possible longer loop through a residential neighborhood
Yellow: Waypoints/Trailheads
Don't see the map or want to see the original? Click here to go to the map page on AllTrails.
Other Trail Information
Distance
2.8-3.8 miles (4.5-6.1 km)
Difficulty
Easy to moderate with a few steep bits
Trail Type
Mail Trail: Loop (2.8 miles, 4.5 km)Spurs to overlooks: Two out-and-back spurs with one-way distances of 0.2 miles (0.32 km) and 0.3 miles (0.48 km)
Trail Surface
Unpaved, natural
Besides Hiking:
Walking, trail running, mountain biking, equestrian
Links
Douglas County Park Map (PDF)
Douglas County Park Page
Colorado Trail Explorer (COTREX) Page
Closest Towns
Lone Tree, Highlands Ranch
Conclusion
In short, Bluffs Regional Park delivers a welcome reprieve from the surrounding development. This no-nonsense park with limited amenities provides an easily accessible way to get a nature fix without going to the mountains. The loop trail is short enough for most reasonably fit people to tackle, and walking one or both bluffs to the overlooks provides jaw-dropping views and an opportunity for reflection. No bluff!
Have you visited Bluffs Regional Park? What did you think? Leave a comment below.