** Darla Travels is reader-supported.
When you buy through our links, we may earn a commission at no cost to you. **
Littleton's Crabapple Route showcases thousands of blooming crabapple trees along seven miles (11.3 km) of city streets every spring for just a couple of weeks. So where did these trees come from, and why is there a Crabapple Route in Littleton? Keep reading to learn about this springtime attraction in historic Littleton, Colorado.
About the Crabapple Route
The Crabapple Route traces seven miles (11.3 km) of tree-lined streets throughout Littleton, Colorado. In the southwest Denver metro area, Littleton dates from 1890, founded with only 245 residents. These farmers and business owners settled along the South Platte River in the late 1800s, partially due to the Colorado gold rush. Today, Littleton has over 48,000 residents (2020 census information) and a light rail station linking it to downtown Denver (less than a 30-minute ride). Boasting a charming and historic downtown area near the South Platte River, it has a small-town feel with city living benefits. Its long settlement and history give it a distinct personality from Denver itself and other nearby suburban areas.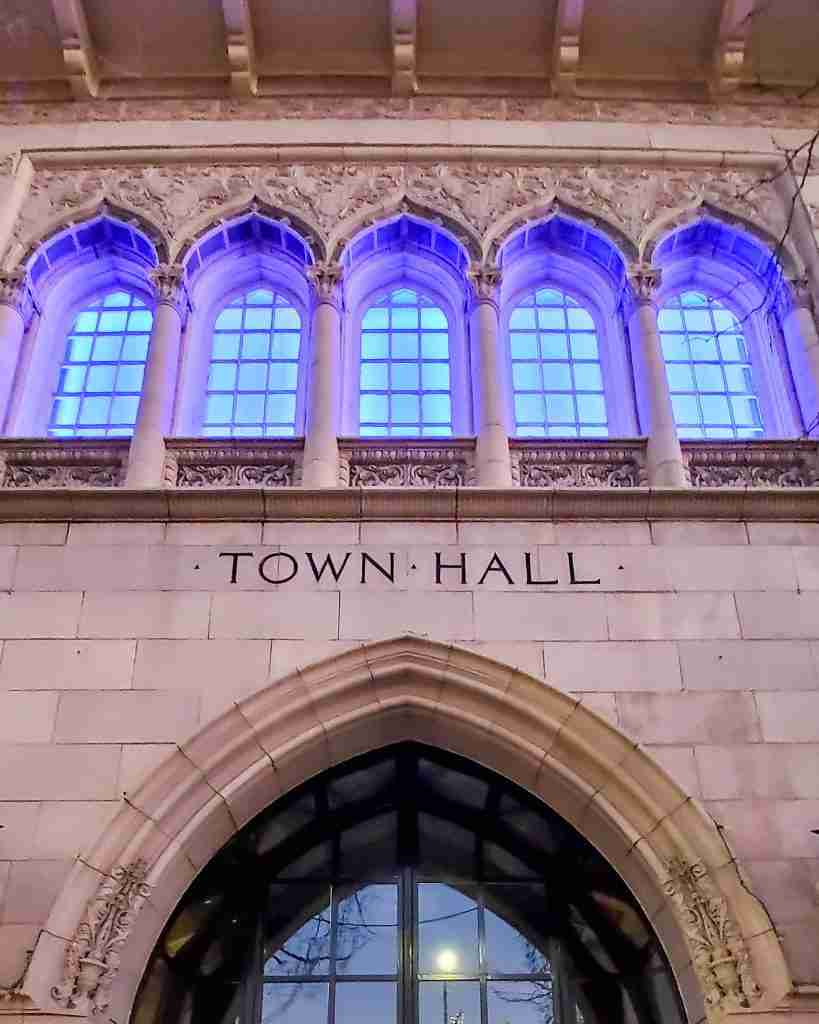 The origin of the Crabapple Route in Littleton
Over 50 years ago, zealous gardener and former Littleton mayor Vaughn Gardinier envisioned a more beautiful Littleton. Inspired by flowering plants in other cities, he determined that crabapple trees were compatible with the city's climate and landscape. At Gardinier's urging, the city council made funds available for the tree-planting project. Then, private citizens got into the act and started planting trees in their own yards. Thanks to Vaughn Gardinier's vision, Littleton has over 7,000 crabapple trees today.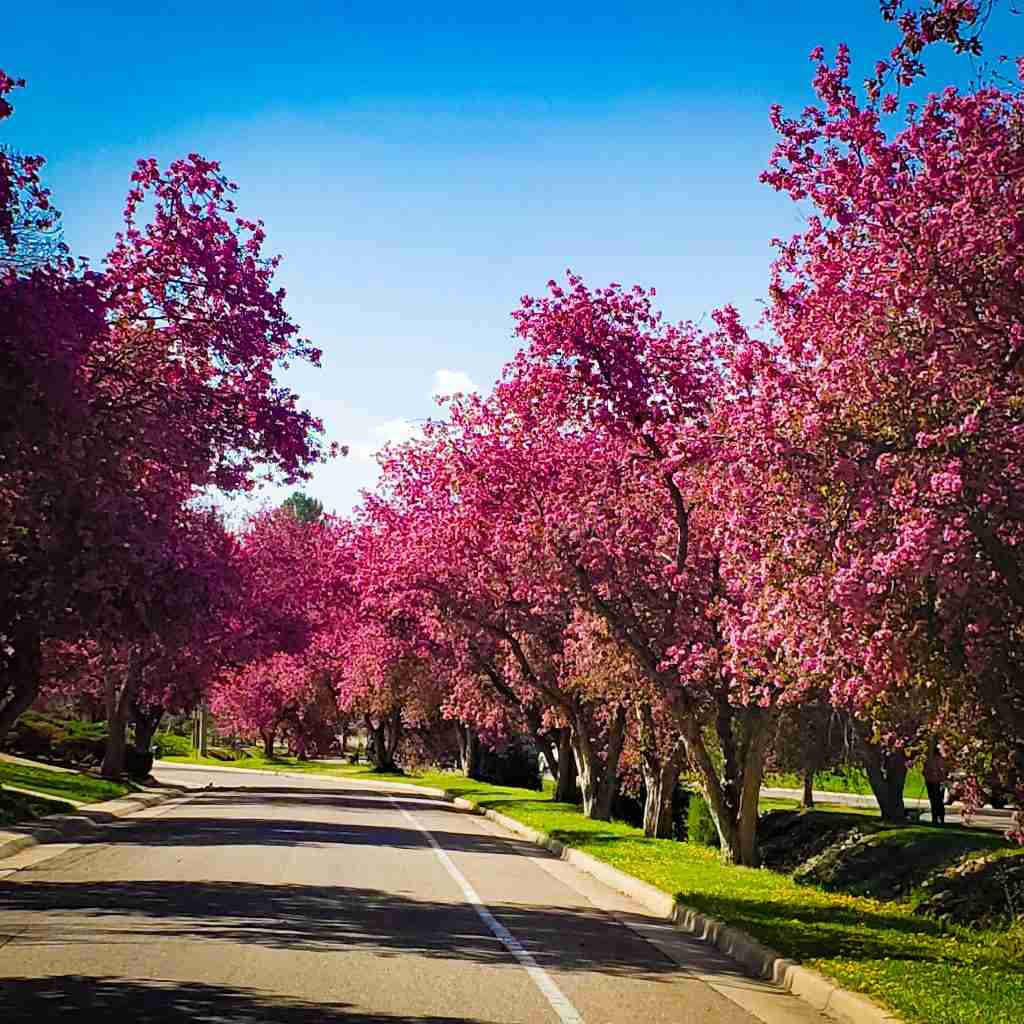 Following are some notable dates in the history of the Littleton Crabapple Route.
| | |
| --- | --- |
| 1969 | Then-mayor Vaughn Gardinier proposes his beautification plan through flowering crabapple trees. |
| 1970 | Tree planting starts |
| 2011 | Gardinier maps out the Crabapple Route, choosing streets with the most crabapple trees. |
| 2012 | Nonprofit Littleton Crabapple Route Inc. forms to continue planting crabapple trees in Littleton through private donations. |
| 2014 | Mayor Phil Cernanec declares Littleton to be the "flowering crabapple capital of Colorado." |
Following The Crabapple Route
The best time to see the crabapple route is during the spring bloom. The exact dates vary each year due to weather conditions, but the last week in April and the first week in May are typical for peak flowers. Start checking for budding trees a few weeks before to ensure that you don't miss them.
As beautiful as the trees are, I have reluctantly concluded that the best way to see the whole route is by car. Much of the route isn't overly pedestrian-friendly. Some streets have no sidewalks or only very narrow sidewalks. Depending on the conditions, car traffic may be a factor. Finally, most suburban intersections are not marked and do not have crosswalks. These features are also a disadvantage for cyclists, so walk or bike at your own risk! Here's a video showing different parts of the crabapple route, including some driving:
Still, it's good to look at and smell a few trees close up. The pink to red flowers have a wonderfully sweet fragrance that may have hints of apple, cinnamon, or clove, as examples. (Sorry, there's no smell-o-vision on this blog post.) If you want to stop and wander on foot, S Gallup Street has several lots at Gallup Gardens, Bemis Library, and the Littleton Museum next to Ketring Park. Check the route map below for details.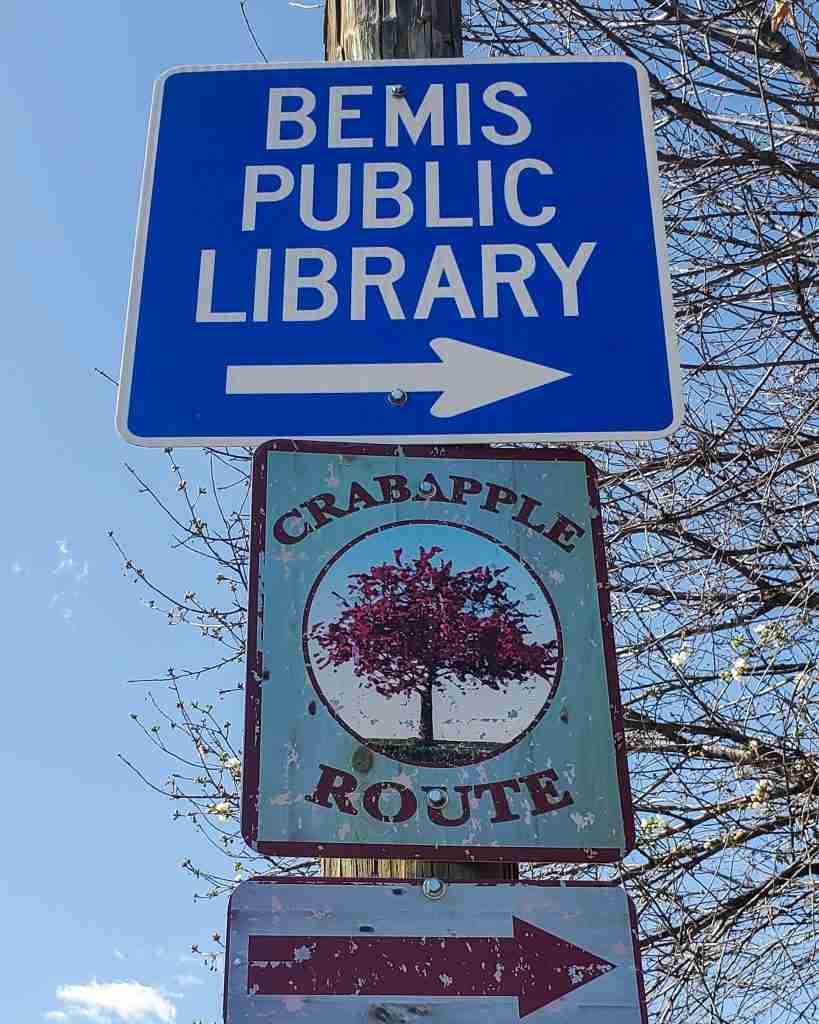 Wherever you start the trip, follow the markers for the Crabapple Route. The entire path is well-marked with easy-to-see signage with arrows.
The route is a large loop around prominent streets as well as quieter residential neighborhoods. In addition to the circle route, the directions include two out-and-back sections of West Sterne Avenue.
Trail connections
The Crabapple Route intersects local trails in multiple places (see the route map below for exact locations):
Intersection with the Lee Gulch Trail at S Elati Street
Intersection with the Lee Gulch Trail at S Prince Street
Connection to the High Line Canal Trail via Footbridge Park off of W Geddes Ave
Connection to the Lee Gulch Trail via Carbone Park off of W Geddes Ave
Intersection with the Littleton Community Trail at the corner of W Lake Ave and S Prince Street
Intersects with the trail in Sterne Park from W Lake Ave
Intersects with trails in Ketring Park and Gallup Gardens from S Gallup Street
Map for Littleton's Crabapple Route
I created this map on AllTrails to more accurately represent Littleton's Crabapple Route for a few reasons:
First, the official PDF map for the route isn't very user-friendly.
Second, I believe the official map contains an error in the route near the Bemis Library.
Finally, while the map marks about 7 miles (11.3 km) of tree-lined streets, completing the entire route is about 8.4 miles (13.6 km) due to the out-and-back spurs on two different sections of W Sterne Parkway.
I wanted to include some public parking areas near the Crabapple Route.
Don't see the map or want to see the original? Click here to go to the map page on AllTrails.
Where to Stay in Littleton, Colorado
Although there are few hotels within the Crabapple Route, the greater Littleton area has a variety of hotels from the major chains IHG, Marriott, and Hilton. The newest hotel in Littleton is the Woodspring Suites extended stay hotel on Santa Fe Drive.
Food and Drink near the Crabapple Route
Historic Downtown Littleton's Main Street area has plenty to eat and drink before or after a circuit around the crabapple route. For burgers, craft beer, and other sports bar favorites, try Tavern Littleton or View House. Palenque Cocina Y Agaveria serves upscale Mexican food and expertly mixed margaritas. Each of these three restaurants has a patio and rooftop dining.
For fresh seafood, sushi, tacos, burgers, soups, salads, and more, head to Smokin' Fins Grill, which also has an extensive wine and beer selection.
McKinners Pizza and Pho Real Littleton are other local favorites.
Jackass Hill Brewery has closed, but craft beer lovers have a large selection at Jakes Brew Bar. Wine lovers will enjoy Kate's Wine Bar. Finally, Rocker Spirits is a distillery and whiskey bar. Each of these watering holes serves light bites or food truck fare.
Other Crabapple Route Information
Pin It for Later!
Littleton's Crabapple Route is a must-see. When 7000+ flowering crabapple trees bloom every spring, a splendid display of pink blossoms takes over the city streets.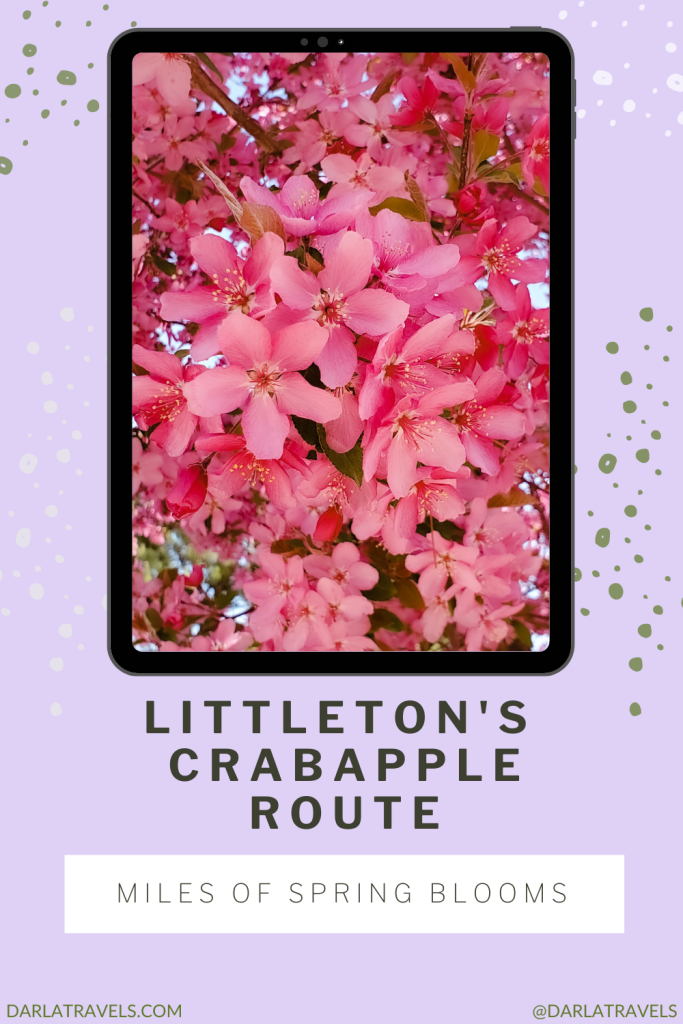 Have you been on the Crabapple Route? Leave a comment below!
Note: This post was created on May 4, 2002, and updated on March 15, 2023.