** Darla Travels is reader-supported.
When you buy through our links, we may earn a commission at no cost to you. **
In November of 2016, I was preparing for an extended, three-week vacation in France, and I needed a new carry-on. Here's how I decided to buy the Osprey Farpoint 40, a carry-on travel backpack. (Note: Osprey has since introduced the Fairview line, women-specific version of the Farpoint.)
Requirements for a new carry-on
I have an old TravelPro wheeled carry-on which has served me well for several years and fits very nicely into an overhead bin. Because of changes in airline regulations for carry-on luggage, however, I knew this suitcase was not compliant for international flights and I needed to replace it with something smaller. My requirements were:
Carry-on only, maximum dimensions 22″ x 14″ x 9″
Convenient for getting on and off public transport
Walking friendly
Back-health friendly
Why a carry-on travel backpack?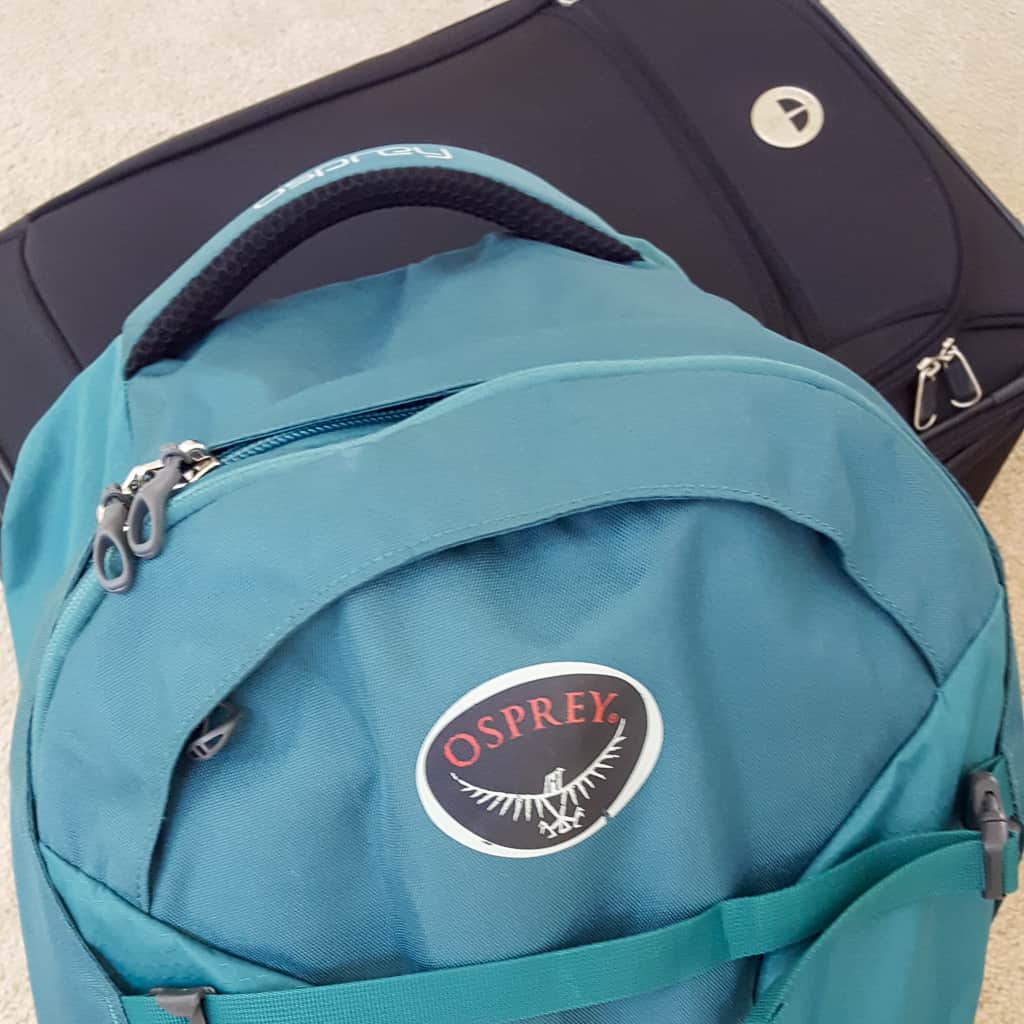 My first thought was just to buy a new TravelPro carry-on that was airline legal. The TravelPro Platinum Magna and Magna 2 received many good reviews and even some even rated them as "the best", but with wheels and handles included, the dimensions of these bags were slightly too large. After more research, I landed on an obvious yet somehow overlooked solution: get rid of the wheels. They add weight and take up space that could be used for stuff you need. At first, I dismissed this idea. Why would you actually carry a suitcase around if you didn't have to? I knew I needed that extra space, though.
The first no-wheel alternatives I viewed were no-gos. While RedOxx and Tom Binh make bags that are reviewer favorites, just imagining them slung over one shoulder caused my shoulders and back to hurt.
Then I discovered travel backpacks and started to get excited. They contain an internal frame to maintain their shape and open like a suitcase for easy access. I looked for a model that had a serious hip belt that would distribute weight to my hips rather than just putting tension on my back and shoulders. I also realized that a backpack like this would make a lot of things doable, like walking around with my hands-free (or perhaps one hand free and the other with a coffee), climbing steps, and navigating public transport.
How I chose the Osprey Farpoint
I wanted the biggest travel backpack possible that was still airline legal but then settled on a slightly smaller model. After walking around REI with several trial backpacks filled with weights, I realized that bigger wasn't necessarily better. I can't emphasize enough the importance of taking your carry-on travel backpack for a test drive like this.
As a reference point, rectangular-shaped bags provide the most storage space. For a 22″ x 14″ x 9″ bag, that capacity would be about 45 liters (L). At the time I was buying, the only travel "backpacks" that were perfectly rectangular were ugly, like really ugly, and had other drawbacks. (Today there are some better options). Additionally, with back and shoulder issues, I really couldn't have something too big or too heavy. Finally, I am 5'6″, and a slightly smaller model fits my frame much better and thus is more comfortable. The Osprey Farpoint 40 came in two sizes, with capacities of 38L and 40L. Of the properly-sized backpacks I looked at, the Osprey Farpoint 40 in the 38L size met all of my criteria and was the most comfortable.
Other great features of the Osprey Farpoint carry-on travel backpack:
While comfort and size was my primary concern, the Farpoint had several other features that helped seal the deal: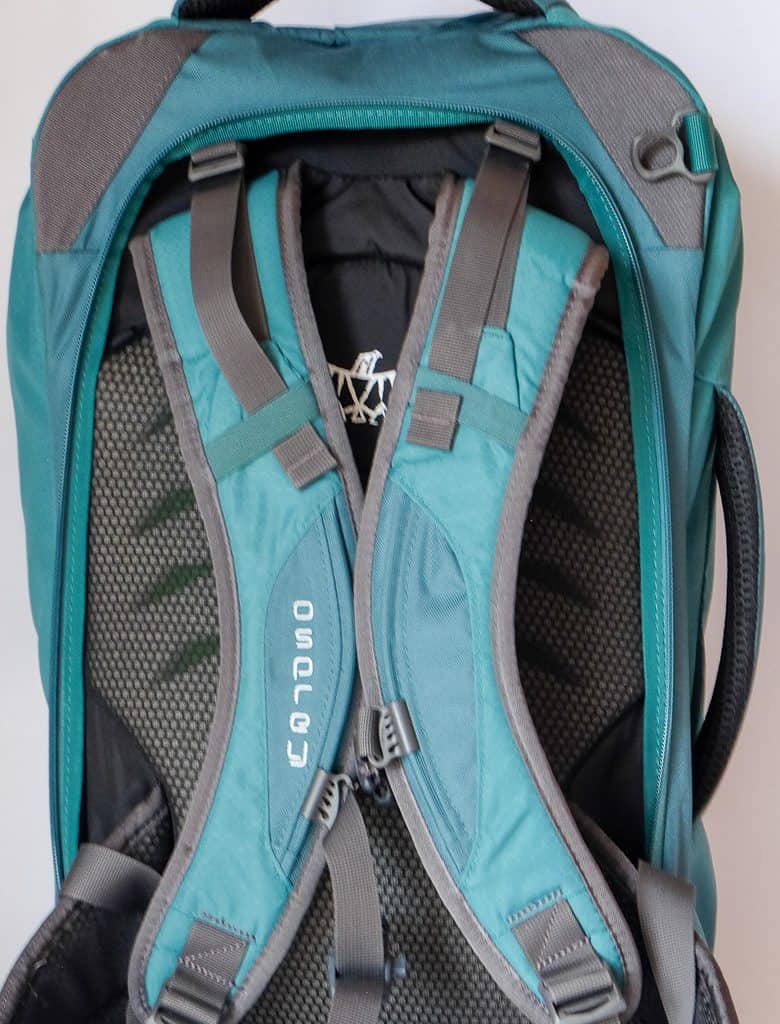 Load lifters on the shoulder straps helped with weight distribution to my hips.
Chest strap helps with weight distribution and has a security whistle built in.
Lockable zippers were a nice feature.
Top and Side handle allows easy carrying like a suitcase if needed. The handles are nicely padded. Additionally, the backpack straps can be stowed and hidden when carrying like a suitcase.
Included shoulder removable shoulder strap (more about this below)
Padded laptop compartment
One main compartment and other smaller compartments
Water-resistant. (I have since bought a waterproof cover just in case).
Inner cinch straps to compress and hold the contents of the main compartment.
Outer cinch down straps to reduce the bulk further
Lightweight compared to wheeled luggage (3.11 pounds)
After I bought the Osprey Farpoint 40 and was doing a trial packing run, I discovered that my travel folder for packing shirts fit crosswise in the main compartment almost perfectly. While not a factor in the purchase, it perhaps should have been.
Cautions
The Osprey Farpoint 40 is not perfect, but its alleged flaws were not significant to me.
Issue: The external water bottle holders are basically useless for holding water bottles when the pack is full and/or the external cinch-down straps are used.
My take: I don't carry water bottles in outer pockets. That would cause too many possible sanitation issues for this germophobe.
Issue: The laptop sleeve is on the outside pocket of the pack, rather than on the inside, next to your back, which makes the weight distribution non-ideal.
My take: I didn't have a problem with the location of the sleeve. I would think a laptop pressed against your back would be more uncomfortable, since it is flat and rigid and your spine is not.
Issue: The top of the bag has a bit of a curve, which could possibly damage your laptop (or iPad or other devices) if the pack is too full and you have the device under pressure with the external cinch-down straps.
My take: Be careful and don't overpack.
Issue: The hip belt doesn't have a pocket.
My take: What??
Issue: The shoulder strap that is included is low quality. In other words, it sucks. As intended, I barely used the shoulder strap.
My take: When I did use it, it was as security when carrying the bag by the side handle, suitcase style. You can buy a better third-party strap if needed.
The carry-on backpack in use
On its maiden flight, I somehow ended up in the last boarding group. As we were lining up, there was an announcement that all overhead space was gone, and if you had a carry-on, they would gate-check it. As I was unhappily rearranging my Farpoint 40, the gate agent told me I could carry it on since only the "large" bags needed to be checked. Even though the dimensions of the Osprey make it the maximum size for a carry-on, it appears to be much smaller. That was a relief!
The Osprey Farpoint 40 was an excellent purchase for my three-week trip to France. I had my carry-on travel backpack with me on all transport and was able to walk around, navigate stairs, and store it easily on buses and trains.
The only real annoyance was having to kneel on the ground to rearrange the bag, for example, to stow the backpack straps before getting on a train. I didn't like having to have the bag actually touch the ground when I put it down. Compared with what it would have been like to maneuver a carry-on with wheels in the same places, though, this inconvenience was slight. I could have avoided contact with the ground or another questionable surface by using the waterproof cover. The Osprey Farpoint 40 has made me a more comfortable, more efficient, and happier carry-on traveler. I'm so glad I spent the time to learn about carry-on options without wheels. While several new choices for carry-on travel backpacks have become available, I'm happy with my Osprey Farpoint 40 and plan to use it for my European trips for the foreseeable future.
Would you travel with a carry-on backpack instead of a rolling suitcase?