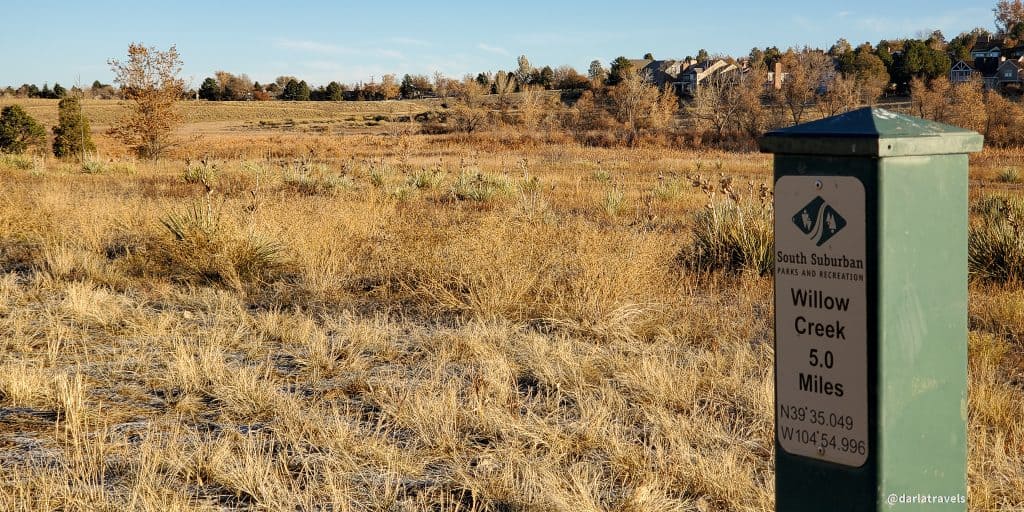 The Willow Creek Trail is a varied suburban path that cuts through two of Denver, Colorado's southern communities, Centennial and Lone Tree. Part pavement, part natural surface, the trail snakes behind houses, crosses under a highway and over a major thoroughfare, skims the border of open space, winds through city and suburb, and offers connections to other major trails.
About the Willow Creek Trail
It turns out that "Willow Creek" is a pretty popular name for a lot of things, so I want to emphasize that I'm talking about the Willow Creek Trail managed by the South Suburban Parks and Recreation District (SSPRD). Located in the southeast greater Denver Metropolitan Area, it passes through the cities of Centennial and Lone Tree. Don't confuse it with a trail of the same name in nearby Roxborough State Park (or anywhere else).
Seven miles long (11.2 km, one way), it passes through changing and distinct settings. In the suburban areas, the paved path is on the narrow side, and back yards can be right off the trail. On the other hand, in the Willow Spring open space, posted signs warn of wildlife activity amongst the prairie grasses. Other parts of the trail feature views of office parks, retail areas, and new urban developments.
While you can go for miles on the Willow Creek Trail, the effort is all forward. I calculated that there was only about a 134-foot (41 m) elevation gain over the entire seven miles. There is one opportunity for an uphill climb, which I'll get to below.
Walking the Willow Creek Trail
This is a 7-mile long linear trail, generally following Willow Creek.  In Centennial, park at Willow Spring Open Space or Willow Creek Park for access.  From Lone Tree, get on the trail at Cook Creek Park or Prarie Sky Park.  See the custom map below for the locations of each of these parks. 
To describe this trail, I'll divide it into two segments starting at Willow Creek Park and going in opposite directions. Willow Creek Park is a community park in a Centennial suburban neighborhood with the usual park amenities and plenty of parking. The trail runs along the park's edge following the large cottonwood trees next to the creek.
Willow Creek Park has some of the nicest restrooms I've encountered on my suburban hikes, and they seem to be open year-round. The restroom building is right next to the trail, making a pre- or mid-walk pit stop ultra-convenient.
With that personal business taken care of, it's time to start walking.
Walking South through Lone Tree
Heading south from Willow Creek Park, the suburbs of Centennial surround the trail. In about 0.7 miles (1.1 km), the trail passes under highway C-470 and into Lone Tree, and there is a completely different feel.
Lone Tree was incorporated in 1995, and has grown from 1.5 square miles (3.9 square km) and about 1400 people to about 10 square miles (25 square km), with over 14,000 residents. Still growing, Lone Tree appears relatively new and shiny compared to the Centennial suburbs dating from the 60s. 
At this point on the walk, the nearby Home Depot and Park Meadows Mall are (unfortunately) visible, as are other retail outlets.
The suburban vibe returns a bit upon entering Sweetwater Park. It's easy to move off the trail while walking through since there are no signs where the sidewalk splits, but make your way to the south end of the park and exit toward the adjacent Cook Creek Park. See the custom map below for a visual representation.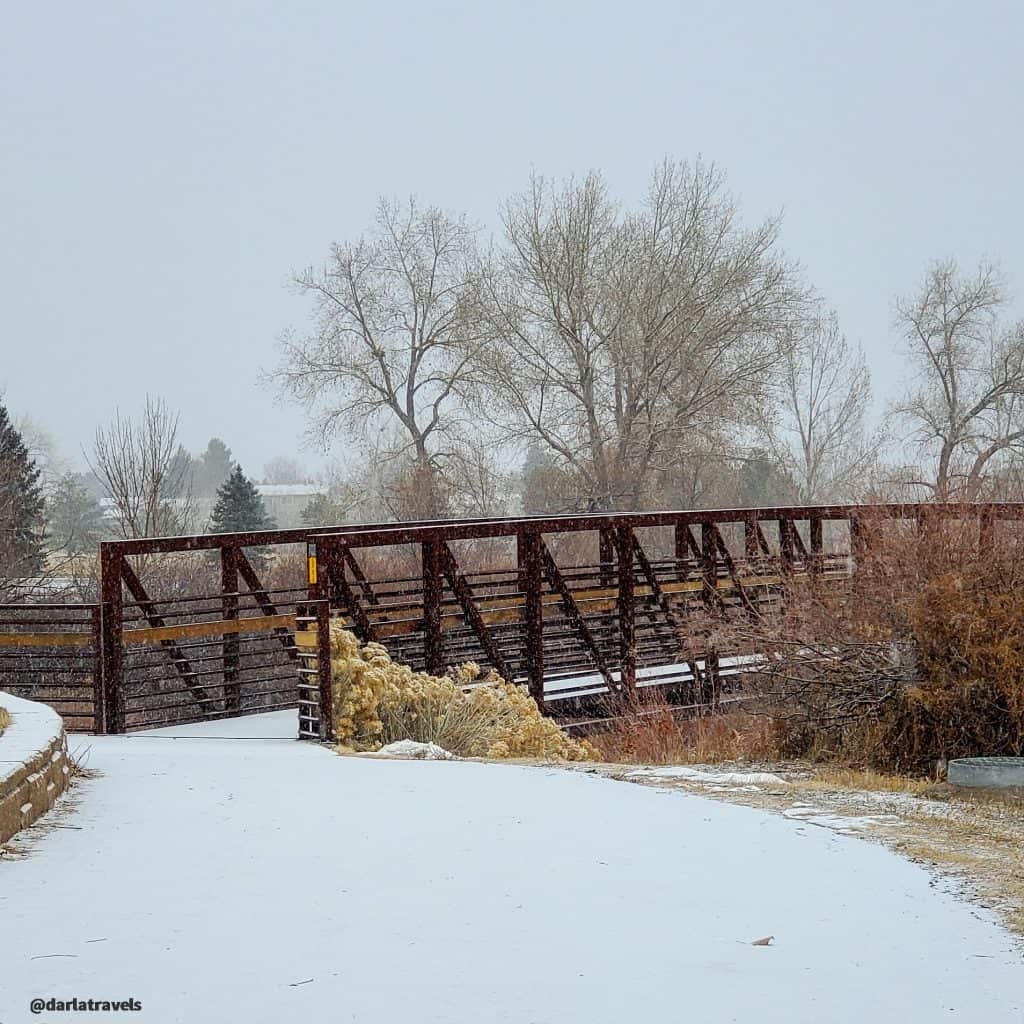 In Cook Creek Park, It's tempting to keep heading south, cross Lone Tree Parkway and follow the pavement around either side of the golf course ahead. But if you want to stay on the Willow Creek Trail, this is a mistake, and it's an easy one to make since no signs point to the correct route. Instead of going through Cook Creek Park, follow the trail (or Lone Tree Parkway if you made it that far) to the east, reaching South Yosemite Street. It is necessary to cross to the other side of South Yosemite and walk south along the sidewalk for about a quarter-mile (300 meters) to pick up the trail again, at a trail sign next to a driveway with a metal gate.
Path to the Southern Terminus
From here, the trail continues further south through another patch of suburbia approaching Lincoln Avenue. At this point, the landmark Lone Tree Pedestrian Bridge shows the way. The 80-foot tall, 100-ton leaf-shaped structure at the south end of the bridge is more than an aesthetic touch-its a structural feature that anchors and supports the bridge via cable-stays. Fans of civil engineering will love it! Take the ramp or the stairs on each end of the bridge to avoid six lanes of Lincoln Avenue traffic.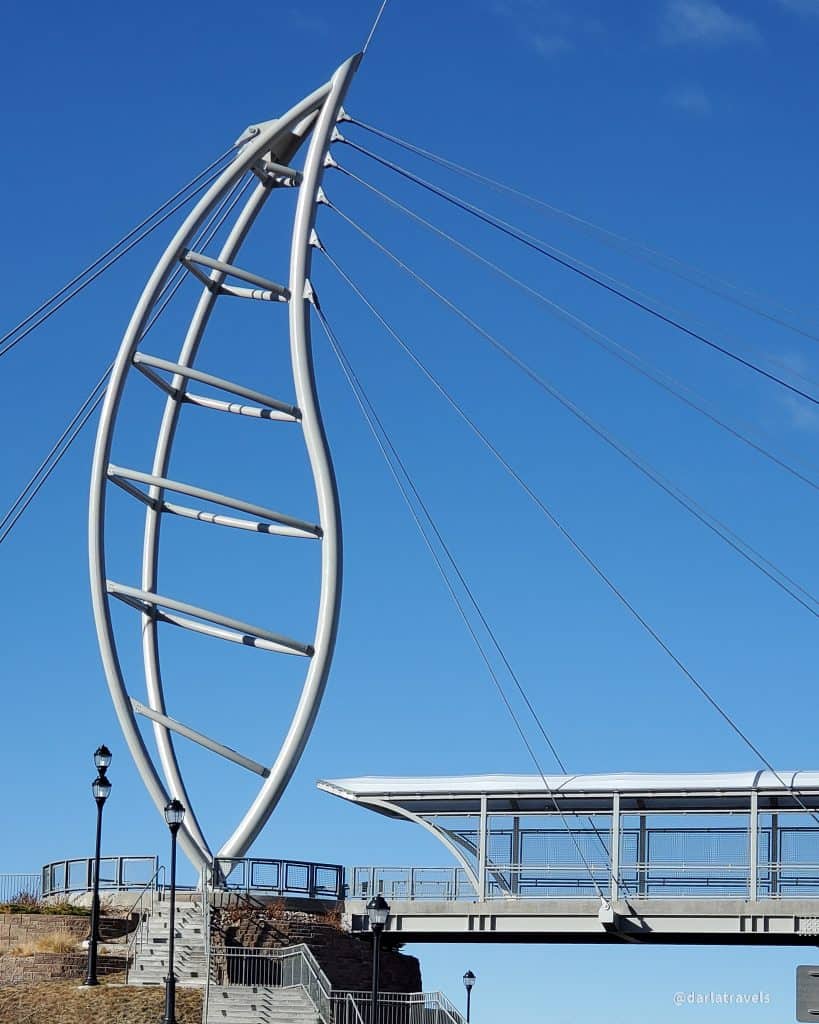 The trail continues through Lone Tree open space, past office buildings, parks, and new residential areas, ending at Prarie Sky Park on Ridgegate Circle.
The Trail North of Willow Creek Park
Returning to Willow Creek Park, I'll point out some highlights starting from here and heading in the other direction. In the suburban area just to the north of Willow Creek Park, the paved trail is not wide. I'd recommend going single file in this area, filled with older homes and mature trees.
The route is reasonably straightforward, and there is an opportunity to take a few short trails through the neighborhoods if desired.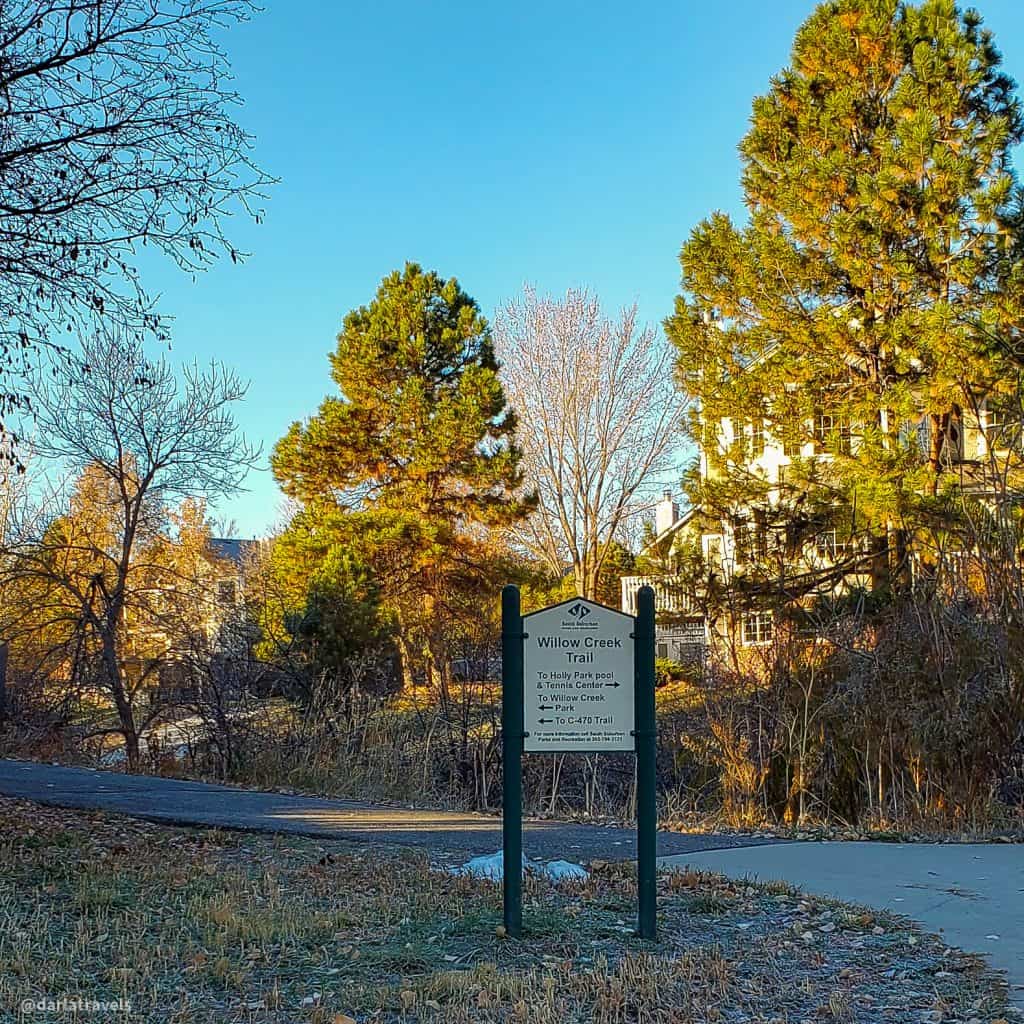 After about one mile (1.61 km), the trail crosses under Dry Creek Road adjacent to Homestead Park and Willow Spring Open Space. Here, the walk turns into more of a hike as the path is no longer concrete. It continues through the length of this open space for about 1.4 miles (2.25 km) in total. This 158 acre (64 hectares) natural area seems like a miraculous find in a residential area surrounded by housing developments. Willow Creek continues to run through this open space which has additional trails and is home to birds and other wildlife, including coyotes.
One Dam Hike
It's impossible to miss the Englewood Dam at the northern end of Willow Spring Open Space. Officially, the trail takes a sharp turn to go around this earthen structure, but anyone game for a climb can take a trail to the top of this 55-foot tall dam and walk along its length, which is about half a mile (750 m), before coming down on the other side. As I mentioned above, the trail is very flat, so this is the only chance to get uphill.
On my first visit to Willow Spring Open Space, I found the grass-covered Englewood Dam fascinating. I assumed it was a historical monument to a bygone time when ranches or cropland dominated this area. I was surprised to discover that although built in 1936, it's not a relic at all but an operational structure used for flood control. This suburban dam can hold approximately 652 million gallons (2.5 million cubic meters) of stormwater runoff! The only water from Willow Creek that gets to the other side goes through a concrete pipe at the dam's base. With this barrier, life and property downstream are protected after heavy rains.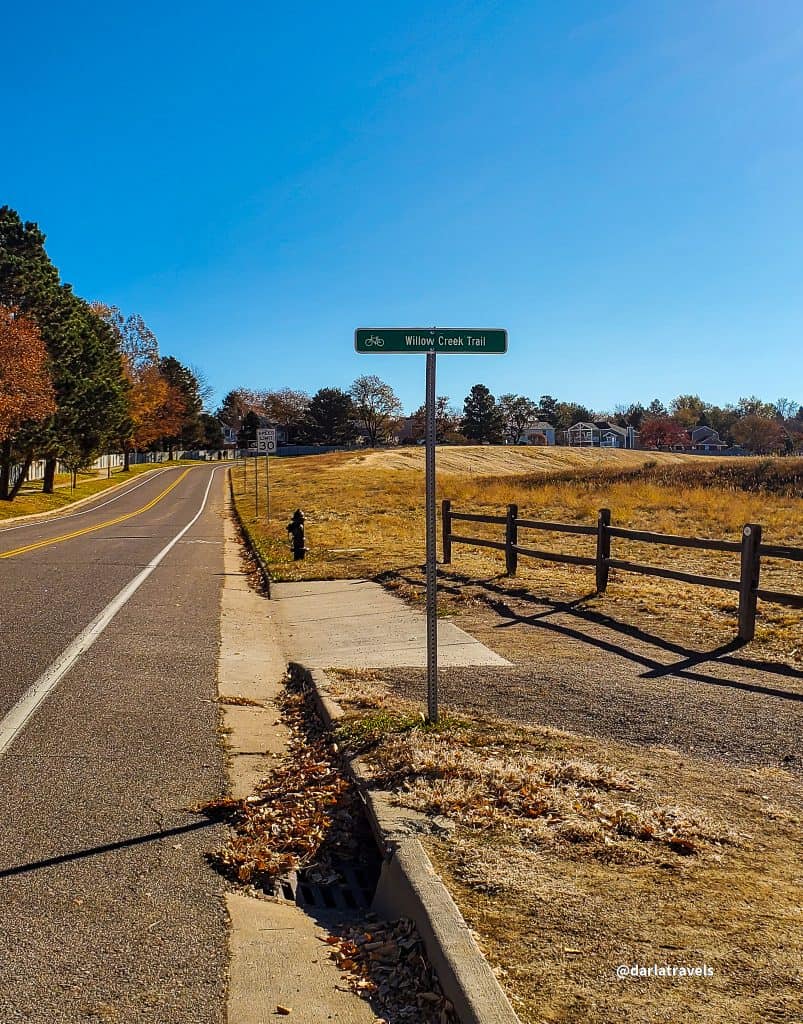 On the north side of the dam, the trail reaches S. Homestead Parkway, which looks like the end of the line. However, the trail map from SSPRD shows the path continuing along S. Homestead Parkway to Arapahoe Road, the official terminus. This last bit of the "trail" is a sidewalk along the street, and I saw no signs with directions. If you want to continue your suburban hike, you can do this with other SSPRD trails that continue on the north side of Arapahoe Road.
Trail connections
From the southern end of the trail at Prarie Sky Park in Lone Tree, it's possible to travel about 0.3 miles (0.5 km) along Ridgegate Circle/Ridgegate Trail to Bluffs Regional Park. Bluffs Regional Park has other trails and is well worth visiting (as I wrote about here).
It's also possible to continue on through Prairie Sky Park further south for about 0.7 miles (1.2 km). Once past the houses, the pavement turns to dirt, and the trail begins to climb. This path eventually connects with the East/West Regional Trail.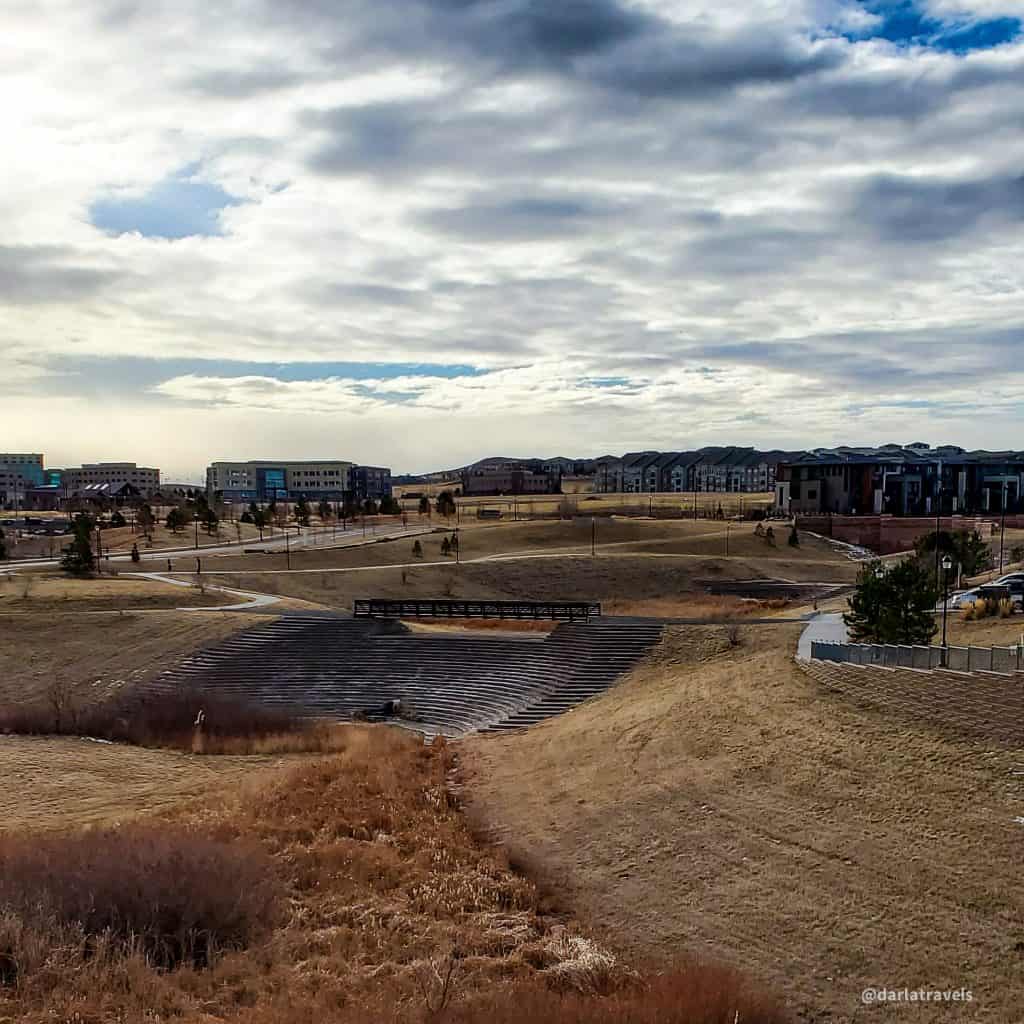 As mentioned above, the trail's official northernmost point is the intersection of Arapahoe Road and Homestead Parkway. On the north side of Arapahoe Road, the trail continues in Holly Park but has the name Little Dry Creek Trail.
See the custom map below for neighborhood access to the Willow Creek Trail.
Summing up the Willow Creek Trail
It's easy to access the Willow Creek Trail in south suburban Denver from either end or the more central Willow Creek Park, the park with excellent restrooms.
This flat trail is ideal for a casual walk since it has only a very slight elevation change (save for the optional climb up the Englewood Dam). At seven miles one way, the trail is convenient for anything from a short stroll to multi-hour jaunts.
There are a few cautions with the Willow Creek Trail. First, the concrete path is narrow in places and doesn't lend itself to group walks or social distancing.
Second, the trail is poorly marked at some intersections, and it's easy to get off track. I've noticed this confusing lack of signage occasionally on other SSPRD trails, which are otherwise well-maintained and excellent in many respects. Of course, sometimes it's fun to take an unplanned detour, but if you'd like to stick to the trail, take a map or use an app like AllTrails to check your location.
Third, this suburban walk includes views of significant roads, office buildings, and retail establishments, many of them south of highway C-470. If all that civilization sounds like a distraction from a relaxing outdoor excursion, consider staying on the sections of the trail north of Willow Creek Park, which feature much more suburban open space.
Custom Map of the Willow Creek Trail
I created this map on AllTrails to summarize everything you need to know along the Willow Creek Trail.
Legend:
Red: Willow Creek Trail
Blue: Connectors or neighborhood access
Purple: alternate routes through Willow Spring Open Space
Yellow: Waypoints/Trailheads
Don't see the map or want to see the original? Click here to go to the map page on AllTrails
Other Trail Information
Conclusion
The Willow Creek Trail is a suburban trail with a lot going for it. Easy access from a number of parks means there's no excuse not to get out for a suburban hike. The flat trail is good for casual walking but can be made more strenuous by increasing the distance covered or climbing to the top the of Englewood Dam. A variety of surroundings keep the walk engaging and highlight the history and development of the Denver metro area south suburbs.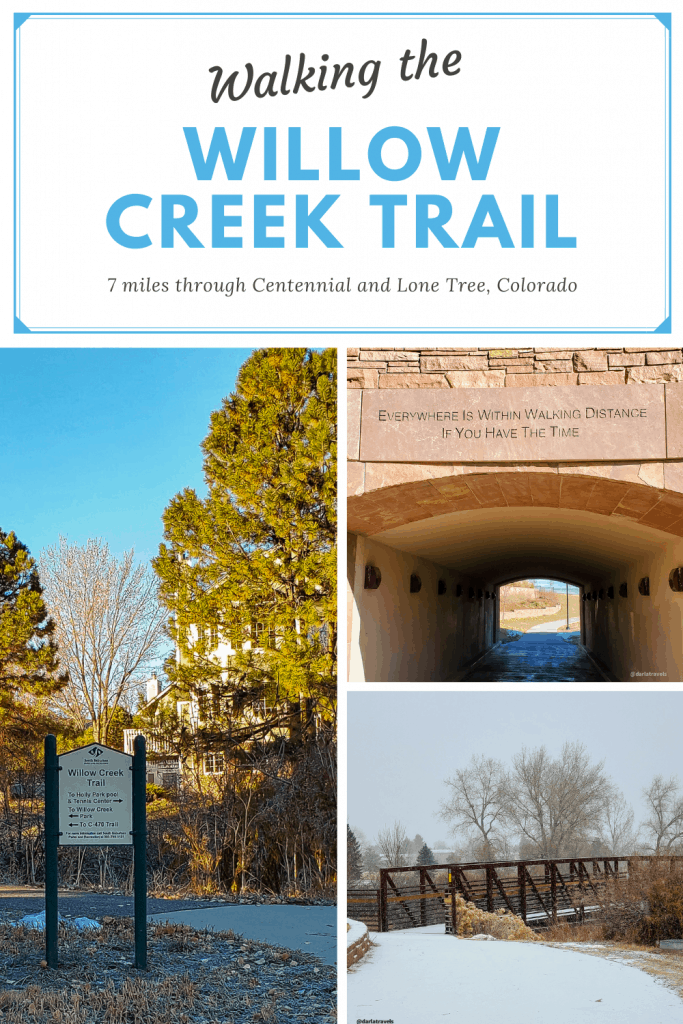 Have you walked on the Willow Creek Trail? What did you think? Leave a comment below!