** Darla Travels is reader-supported.
When you buy through our links, we may earn a commission at no cost to you. **
Part 1: Why and how we chose a backpacker bus tour
How did two Gen X tourists end up on a New Zealand bus tour with backpackers half our age?
My travel partner and I wanted to see New Zealand's North Island but also wanted to keep costs under control. If you've looked into tours and tour packages in New Zealand, you know they can be expensive! The solution for us was a bus tour from Stray Travel. Stray combines the convenience of a guided tour with the ability to customize the journey.
In Part 2, I'll report on the first part of our trip, starting in Auckland, traveling to Paihia, and returning to Auckland. In Part 3, I'll continue with descriptions of Hahei and Rotorua, as well as our return to Auckland.
Read on to find out why a so-called backpacker bus was an efficient, cost-effective, and fun way to see New Zealand's north island. This was true even for a couple of Generation X tourists with limited time.
How Stray Works
Stray describes their product as a hop-on hop-off bus network. When I heard this, I imagined all those buses full of tourists that do circuits around major cities. I quickly learned that Stray is something else entirely. Stray sells a "freestyle pass" for a multi-day pre-set route in New Zealand. The cost of the tour depends on the minimum length of time needed to complete the itinerary. The shortest journey will take just a few days to complete, the longest, at least six weeks. Each pass is valid for an entire year. Stray encourages passengers to take more than the minimum time to complete the routes by "hopping off" in any one of the stops to spend some extra time. After you've hopped off and want to get back on the road, you can schedule yourself on the next available bus through a web-based itinerary manager or the StrayMate app.
The system will allow you to plan as you go. Although you will have an itinerary, you can adjust it at any time. Stray makes spontaneity even easier by guaranteeing that you will have accommodation for the first and second nights at your destinations. There's a catch with lodging that I'll explain a little bit later on in this post. Stray also provides suggested excursions and activities. Some are free, and many paid activities have a discount. You must buy the freestyle pass in advance, but the included accommodations and optional activities are on a pay-as-you-go basis. You can book both things to do and lodging through the StrayMate app.
Why we chose a bus tour
I'm not a fan of bus tours. To be clear, this is a vast understatement. In my initial planning for New Zealand, getting on a bus wasn't even a thought. As mentioned above, we looked into some pre-packaged tours and found at least two drawbacks. First, we had about one week to explore the North Island, and that was too short for most of these tours. Second, they seemed very expensive.
We considered another popular way to explore New Zealand, a self-driving tour. This approach also had some drawbacks. Initially, we were somewhat discouraged from renting a car by locals. They told us that many car accidents in Auckland involve tourists. In particular, these are tourists not used to driving on the left side of the road and lacking familiarity with the local traffic rules. Second, we wanted to see the beauty of New Zealand, and driving would possibly distract from that goal. Finally, gas in New Zealand is expensive, over six dollars a gallon at the time of our trip. We wanted a way to get around the North Island without these disadvantages, but had to ask: is it possible to travel well in New Zealand without a car? For us, the answer was yes, and a bus tour checked all of the boxes.
Bus tours in New Zealand
Having warmed up to the idea of a bus tour, after all, we found that this mode of transport has several advantages in New Zealand. First, regardless of the tour company, bus tour passes tend to be very reasonably priced. Relieved that we didn't have to worry about finding or paying for gas or parking, we could relax independently on the bus. Finally, we could have a flexible itinerary, so we wouldn't be stuck if the tour was not to our liking, or if we decided to spend an extra day in a particular location.
There is more than one way to take a bus tour in New Zealand, with several companies competing for passengers. In asking what the best New Zealand bus tour is, we looked into a few companies only to find they were no longer in business. I got the impression that it's a very competitive market.
InterCity (running long-distance bus routes since 1987) has an extensive, well-established bus network. InterCity offers two main types of passes. The first is called FlexiPass, and its cost is based on the number of hours of travel. The second pass is the TravelPass, itinerary-based. (InterCity has since launched a separate bus service, called Skip, that provides budget express service on the North Island.) InterCity is very straightforward and no-nonsense, perfect for our Generation X sensibilities. Yet, I was intrigued by two "backpacker" bus companies geared more for younger travelers. One of these services was Kiwi Experience, which has green buses, and the other was our ultimate choice, Stray, with orange buses.
One of the features of Kiwi Experience and Stray is that the bus ride is not just a bus ride. With both companies, the driver also acts as a tour guide and all-around concierge. The drivers, of course, let you know the basics: arrival and departure times, locations, and company policies. But they also provide advice on shopping and, and promote interaction between the passengers. I liked the idea that someone would have my back if we ran into a snag or just had questions about anything on our trip.
I also liked the idea of being around a group of people that included some much younger than myself. I'm happy being a GenXer, but most of my recent trips were with a more mature crowd, so I was ready to mix it up a little bit.
Why two Gen X tourists chose Stray
Reading reviews of the two services, Kiwi appeared a little more social and more geared toward those wanting a party atmosphere, while Stray was fun but slightly more restrained and more likely to have travelers of all ages.
Not needing a particularly festive experience, we settled on Stray. With limited time on the North Island of New Zealand, we chose the Jerry Pass (now discontinued), an 8+ day pass around the North Island, starting and ending in Auckland. The regular price for this pass was NZD445 at the time of our purchase, but we got it on sale and paid only NZD399 each, roughly $260. I considered this an excellent value. We were practically getting door-to-door transportation to great destinations, and a knowledgeable driver guide who would take care of us for the week. All this just for making our way to the Stray offices in downtown Auckland to start our trip.
Lodging on our New Zealand bus tour with Stray
As the principal trip planner, I was excited to hear that Stray guarantees accommodation for the first and second nights at your destination. The catch is that guaranteed lodging is a bed in a dorm-style room in a hostel with a shared bathroom. These beds are very affordable, running around $25 per night or less on average.
Most of the recommended hostels have other room types, but they don't guarantee the availability of these rooms to Stray passengers. My travel partner and I agreed that we wanted a private room with an ensuite bathroom and didn't want to take a chance that one wouldn't be available. When we contacted Stray, they told us to book in advance directly with the property, letting them know we were going to be part of the Stray tour.
The first property we contacted didn't seem to care that we were coming with Stray. They advised us that we could have them book the room, or we could just book it online. We opted to book online for convenience. Here, we found that the property, and most of Stray's recommended hostels, can be booked online through booking.com. We booked everything through booking.com to keep things organized. In addition, we found that for a few properties, the booking.com rate was cheaper than the property website. Finally, free cancellation within 72 hours was available for most locations, giving us back a bit of the flexibility we had lost.
In all of the cities we visited, there was a range of options for lodging. Stray buses drop off and pick up passengers at one or more of guaranteed lodging sites in a particular location. Even if you don't like a specific hostel, it's a good idea to stay nearby if you have an early pickup on departure day.
With the location in mind, I searched for properties with good value. We wanted a comfortable room but were not looking for luxury. Our average nightly hotel cost for the entire trip was a surprisingly affordable $89 (USD) per night. For a couple wanting quiet accommodation with a private bathroom, this was a great deal.
Ready for the bus tour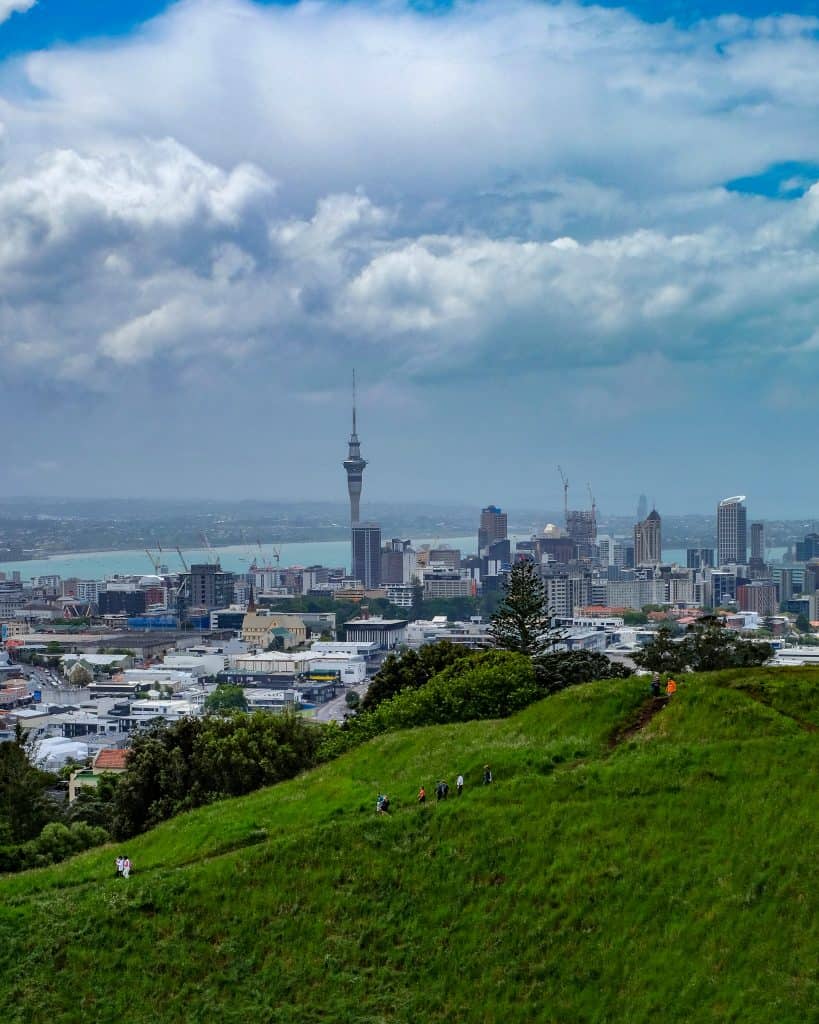 Buying our pass through the Stray website was quick and easy. After reserving lodging for the tour, we just needed to get to Auckland for the start of the trip. Where exactly did we go, what did we do, and how did our trip turn out? For details, head to Part 2 of this review, where I describe the first part of our journey. After that, move to Part 3 for more on the latter part of our New Zealand bus tour.