** Darla Travels is reader-supported.
When you buy through our links, we may earn a commission at no cost to you. **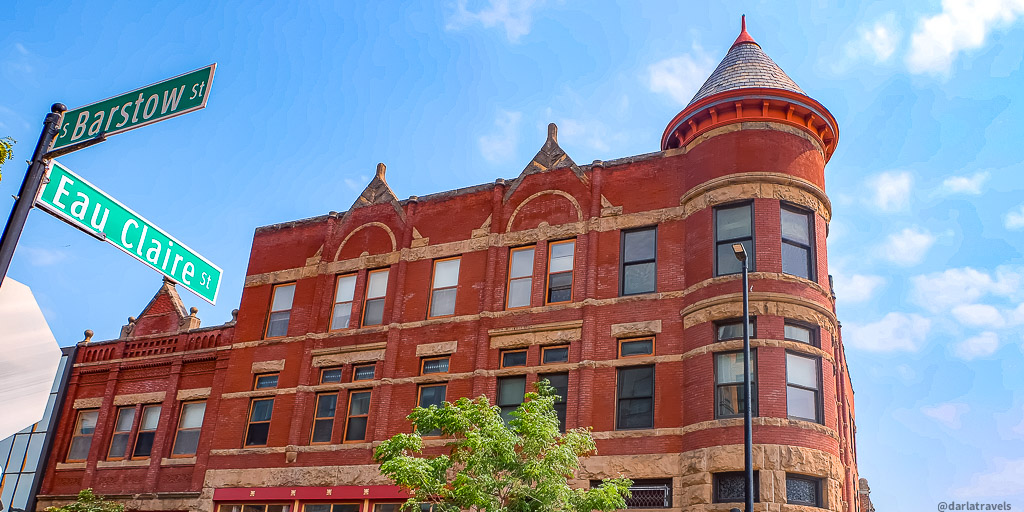 Exploring Eau Claire on foot is an enjoyable introduction to this charming Wisconsin city of about 70,000 people. The district was founded in 1872 when three villages at the Eau Claire and Chippewa Rivers confluence combined.
Approximately 90 miles east of Minneapolis, the city has been growing and reinventing itself since its earliest days. Plentiful white pine forests sparked the lumber industry, which peaked in the late 1800s. As logging waned, wheat and dairy farming and manufacturing gained popularity. Eau Claire's residents have also long supported sports, music, and the arts. If you know where to look, evidence of all this history is abundant when walking around Eau Claire today.
There are almost too many ways to explore Eau Claire on foot. With multiple natural areas, regional trails, a sculpture tour, and pedestrian bridges, you could walk all year in Eau Claire. I've highlighted some of the best walking opportunities below.
Eau Claire Sculpture Tour
Eau Claire is famous for its Sculpture Tour, currently the country's most extensive outdoor sculpture tour. Every year, a panel selects new sculptures for outdoor placement around the city, with the majority being in the downtown area. However, the Sculpture Tour has become so large that sculptures are now found in the regions of River Prairie, Carson Park, Banbury Place, and along Water Street, as well as the nearby towns of Altoona, Osseo, and Menomonie.
Diversity in style, size, subject matter, and materials leads to an engaging and entertaining array of art pieces. Downtown Eau Claire is compact; thus, viewing many sculptures on a leisurely stroll or two or three is easy. The City of Eau Claire provides maps laying out the sculpture locations. To plan your walk, pick up a brochure at various locations around town or download a PDF version. And if you're in the market for a sculpture of your own, many are for sale.
From left to right, these animal sculptures are Queenie (Steve Feren), Tortoise (Adam and Eve Turney), and Billy the Goat (Don Gaber).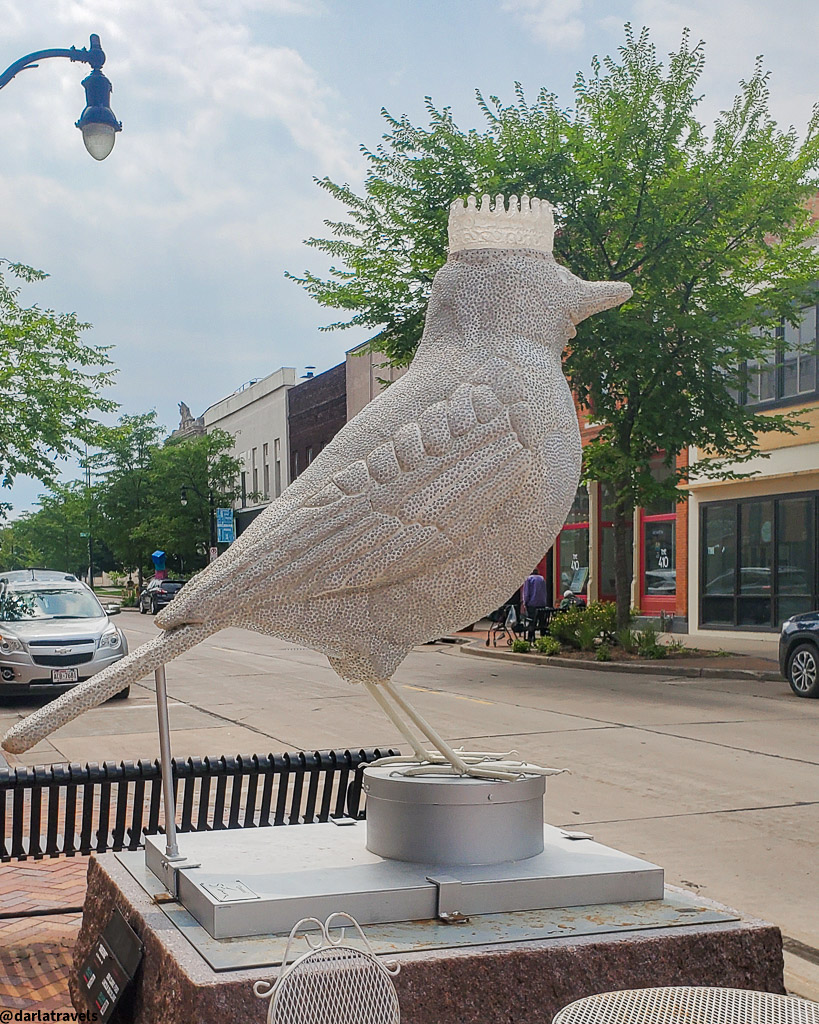 Walk Everywhere from Phoenix Park
Phoenix Park is a small park at the confluence of the Chippewa and Eau Claire Rivers. The park is a community gathering area hosting a farmer's market, concerts, and Food Truck Fridays, among other events. While it is not huge, it's notable for its historic location and views and is an ideal place to start or end walking excursions.
For instance, a model solar system walk starts in Phoenix Park at a marker for the sun. The remaining planets are distributed along a one-mile route ending on the Eau Claire Campus of the University of Wisconsin.
The 37-mile (59.5 km) Old Abe State Trail ends in Phoenix Park. This trail connects the city with Chippewa Falls and Cornell further to the north along an abandoned railroad bed route passing through various built and natural environments. (Outside of Eau Claire city limits, bicyclists and skaters, but not walkers, must have a Wisconsin State Trail Pass on this trail).
Additionally, three pedestrian bridges are visible from Phoenix Park.
The Haymarket Plaza Pedestrian Bridge crosses the Eau Claire River to Haymarket Plaza and the adjacent Pablo Center event venue. Haymarket Plaza is so named because it was the site of an actual hay market when the Chippewa Valley was an agricultural center.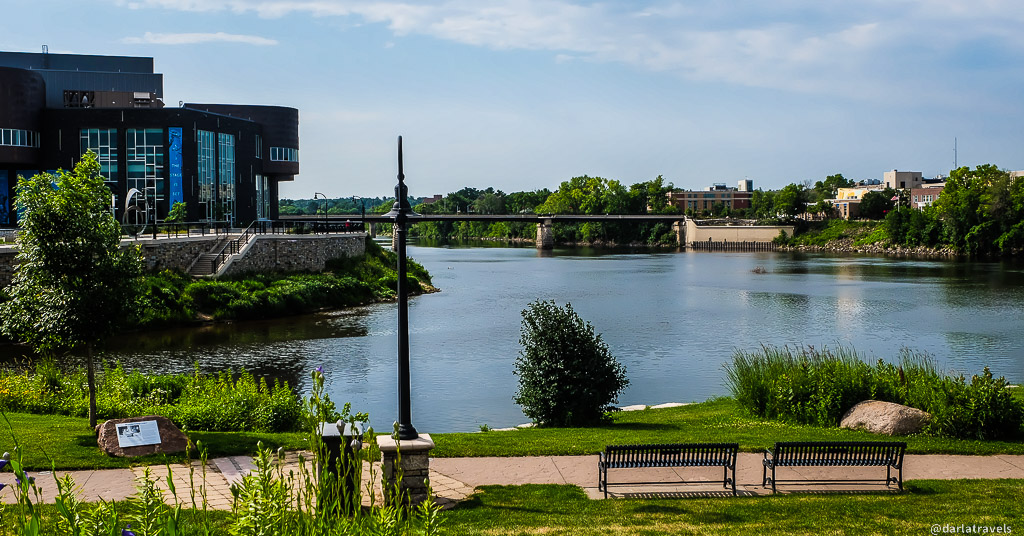 South of Phoenix Park, the Grand Avenue Pedestrian Bridge crosses the Chippewa River. Eau Claire residents have been connected by a bridge at this location since 1869.
Finally, Phoenix Park is a trailhead for the Chippewa River State Trail, which crosses the Eau Claire River on a pedestrian bridge on the park's west side. The Chippewa River State Trail is described below.
Take a Long Walk on the Chippewa River State Trail
Exploring Eau Claire on foot on the Chippewa River State Trail. Starting in Phoenix Park, this hard surface trail connects Eau Claire to Durand. It covers the path of an abandoned railroad line dating from 1882.
This 10-foot (3 m) wide scenic trail roughly follows the banks of the Chippewa River, skirting more developed parts of the city. The Eau Claire part of the trail is around 11 miles (17.7 km). Walkers will share the path with runners, cyclists, in-line skaters, and, in the winter, cross-country skiers.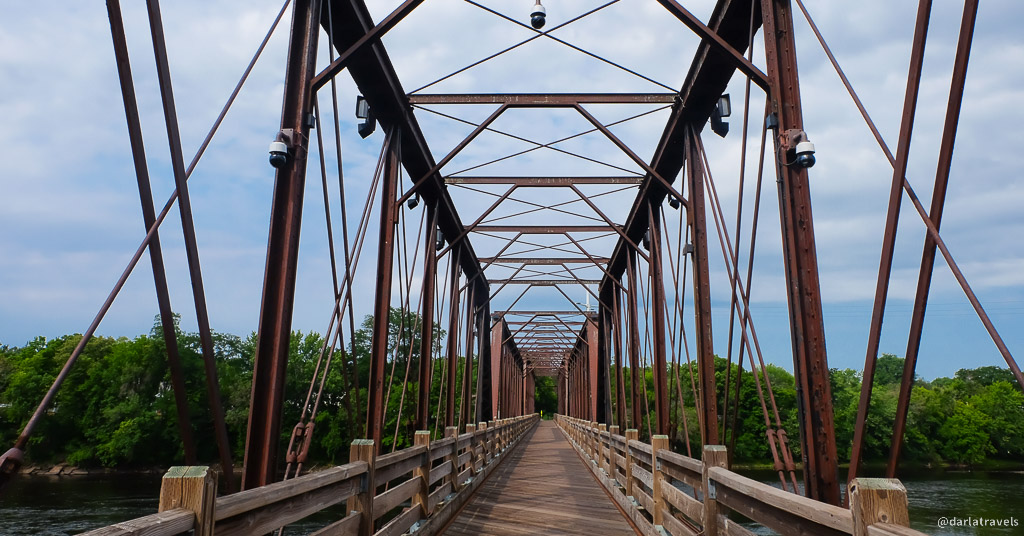 Outside of Eau Claire city limits, bicyclists and skaters, but not walkers, must have a Wisconsin State Trail Pass on the Chippewa River State Trail.
This tail is part of the 76-mile (122.3 km) Chippewa Valley Trail system that connects with the Old Abe State Trail mentioned above and the Red Cedar Trail, which ends in Menomonie.
Walking in Eau Claire's Carson Park
Carson Park is a 134-acre (54.2 ha) peninsula surrounded by Halfmoon Lake. It's a destination for recreation, sports, art, and history. Walking into the park on the Lakeview Trail near the Carson Park Drive entrance, look for one of the Sculpture Tour pieces, Viking Boat (sculptor: Dale Lewis).
Chippewa Valley Railroad
The Lakeview Trail also passes the Chippewa Valley Railroad (CVRR), a 1/4-scale railroad with several buildings and miniature trains that take visitors on a loop ride through the wooded part of the park.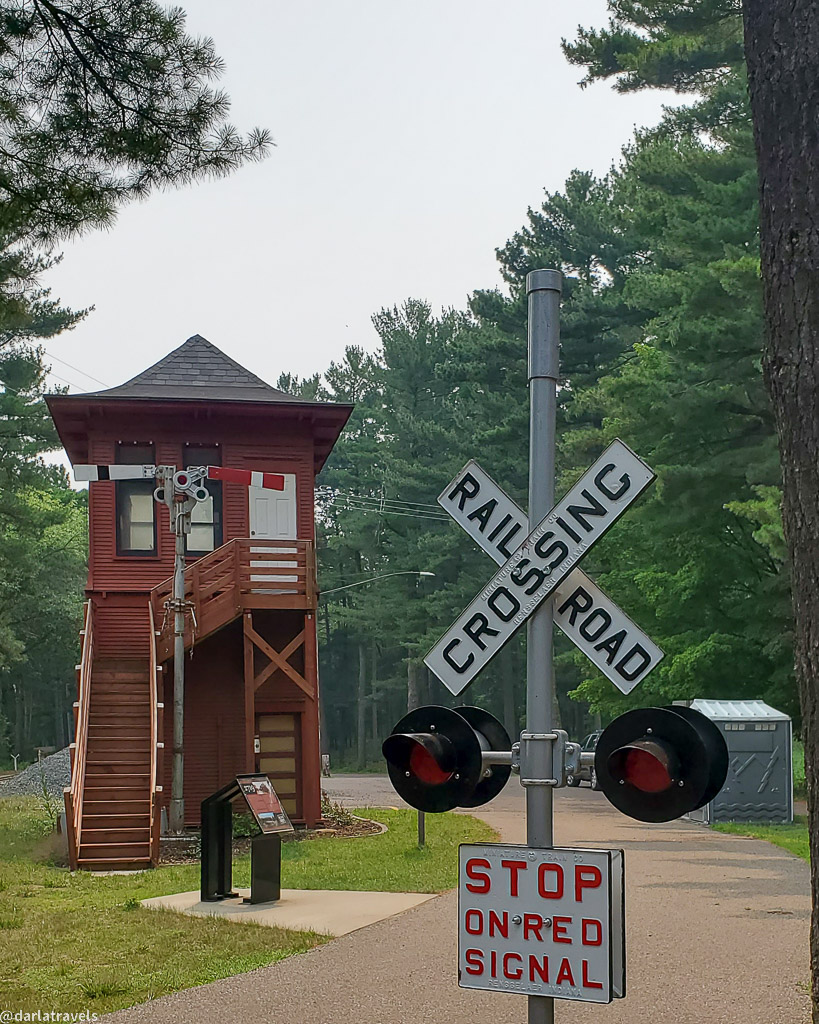 Logging History
Near the park's north end, it will be hard to miss a sculpture set of the fabled Paul Bunyan and Babe the Blue Ox (Sculptor: Kim Nessel) right in front of the Wisconsin Logging Museum.
Historic buildings nearby include an 1890s Logging Camp, a Machine Shed Gallery, the 1867 Anderson Log House, and the Sunnyview School building adjacent to the Chippewa Valley Museum. The two museums and historic buildings offer a captivating journey through the region's rich forestry heritage.
It's fitting that these historic buildings back to a wooded area. Take a stroll down Pavilion Road for a close-up look at these tall trees and a quiet respite in nature while contemplating the forests here that supplied the logging industry in the 1800s.
Other park facilities
The park's southern section includes ball fields, picnic areas, and a large playground. Baseball fans will enjoy walking around the Carson Park baseball stadium, built in 1935. Hank Aaron Plaza outside the stadium honors the baseball great who played for the Eau Claire Bears here starting in 1952 and features a sculpture of Aaron.
Remember to stop by Braun's Bay near the Carson Ave. entrance to admire the views across the water.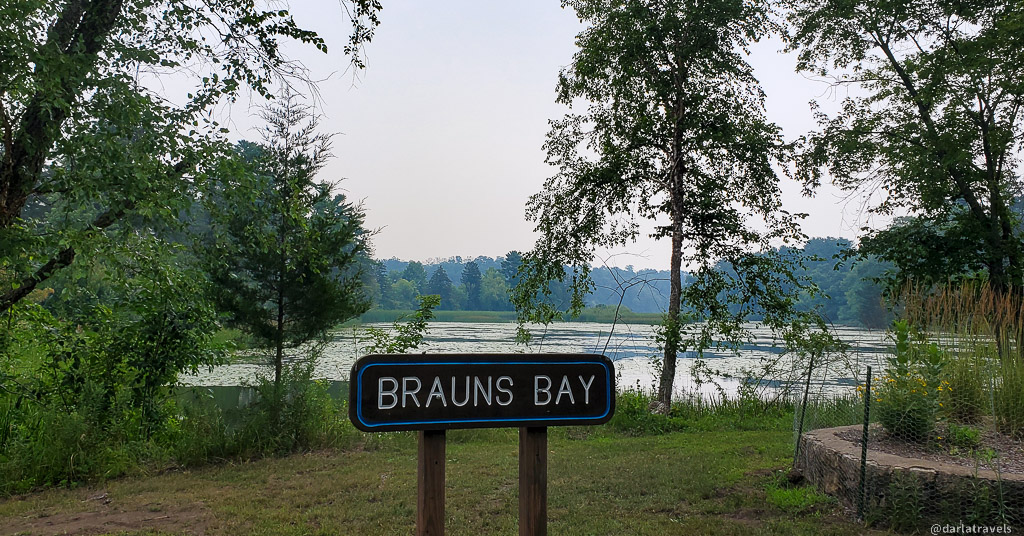 Whether you're into sports, history, the arts, or simply seeking some quiet time in the woods, a walk in Carson Park has it covered!
Walking Tour of Historic Downtown Eau Claire
Downtown Eau Claire is highly walkable. Not only is it filled with dozens of sculptures that are part of the Sculpture Tour described above, but it's also home to various historic buildings from multiple time points in Eau Claire's evolution. Take a self-guided audio walking tour on the VoiceMap app to appreciate downtown Eau Claire's roots.
This audio tour takes about 90 minutes and covers 2.6 miles (4.2 km) of Eau Claire's city streets. Walking around the city, you'll learn about Eau Claire from the first settlers through the 1930's.  
Eau Claire was and continues to be a cultural hotspot. You can see this on the walking tour stops at the former Grand Opera House, the Eau Claire Auditorium, and the State Theater.
Additionally, many of the city's impressive historic buildings are highlighted on the VoiceMap tour. Some of my favorites:
The Federal Building, built in 1930 and originally a post office–is on the National Register of Historic Places.
City Hall. This 1916 building is a replica of the Petit Trianon, Marie-Antoinette's palace at Versailles. 
Schlegelmilch House. This residence-turned-museum is the oldest brick house in the city, dating from 1871.
Left: Federal Building; Right, City Hall: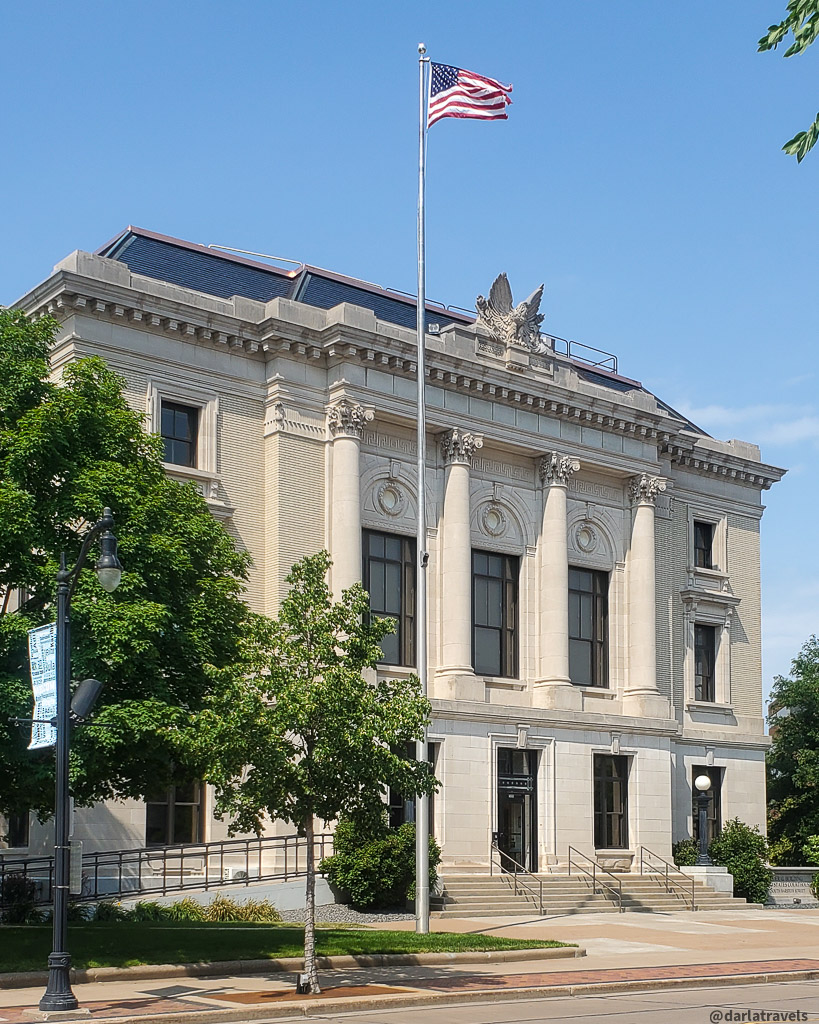 On this walking tour, you'll also learn quirky facts about Eau Claire, such as:
The location of its first traffic light, the 4th in the country;
Where the Huebsh company did laundry in the river in the logging era; and
How a devastating flood in September 1884 affected the city.
(If you like exploring city buildings, see my article on An Urban Walk in Downtown Waco, Texas)
Walking in Eau Claire's Putnam Park – A State Natural Area
To get back to nature, visit Putnam Park, owned by the University of Wisconsin-Eau Claire. It's been a State Natural Area since 1976. The forested land extends in a curving strip around residential neighborhoods. It has an incredible diversity of plants–at least 400 species, and animals–100 species of birds and 23 mammal types. The different topographies, bedrock exposure, and soil types on the parkland contribute to habitat formation. Tree varieties include white and red pines, river birch, silver maple, hackberry, red maple, and paper birch, to name a few. It's a rare wild area practically hidden in the city, but the Putnam Trail makes it easy to explore.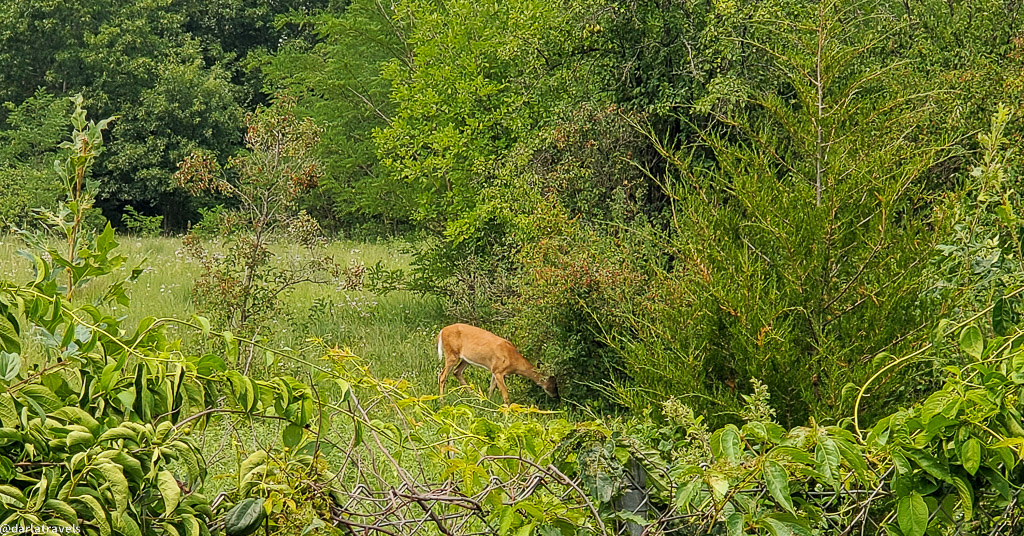 How to get to Eau Claire
Eau Claire is about 90 miles (145 km) west of Minneapolis. If you fly into the Minneapolis airport (MSP), consider using Groome Transporation's hourly shuttle (reservations highly recommended). The shuttle stops at both airport terminals and drops off at the slightly-out-of-the-way Groome office. But from there, it's only a 10-15 min drive to downtown.
Food and Drink in Eau Claire
There is no shortage of excellent eateries in Eau Claire. Following are a few that I enjoyed.
From left to right: bunless cheeseburger and homemade potato chips from the Cranky Buzzard, craft beer sample at The Firehouse, a cup of Zanzibar Chocolate ice cream from Ramone's
Where to Stay in Eau Claire
Eau Claire's accommodations are plentiful, with styles and budgets to suit many traveler preferences. You'll find a range of options for where to stay.
Stay downtown at the Oxbow Hotel or The Lismore for quick access to urban walks, including the Sculpture Tour.
Well-established chain hotels with comfortable rooms and convenient access to local attractions are well-located throughout the city. Use this map to book your Eau Claire hotel:
Exploring Eau Claire on Foot-Pin It for Later!
Here are a couple of images for your Pinterest boards: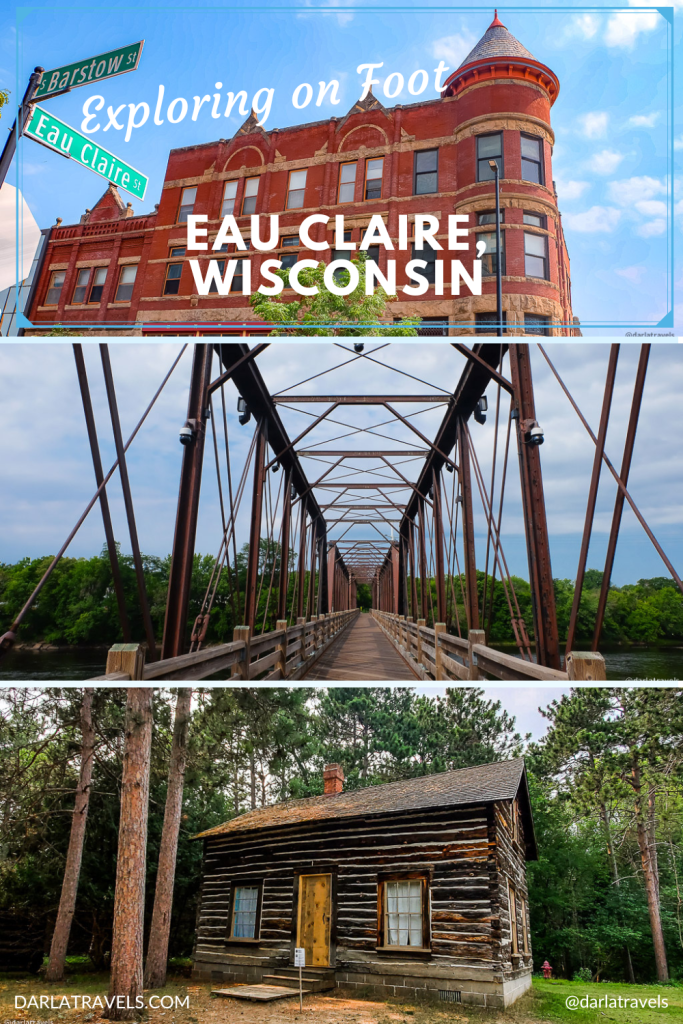 Wrapping up the Exploration of Eau Claire on Foot
Overall, Eau Claire is a charming city that provides walking opportunities to enjoy its natural beauty, appreciate its artistic endeavors, and delve into the area's rich history. Exploring Eau Claire on foot can offer a delightful experience for visitors with open eyes and curious minds.