** Darla Travels is reader-supported.
When you buy through our links, we may earn a commission at no cost to you. **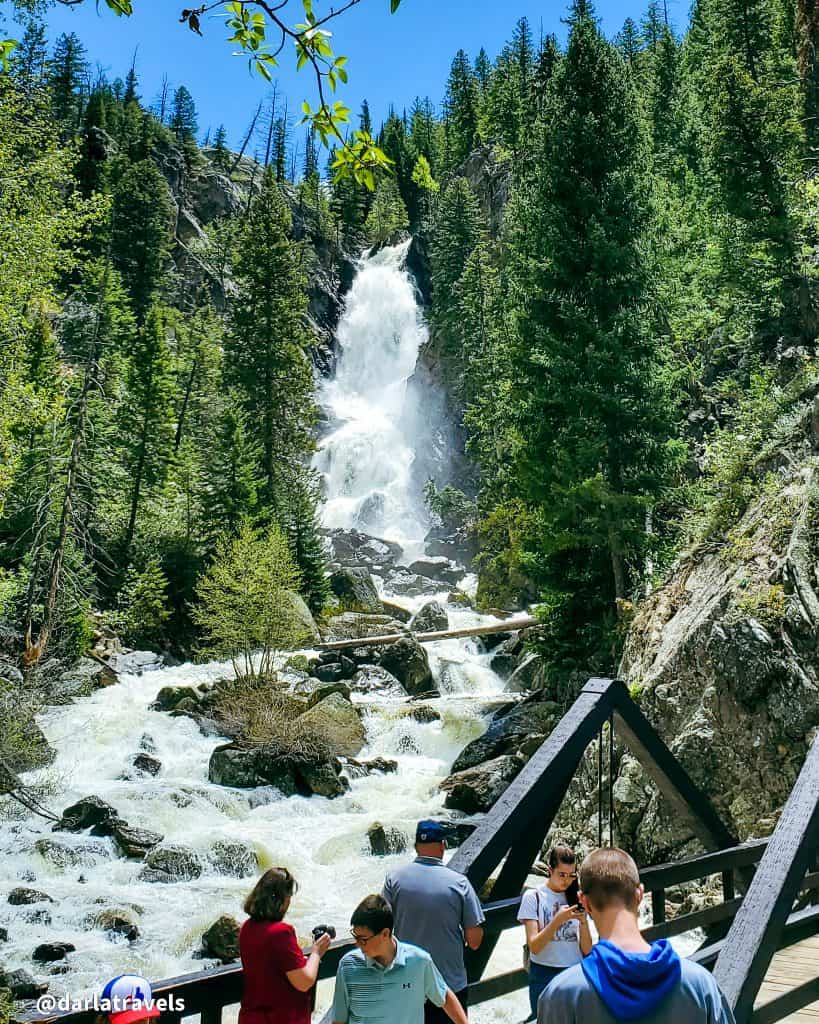 The hike to Lower Fish Creek Falls is so short that it maybe shouldn't even be called a hike. The payoff for just a few minutes walk is enormous for the "wow" factor of the falls themselves, which are about 20 stories high.
Just outside Steamboat Springs, Colorado, in the Routt National Forest, Fish Creek Falls is an obvious choice for a quick hike. Keep reading to learn more about this fun waterfall walk.
About Fish Creek Falls
There are two Fish Creek Falls–Upper Fish Creek Falls and Lower Fish Creek Falls. I've found that most of the time, references to Fish Creek Falls mean Lower Fish Creek Falls, and that's what I mean in this post.
(Lower) Fish Creek Falls is the second tallest waterfall in Colorado. Its 283 (86 m) foot drop is second only to the 365-foot (111 m) Bridal Veil Falls in Telluride, Colorado. It's a mere 4 miles (6.4 k) outside of Steamboat Springs, Colorado.
Steamboat Springs is famous for its downhill skiing, and it has a long history as a summer resort town, filled with spas and various mineral and hot springs.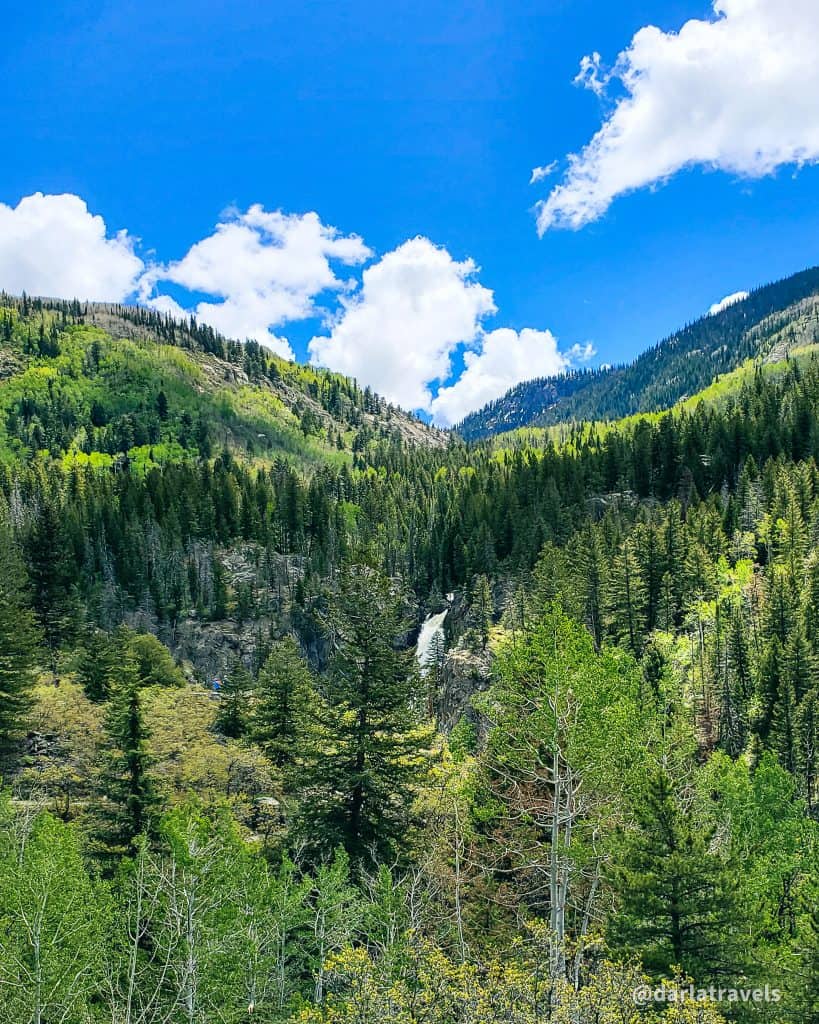 Fish Creek Falls is located in the Routt National Forest and is managed by the Hahns Peak/Bears Ears Ranger District.
The fantastic waterfall is a popular, busy, and crowded natural attraction with a $5 fee for vehicle entry to the day-use area.
Hiking around Lower Fish Creek Falls
Pay the entrance fee and find a parking spot to prepare for the hike. (There is an online payment option.) The trailhead is next to one parking lot and just a short walk uphill from the other.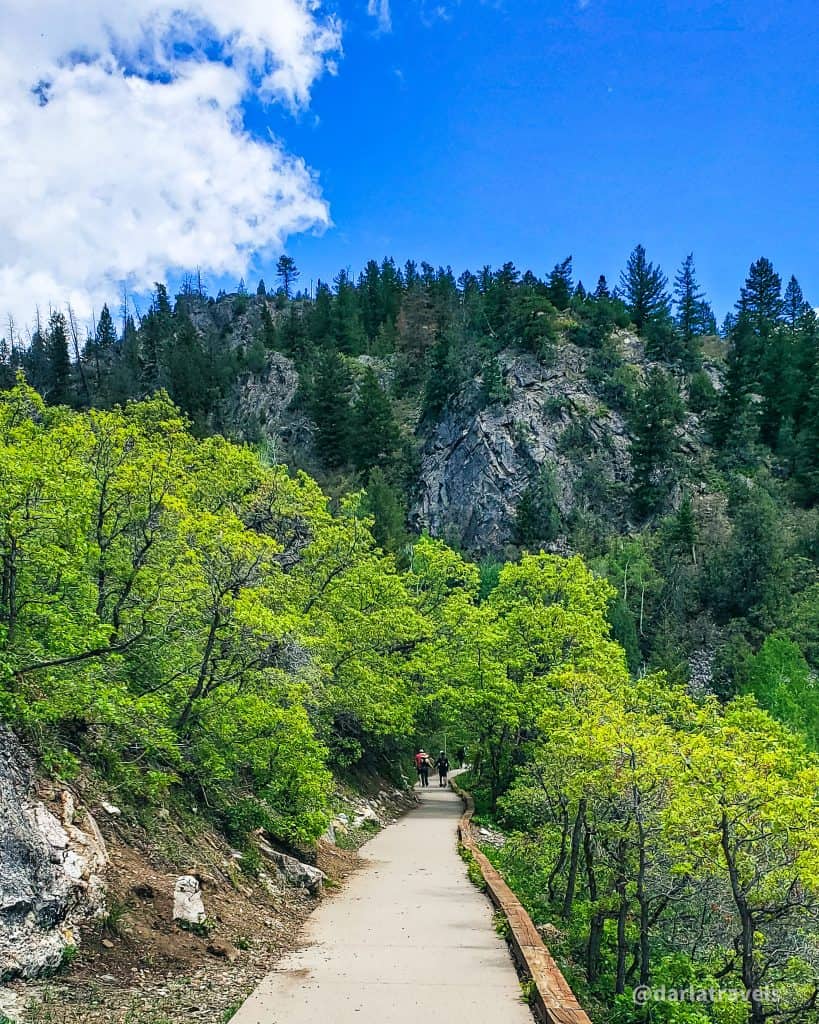 The whole point of this hike is to see the spectacular Fish Creek Falls, and the U.S. Forest Service has made it very easy to do this. In less than a mile (1.6 k), it's possible to get two different but equally incredible views of the falls.
Falls Overlook Trail
The first way to see the falls is via the Falls Overlook Trail. This paved trail heads slightly uphill from the main parking lot then winds around to the overlook area in only a third of a mile (0.5 km). It's that short.
Plan on spending at least several minutes at the overlook to take in the landscape and its most prominent feature, the waterful Depending on the crowds, it may take a few minutes to get to the best vantage point. Be patient about taking pictures because everyone else will be doing that too. While waiting, listen to the sound of the falling water crashing into Fish Creek,
After finishing on the Overlook Trail, start heading to the other viewing area at Fish Creek. Do this by turning around and heading back down the Overlook Trail, then turning left at the intersecting Picnic Trail, which appears after about 524 feet (160 m).
Recreation Trail
The Picnic Trail is only about 490 feet long (150 m), and the junction with the Recreation Trail appears shortly. Then, turning toward the falls on the Recreation Trail, it only takes about the same distance again to reach a pedestrian bridge over Fish Creek and another view of the falls.
Like the overlook above, there are bound to be many people here trying to get a perfect view or fantastic photo from this lower vantage point. It's louder here too. I visited in late spring when water was positively roaring down Fish Creek.
Backtracking on the Recreation Trail leads to the parking lot. The trail passes by a picnicking area with picnic tables provided by the Forest Service.
Altogether, this route, shown on the custom map below, is only about 3/4 of a mile (1.2 km). I told you it was short! There is an option, however, for a longer hike with a little more effort.
Fish Creek Trail
For a more extended, more strenuous effort, cross over the bridge on the Recreation Trail and continue on the Fish Creek Trail, or Trail #1102, as named by the Forest Service. This trail continues for about five miles (8 k) terminating at Long Lake. The route passes the Upper Fish Creek Falls before crossing a bridge and finally reaching the lake. See this AllTrails map for more information.
Other Information for Fish Creek Falls
This stunning waterfall is a natural attraction accessible to just about everyone. On the day I visited, I saw all manner of people at the overlook. It's suitable for families, as the paved Overlook Trail is stroller-friendly and won't be too taxing for kids. Multi-generational groups can also enjoy the view of the falls. On my visit, I saw a few people walking with canes to see the cascading water. Finally, the Forest Service indicates that the paved path is suitable for wheelchairs.
This hike is downright short, but that can be a good thing. If seeing a cool part of the Colorado outdoors is the goal, Fish Creek Falls fits the bill. Likewise with stretching out the legs after a long drive, getting a hefty dose of nature even if short on time, and checking for fitness at high altitude (about 7,500 feet or 2,286 meters). (Another worthwhile short hike near Steamboat Springs is the one-mile loop at Yampa River State Park headquarters).
This trailhead is open year-round, so there will be no "closed for the season" signs.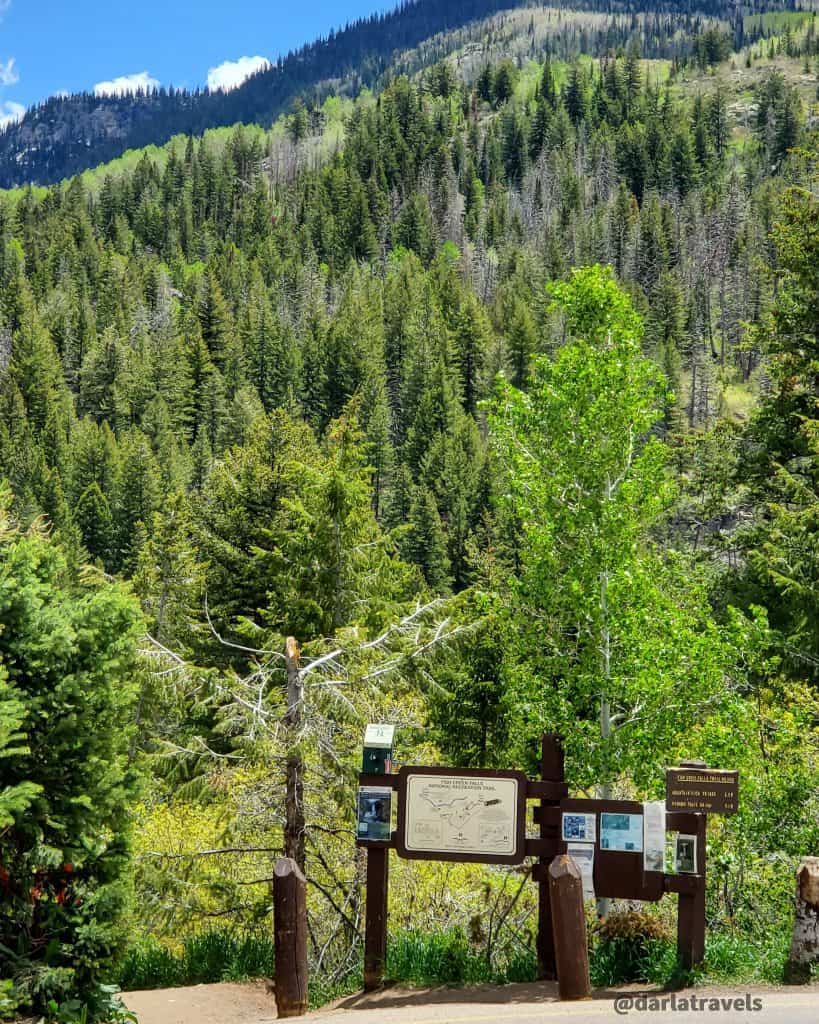 One of the drawbacks of Fish Creek Falls is that it is a fee area: $5 per car per day. On the other hand, it's not a lot to keep this beautiful outdoor area accessible and orderly. The parking lots and trail are well-maintained, the restrooms are better than expected, and even drinking water and picnic tables are available.
Another drawback is that the day-use area can become crowded to the point of annoyance. Don't expect to be alone in nature if visiting at a popular time. I last saw the falls on a busy day and wished I'd planned a little better to avoid so many people.
Trail connections
The trail to Fish Creek Falls and the pedestrian bridge don't connect to any other route. However, continuing past the bridge on the trail will lead to Long Lake, as explained above. Connections to other trails near Long Lake include the Continental Divide Trail, the Wyoming Trail, which is also known as Forest Service Trail #1101, and the Mountain View Trail, which goes to the Steamboat Springs ski area.
Finally, the Uranium Mine trail starts from the sidewalk between the two parking lots) and has a round trip distance of about 3.1 miles (5 km). Although I didn't take this trail myself, my understanding is that it leads to an old mine site with views of the falls.
Custom Map of the Lower Fish Creek Falls Hike
I created this map on AllTrails to highlight information about Fish Creek Falls.
Don't see the maps or want to see the originals? Click here to go to the map pages on AllTrails.
Other Trail Information
Getting There
From the intersection of Lincoln and Third Street in Steamboat Springs, CO, turn north on Third Street, then right on Fish Creek Falls road for about four miles (6.4 km) to the Trailhead. Follow the signs.
Or use the address 34165 Fish Creek Falls Rd, Steamboat Springs, CO 80487
Allow at least three hours to arrive if coming from Denver.
Distance
Less than one mile (1.6 km)
Difficulty
easy
Trail Type
Two out and back trails, connected
Trail Surface
Paved and natural
Besides Hiking:
Picnicking
Links
Forest Service Page with detailed information on the day-use area
Colorado Trail Explorer (COTREX) Page (entire trail)
AllTrails page for Fish Creek Falls (entire trail)
Closest Towns
Steamboat Springs
Conclusion
The trails may be short, but it's not about the hike. There's no working up a sweat here, just seeing and hearing a waterfall the height of a twenty-story building in a spectacular natural setting. If you don't have the time or energy for a long hike for whatever reason, this trail checks all the boxes.
Pin it for Later!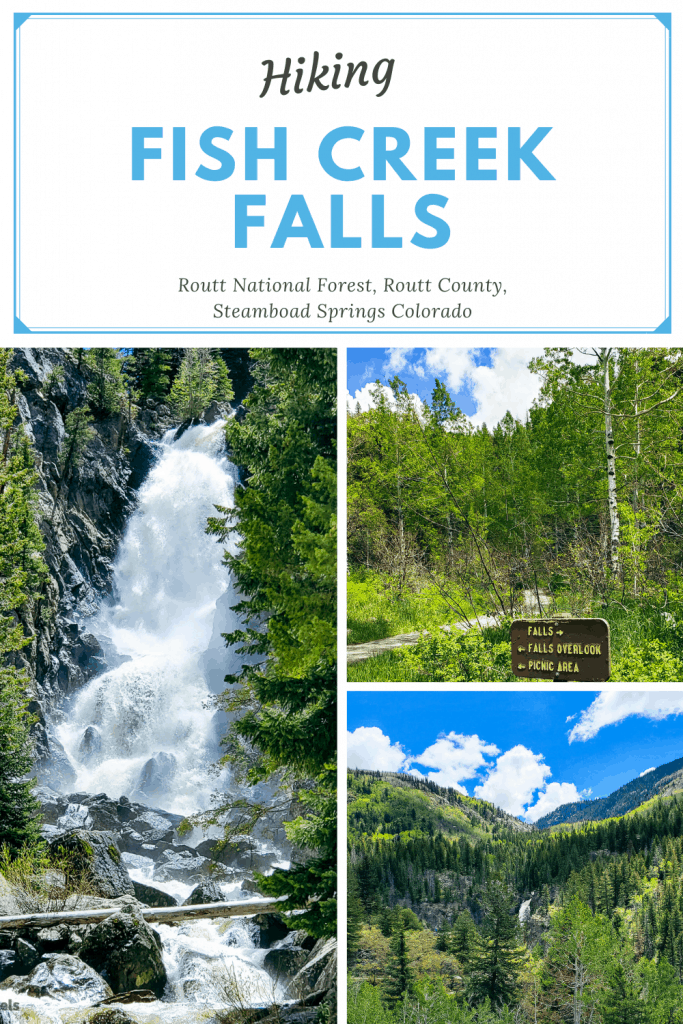 Have you seen the falls? What did you think? Leave a comment below!