** Darla Travels is reader-supported.
When you buy through our links, we may earn a commission at no cost to you. **
I'm planning on hiking in Colorado's State Parks this year and have a goal to get to all of them eventually. With a total of 42 state parks over a vast area (Colorado is the eighth largest state), I won't complete this mission by the end of the year, but I have a good start and hope to check several parks off the list by December 31, 2021. Along the way, I'll provide helpful, actionable information on the planning process, the parks themselves, and the trails. This introductory post sets out the background for this ambitious project.
Why visit Colorado's State Parks
Colorado Parks and Wildlife (CPW) manages Colorado's state parks. The parks feature forests, wildlife, lakes, reservoirs, mountain peaks, and canyons. They stretch from plains to the mountains to the western slope, and no two are alike. Some day-use parks have limited amenities. Others have more services and multiple camping options. Activities for outdoor enthusiasts include water-based pursuits like boating and fishing. Land-based options cover everything from hiking and mountain biking to archery and rock climbing. The parks can be enjoyed throughout the year, with several parks accommodating winter sports like cross-country skiing and ice fishing. A limited number of parks even have winter camping availability.
As if there weren't already enough reasons to visit and enjoy Colorado's state parks, CPW has introduced a Passport Book and challenge with prizes to encourage the visitation of State Parks. When I heard about it, I admit I became fixated on the idea of visiting all the Colorado state parks.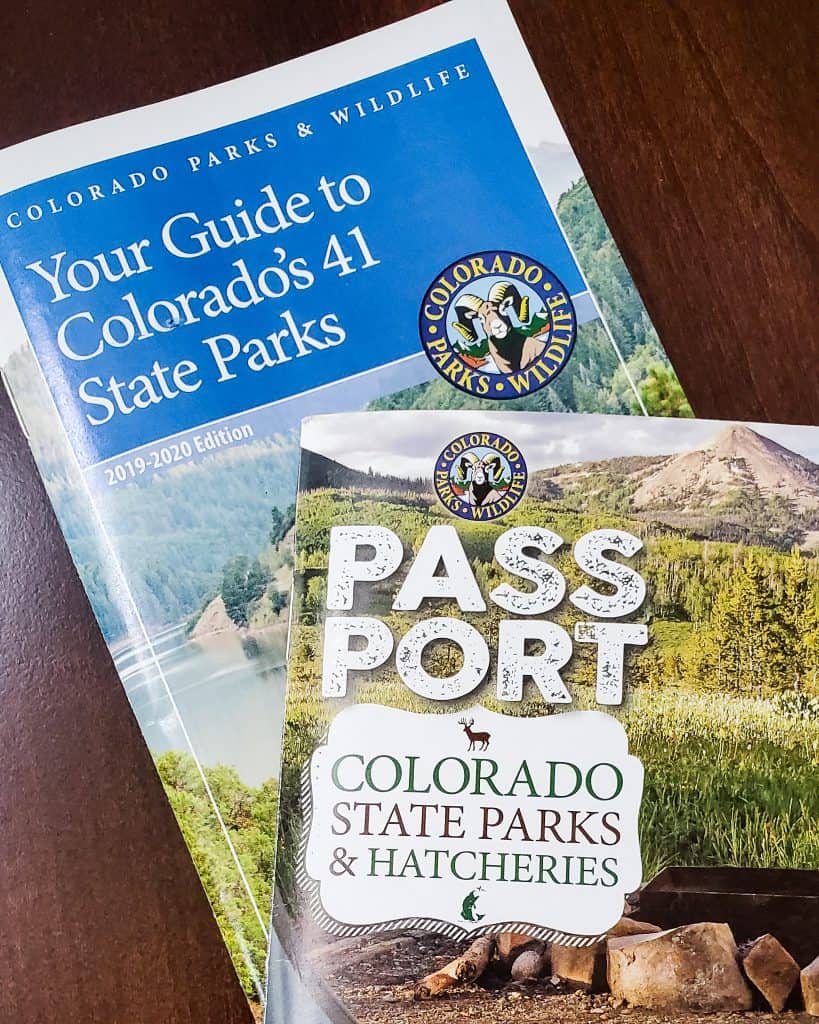 The Passport Book
The Colorado State Parks & Hatcheries Passport program is simple:
Get a passport book, available at any state park.
Visit a state park and collect a stamp (usually at the visitor center). Each park has a unique stamp.
Once a CPW employee certifies that a book has all the stamps, the bearer will receive a CPW Passport "all-star" patch.
The Passport book conveniently divides the state into four color-coded park regions. Each park page provides the park's contact information and a spot to record the date visited along with the favorite part of the trip. It's a solid quick reference.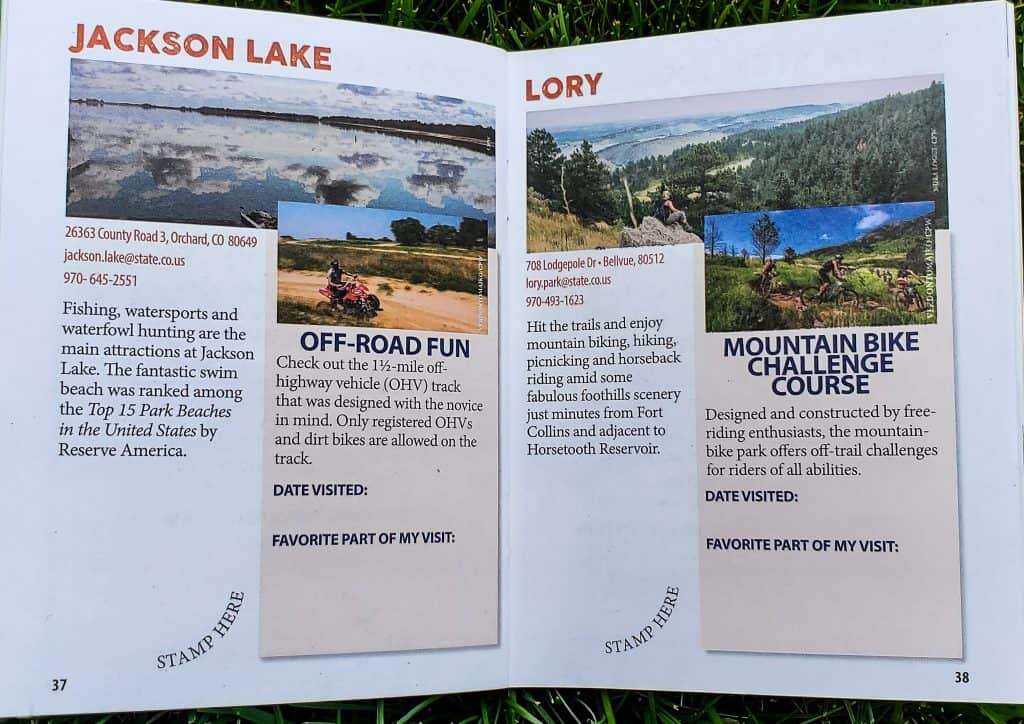 The Passport Book also contains pages to collect stamps for each of CPW's fish hatcheries-fifteen in all. According to the CPW website, the hatcheries breed and stock over ninety million fish per year. The prize for visiting all fish hatcheries is a coffee mug.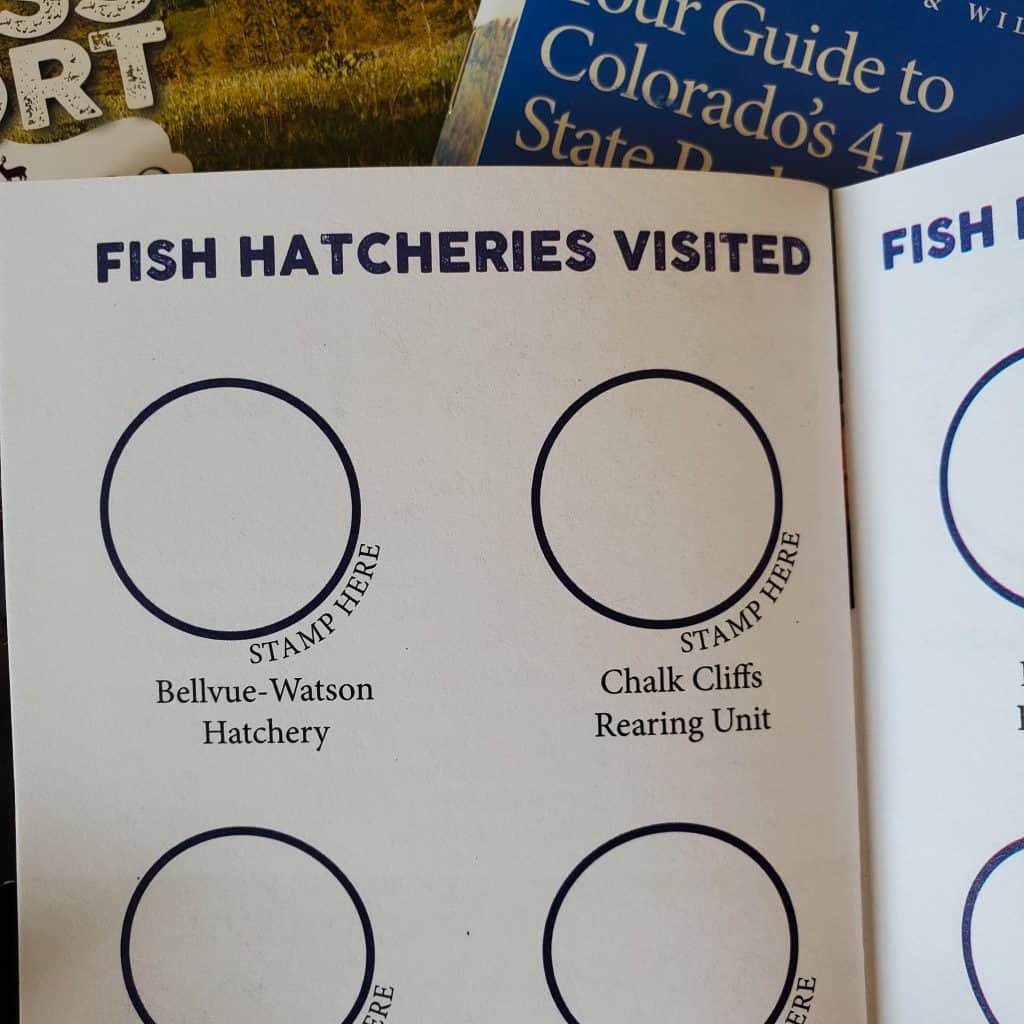 Overachievers that collect all stamps for the parks and hatcheries will also receive the grand prize of a day pack.
Hiking in Colorado State Parks
Of course, I'll be focusing primarily on walking and hiking in Colorado's State Parks. The majority of Colorado State Parks have trails for hiking, but at least five do not. In the parks with hiking trails, the length of the trails ranges from 0.6 miles (1 km) in Pearl Lake State Park up to a whopping 94 miles (151 km) in State Forest State Park.
The hike could range from stretching one's legs after having a picnic to an effortful climb to a mountain summit, depending on the park.
Resources
The CPW website-the first source for info on hiking in Colorado's State Parks
The first and best source of state park information is the CPW website. In particular, bookmarking the Park Finder page is a must. This page embeds a Google Map with a location pin for each state park. Find a park of interest, clicking to filter by activity, facility, accessibility, park conditions, and park name to narrow the search. Clicking on a park's pin will pop up links to the individual park page and directions. There is a separate Parks Finder Help page with detailed instructions on how to use the Parks Finder.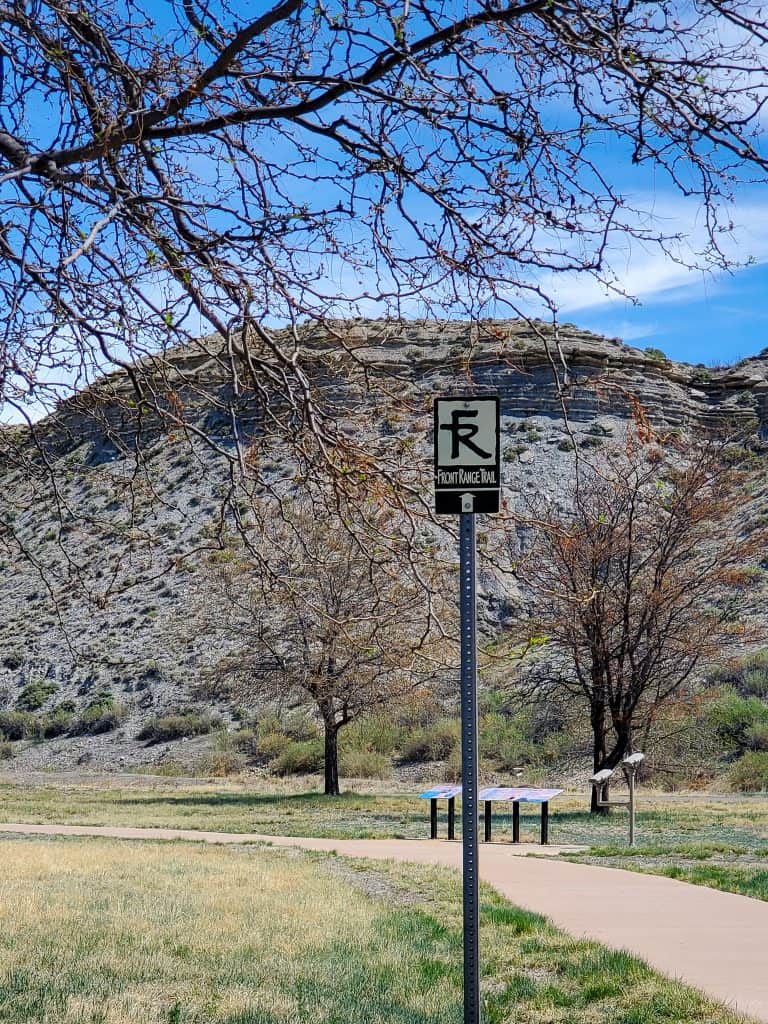 The State Parks brochure
CPW publishes a booklet entitled "Your Guide to Colorado's 41 State Parks." The 42nd park, Fisher's Peak, was added in 2020, so expect this resource to be updated soon. Pick up the booklet in any state park. It's also available for download, but I appreciate the convenience of the paper version for planning purposes.
This slim pamphlet is chock full of park information. Each park page includes the park name and number, contact information, and a short description of the park. At the bottom of the page is a quick reference guide to park facilities, available recreation, and directions. In the front, there is a fold-out map of the state with all parks numbered. There is also a fold-out short guide with detailed facilities and recreation information for each park. A table with accessibility information rounds out the data. Does this Colorado State Park have trails for hiking or snowshoeing? Consult the guide!
The CPW Parks Pages
Each park has its own webpage with links to detailed park information. These links include Camping, Maps and Directions, Nature, Local Attractions, Park Activities, Park Conditions, Park Facilities, Publications, Trails, and Volunteering.
I'll use the Maps and Directions page to plan my route to the park. Publications usually link to a park brochure and a fact sheet, and a campground map, if applicable.
For my purposes, the Park Activities and Trails pages tend to be the most useful. The trails page sometimes returns a trail map, but there is a listing and short description of park trails for other parks. For yet other parks, the trail map is under Maps and Directions. These pages will help to formulate a plan for hiking in any one of Colorado's State Parks.
An initial plan for park visits
Colorado State Park entry
First, invest in an annual park pass. This is something I've done for several years. Most Colorado State Parks have an entrance fee of $9-11 per day per vehicle. Multiple annual passes are available, with the annual pass for one vehicle being $83. With a plan to visit parks numerous times a year, the yearly pass is a terrific value. And at the busier parks, the pass usually results in a quicker entry.
Specialty discounted passes are available for disabled residents, low-income residents, and specific other categories. More information on all one-day and annual passes is available here.
Colorado State Park location
Next, find parks to visit. Some sort of plan is needed to accomplish the goal of visiting each park in an efficient, cost-effective, and enjoyable manner. Location, elevation, terrain, weather, and hike distance must be considered, at a minimum. How should one accomplish this? Let's step back and look at the resources available for figuring out this park puzzle.
There are multiple parks within a one-hour drive from my home base in southwest metro Denver, so these will be among the first stamps in my Passport Book. These parks include:
Trail selection in Colorado State Parks
Finally, once a park is chosen, pick a hiking route using the CPW information sources, as well as a trail-finding app like AllTrails or Colorado Trail Explorer (COTREX).
With the first set of parks so close to home, there will be only minimal planning before the visit. The main things to do before setting out include:
Checking the weather forecast,
Choosing appropriate clothing, and
Taking care of essentials like hydration and sun protection.
Looking Ahead
Visiting and hiking in all of Colorado's State Parks is a goal that may or may not happen in a reasonable amount of time. I think it will take three years at a minimum. Visiting the closer parks listed above will be relatively convenient, but a park more than a two-hour drive (one way) away will require more planning since lodging and other logistics will come into play.
I'd love to say I have a comprehensive plan and a definite timeline for completing my objective of visiting each of Colorado's State Parks and hiking in Colorado's State Parks that have trails, but I don't. Even if I did, well, we know plans can change. This undertaking is going to be a work in progress. I hope you'll follow along.
Pin it for later!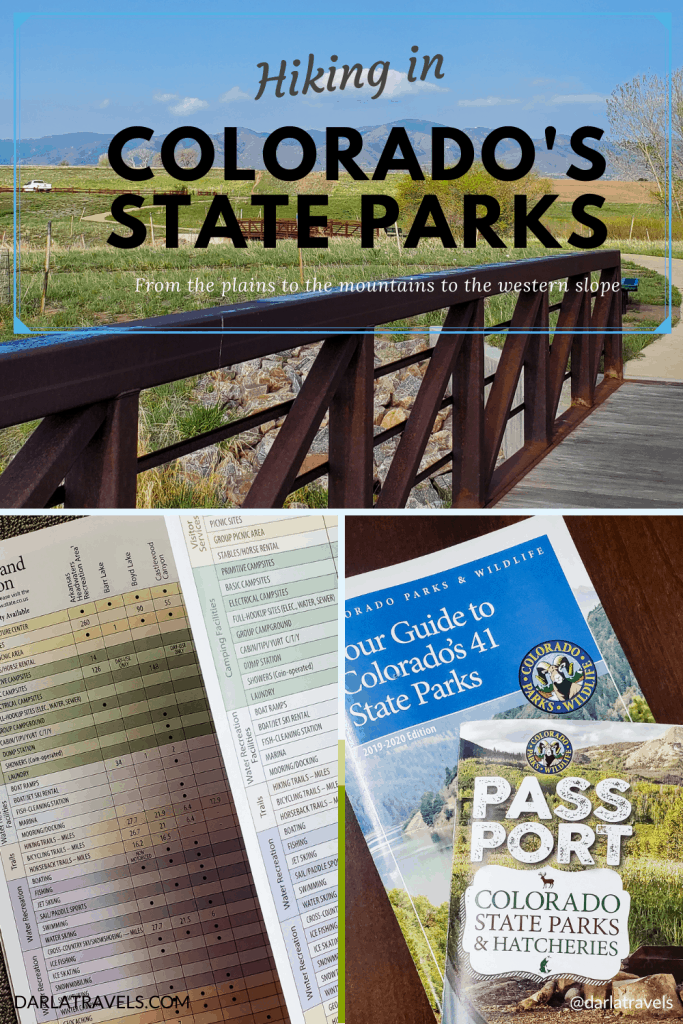 Do you have your Colorado State Parks & Hatcheries Passport Book yet?