** Darla Travels is reader-supported.
When you buy through our links, we may earn a commission at no cost to you. **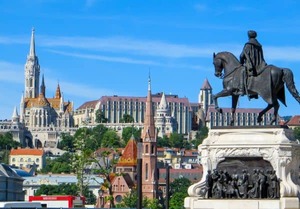 Put on your walking shoes and you'll be ready to explore the fascinating city of Budapest, Hungary, as a pedestrian. You'll get the best experience in this famous city on your feet, but be prepared; there is a lot to see. The historic part of the city is small enough to get to most major attractions efficiently but so rich in history and experiences, you won't run out of things to do.
Ready to walk in Budapest, Hungary
If you look at "About Me" on this page, you'll know that I wear running shoes in Europe. After you read this post, you'll likely have a better appreciation of why. When I set off on this European trip that ended in Budapest, Hungary, I was ready to walk for several hours a day, multiple days in a row. Even so, I got fatigued being a tourist! I turned on the step counter on my Garmin Forerunner® 235 Running Watch just because I was curious. It provided some insightful numbers during this walking vacation in Budapest.
Day 1 – 15,105 steps
Budapest, until 1873, was two cities divided by the Danube River: Buda on the western bank and Pest on the eastern. I visited both sides on Day 1. On the Buda side in the Castle District, I did a walking tour with a tour group in the morning. One of the highlights was Matthias Church, a beautiful and ornate Gothic-style cathedral. It's next to the Fisherman's Bastion, a viewing terrace with seven towers and a fairy-tale appearance that overlooks the Danube River. After exploring this area, I stopped at the historic Ruszwurm cafe for an excellent Dobos torte and coffee.
---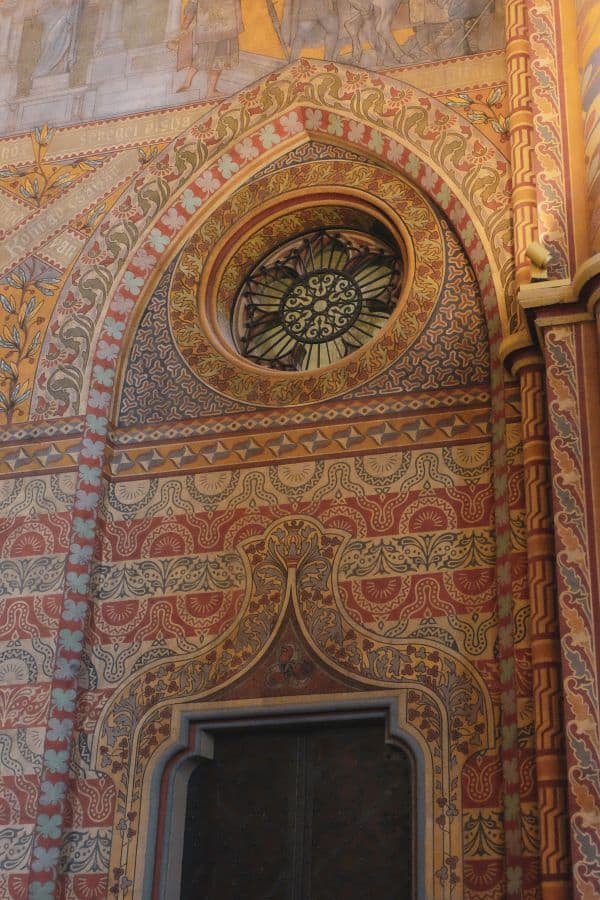 An interior wall in Matthias Church, the Fisherman's Bastion, and a slice of Dobos torte from Ruszwurm.
---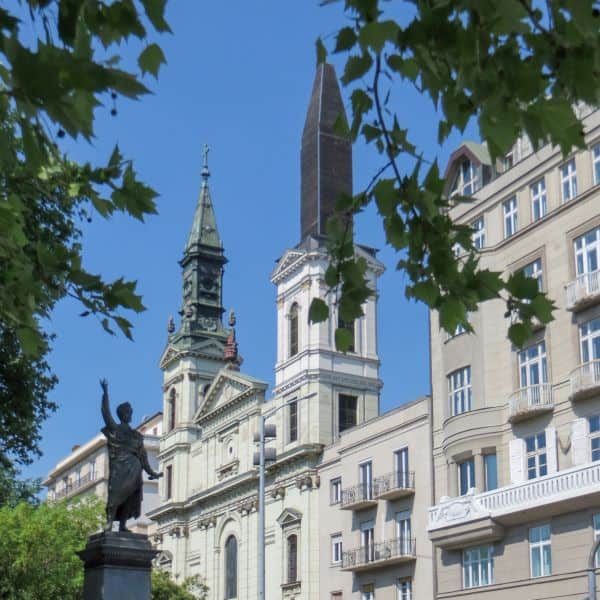 In the afternoon, I walked along the river on the Pest side starting at the Széchenyi Chain Bridge and got as far as the Great Market Hall (which was closed, more about that below). One highlight was a statue of Sándor Petofi, a poet that helped spark the Hungarian Revolution of 1848. Behind him, take a look at the orthodox church. One of the two steeples, damaged during World War II, was replaced but never restored to match the original. Budapest is full of these reminders of unpleasant history, and I saw some on every day of this visit.
Day 2 – 13,077 steps
On Day 2, the guided part of my trip ended. I made a laundry stop before I dropped my carry-on backpack at a hotel near the border of District VII (Erzsébetváros) and District VIII (Jószefváros). District VII, the Jewish Quarter, was the location for my afternoon activity of a self-guided walking tour of this area. Here I saw the famous Szimpla Kert ruin pub and its Sunday Farmer's market. In a lot next door, Karavan, a food court of food trucks provided sausage and beer.
---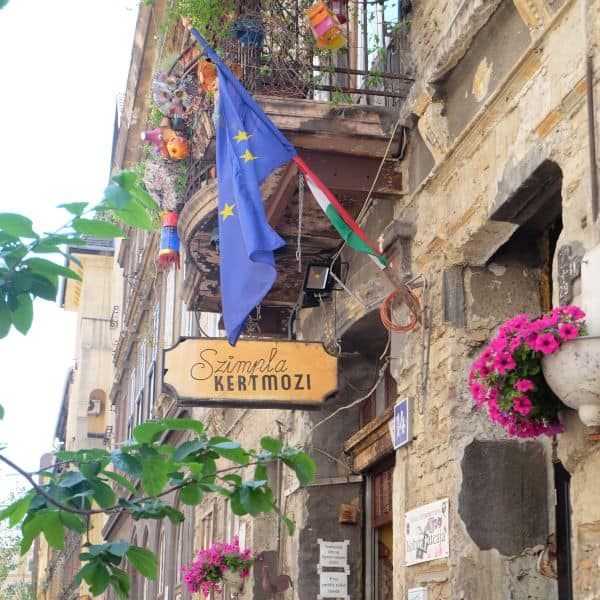 Exterior of Szimpla Kert ruin pub, meats on sale at the Sunday farmer's market, sausage and beer from Karavan food court.
---
Moving on to more serious sights, I walked to the Moorish Revival-style Great Synagogue on Dohány Street. This building served as a shelter for Jewish residents in World War II. The Tree of Life in the adjacent memorial garden bears the names of the 2000 Jews who perished here from cold and hunger in the winter of 1944. I also saw the orthodox synagogue on Kazinczy Street, which has a beautiful interior in the Art Nouveau style. This synagogue was nearly destroyed during World War II, but has been well-restored. Walking gave me some time to reflect on the sad history of this area, but also the resilience of the people responsible for preserving these landmarks.
---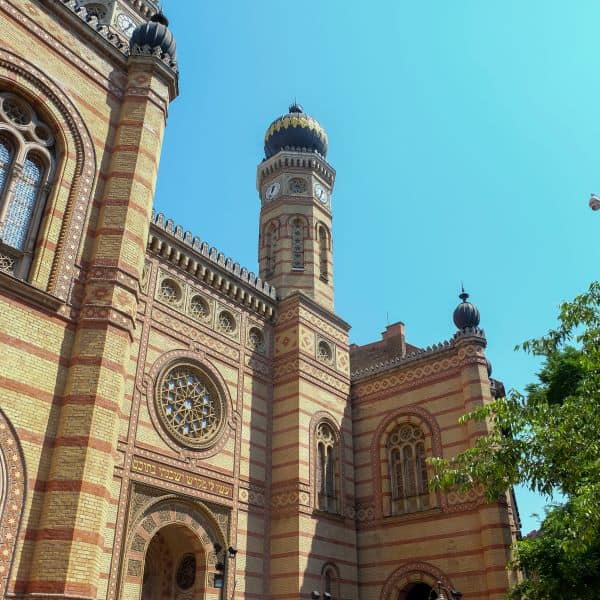 Exterior of the Great Synagogue, Tree of Life memorial, interior of the orthodox synagogue on Kazinczy Street
---
Day 3 – 19,725 steps
On Day 3, sightseeing started at Kossuth tér (square), easily accessible by public transportation. I knew I was there as I approached the impressive Hungarian Parliament Building. You've probably seen pictures of this iconic building taken from across the river, but close up it's even more remarkable. Think about it this way: the footprint of the building is 879 x 387 feet, more than two and a half football fields long, and more than one wide. The height is nearly 315 feet, or over 31 stories tall.
Beyond the Parliament Building itself, the square contains multiple statues of historical figures and other important buildings. It's worthwhile taking your time to walk around and contemplating the history of the square, both impressive and tragic. Be sure to look for the memorial for victims of the Kossuth Bloody Thursday massacre which took place on October 25th, 1956 during the short-lived Hungarian Revolution. Here, snipers fired on unarmed demonstrators, leaving 800-1000 dead. Remnants of the fired bullets are still visible on some buildings surrounding the square.
---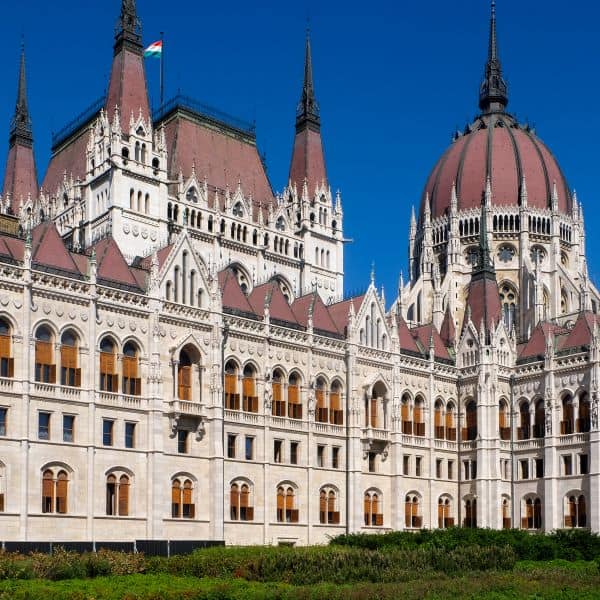 (Part of) Parliament, Kossuth Tér massacre memorial
---
Leaving Kossuth square, I walked through the area known as Leopold Town, which has several worthwhile sights, many historical. For example, Liberty Square holds the Soviet War Memorial, commemorating the Soviet liberation of Hungary from the Nazis in 1945. The monument still stands, even though the Soviets overstayed their welcome and Hungary became a country ruled by communists post-war. The square also contains a memorial to Hungarian victims of Nazi Germany. The monument is controversial. Hungary appears as an innocent victim of the Nazis, an angel under attack by an eagle. In fact, the Hungarian government was complicit in the deaths and deportations of its Jewish citizens and cooperated with Germany. In protest, Budapest residents placed a counter-memorial along the front, including photographs, letters of the actual victims, and other memorabilia.
---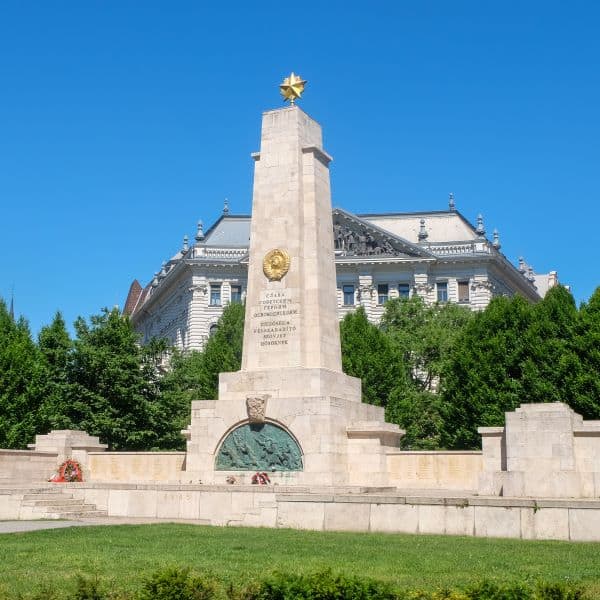 Soviet War Memorial, memorial to Hungarian victims of Nazi Germany, counter-memorial
---
Moving on from Liberty Square, I headed for one of Budapest's "must-see" attractions- Szent István's (St. Stephen's) Basilica. The largest church in Budapest, it can hold 8,500 people. The exterior is impressive, the interior is expansive, and the plaza in front of the basilica makes it seem even more grandiose.
---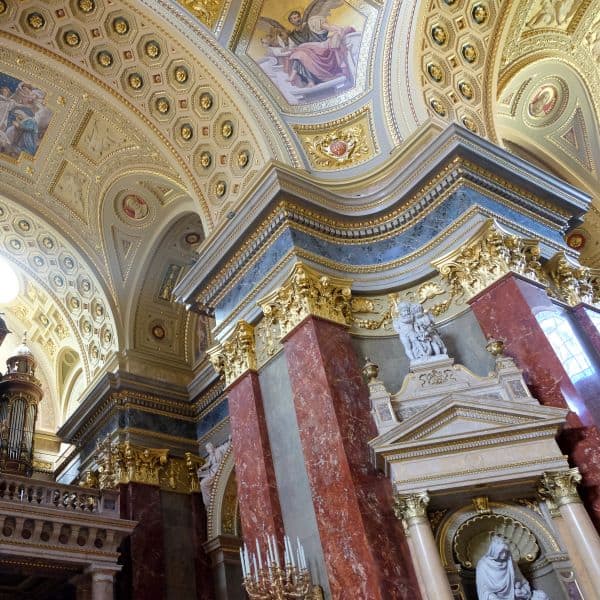 St. Stephen's Basilica: interior, plaza, and exterior
---
Following this walk, I took a tram to the Central Market Hall (which was closed when I first arrived on Day 1). My plan was to have lunch there, but it was suffocatingly crowded. Instead, I found my way to Central Kávéház, one of the classic cafes of Budapest, for coffee and sacher torte. I walked back toward the Great Market Hall and then further along the river to Jónás Craft Beer House, where I indulged in an American-style IPA. I'm usually pretty careful about my diet, but sometimes when I'm on a trip, it just works out that I have dessert for lunch and beer for dessert.
---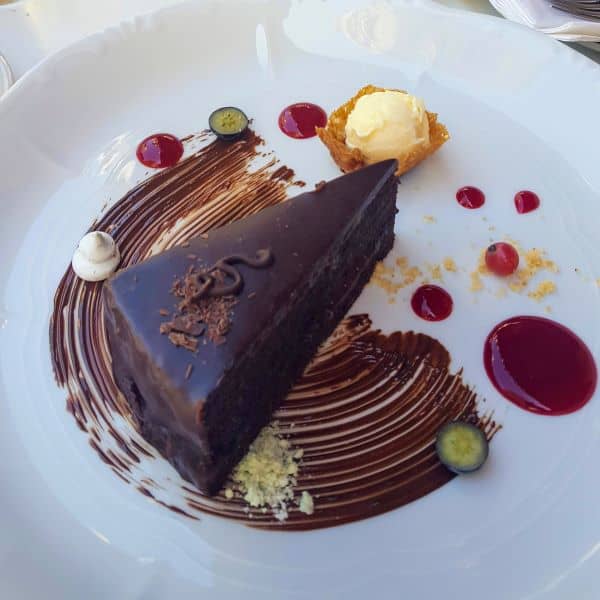 sacher torte from Central Kávéház, Jónás craft beer
---
After this indulgence, I made my way to the Széchenyi Chain Bridge on public transportation. I walked over the bridge to the Buda side of the city to check out the Royal Palace and other sightseeing not included in our tour on day 1. Even without these sights, the views of the Danube and Pest on the other side were breathtaking. By the end of the day, I was worn out, but it was well worth it for such an epic day of sightseeing!
---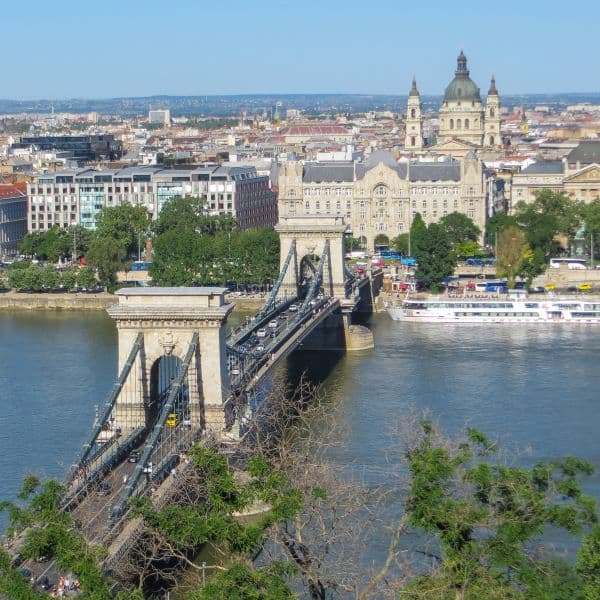 View of the Danube and Pest from Buda: Széchenyi Chain Bridge and St. Stephen's Basilica in the background, another view with Parliament behind the bridge.
---
Day 4 – 8,873 steps
The day started with a tram ride to the Great Market Hall for some shopping. As expected, it was less crowded earlier in the morning, and this time, I was able to take in the over 100,000 square feet (10,000 square meters) of food stalls, linens, souvenirs, fresh produce, meats, cheeses, and even live fish. I came away with some high-quality paprika and goose liver pate.
No visit to Budapest is complete without a visit to one of the thermal baths or spas. Széchenyi Thermal Bath is located in City Park, and this was my main destination in the afternoon. To get there, I took public transportation to Hősök tere (Heroes' Square), adjacent to the park. Here, the Millennium Monument commemorates the 1000-year-old history of the Hungarian people. Two semi-circular arcades contain statues of famous Hungarian leaders, and you could spend hours reviewing them all. Having other plans, I walked into City Park and spent some time admiring the Vajdahunyad Castle building containing the Hungarian Agricultural Museum, among other things. From here, a short stroll took me to the baths, easy to find due to the yellow exterior.
---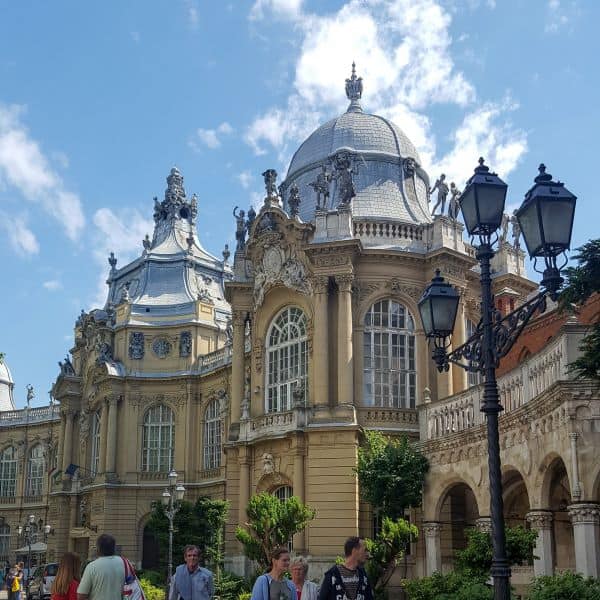 Vajdahunyad Castle, walking toward the Széchenyi Thermal Bath, Heroes' Square,
---
The baths were an excellent way to relax for the afternoon. Before my visit, I read numerous reviews of the spas in Budapest, including Széchenyi, and I was put off a bit by many negative comments. I'm happy to report that I had no trouble with the entry procedures and the staff was helpful, even with a language barrier. The layout of the building IS a little bit confusing, but once I made it to the pools, I set about soaking in the mineral waters, as people have been doing here since 1913.
Day 5 – 17,017 steps
The last full day in Budapest called for something different. From my base, I took a tram to Margaret Island, which is essentially an enormous park in the center of the Danube. I walked the length of the island and back, about 1.5 miles (2.4 km). At the Margaret Island Petting Zoo, popular with families, I saw a large variety of ducks and also some eagles. The eagles were not available to pet! One of the fun sights was the Art Nouveau octagonal water tower, built in 1911. The park also contains some medieval ruins, including the remains of walls of a Franciscan church, and in a different location, ruins of a Dominican nunnery.
---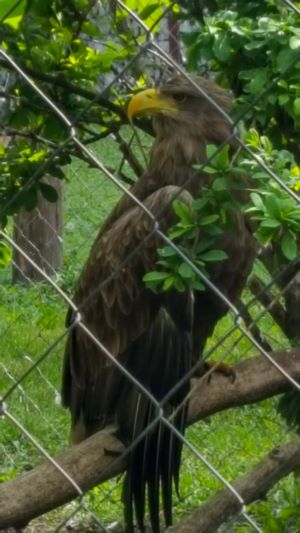 Margaret Island: eagle, water tower, medieval ruins
---
Near the end of my course around the Island, I sat down to rest at the Musical Fountain, which has 154 water nozzles and sprays water choreographed to music. I only meant to sit here for a few minutes to rest my feet, but I ended up spending close to an hour. By this time, I was feeling the cumulative fatigue of walking for many days in a row. I didn't even take a picture here!
Further walking took me back to the city. I strolled along Andrássy Avenue, the main boulevard, lined with trees and elegant architecture. The Opera House was unfortunately under renovation, but there were plenty of other stately buildings to admire.
Day 6 – 5,398 Steps
Day 6 was departure day. I didn't anticipate much walking at all, as there was no time for sightseeing before heading to the airport for an early flight. On a layover in Münich, it was a long way to the departure gate. I include this day only to highlight the amount of walking just in the airports.
Trip Total – 79,195 steps walked in Budapest, Hungary
Assuming there are 2,250 steps per mile, I walked a total of 79,195 steps or 35.2 miles (about 56.7 km) during my stay in Budapest. These are just some of the many intriguing sights I saw while walking in Budapest, and of course, there were many additional attractions I didn't have time to explore.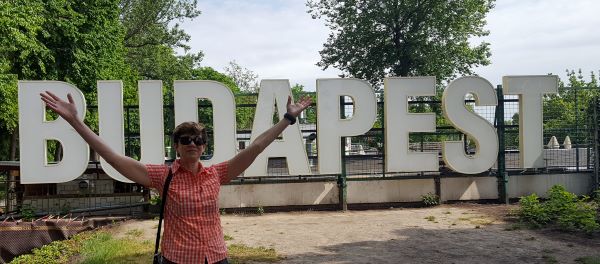 I walk a lot, but even I was surprised to see just how far I went sightseeing on foot. I stopped to rest plenty of times during my walking excursions, and I felt tired (in a happy way) at the end of every day. If you enjoy walking and walk enough to step your way through Budapest, I can guarantee you'll find a lot to admire, step by step.