** Darla Travels is reader-supported.
When you buy through our links, we may earn a commission at no cost to you. **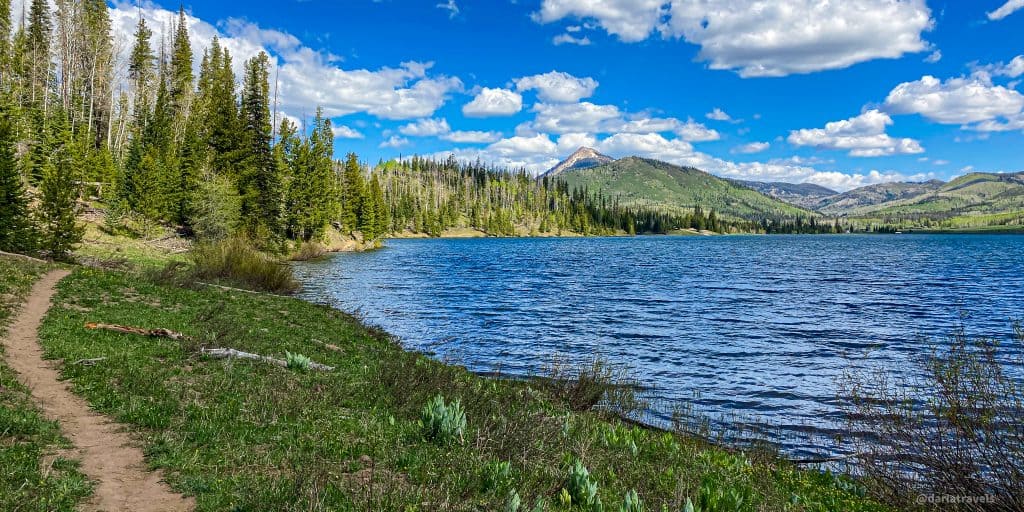 Pearl Lake State Park has a single short trail that connects to longer trails in the Routt National Forest. Favorite activities in Pearl Lake State Park are those on and around the water, but the trails in the surrounding forest will gratify hikers comfortable with a wilderness environment. Keep reading for my take on hiking in Pearl Lake State Park.
About Pearl Lake State Park
Pearl Lake State Park in Routt County, Colorado, is on the small side as state parks go. It features a 167-acre (0.68 square km) reservoir surrounded by forested peaks at an elevation of about 8,054 feet (2,455 meters) above sea level. It's about 25 miles (40 km) north of Steamboat Springs, Colorado; however, it's only 2.5 miles (4 km) from the larger and more developed Steamboat Lake State Park.
The park and lake get their name from (Minnie) Pearl Hartt, wife of John Kelly Hartt. Mr. Hartt was a wealthy entrepreneur, and he purchased land that is now part of Pearl Lake State Park for use as a summer pasture for his sheep businesses. He built a summer house there for his family as well.
In the early 1960s, the Colorado Fish and Game Commission found the area ideal for developing a reservoir for recreational fishing. The agency acquired the needed land from Pearl Hartt after the death of her husband, along with land from one other landowner.
Construction of a dam on Lester Creek finished in 1963, and the lake was born. Originally named the Lester Creek State Recreation Area, Pearl Lake became a State Park in 1972.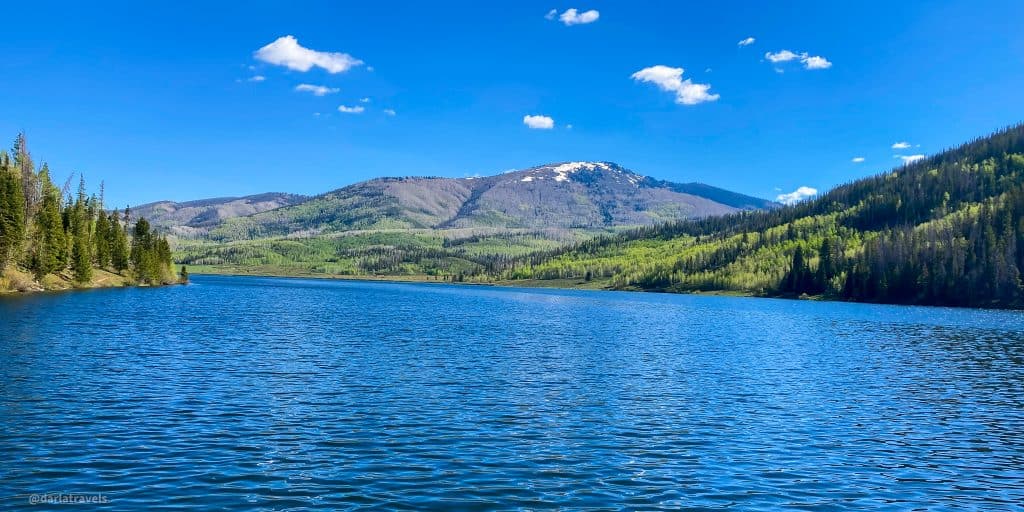 Hiking in Pearl Lake State Park
As mentioned above, the park has only one short trail, named the Pearl Lake Connection Trail. To get the trailhead from County Road 129, travel two miles (3.2 km) into the park on a dirt road (County Road 209) and take the rightmost fork. The road ends at a parking lot next to the lake. Amenities include restrooms, a few shoreside picnic tables, and a small pier.
At 0.6 miles (1 km), Pearl Lake Connection Trail is almost too short to be a proper hike. The dirt path follows a portion of the lake's aspen-lined shoreline, and it officially terminates at the far end of the Lester Creek Dam. Walking further around the lake for a short distance is possible before the ground becomes marshlike and unsuitable for walking.
Pearl Lake Trail
That's it for the single trail in the park! But at the end of the dam, the path leaves the park and continues into the Routt National Forest under the name Pearl Lake Trail or Forest Service trail number 1176.1. The Pearl Lake Trail is an out and back trail about 2.8 miles (4.5 km) long and terminates at Forest Service Road 429.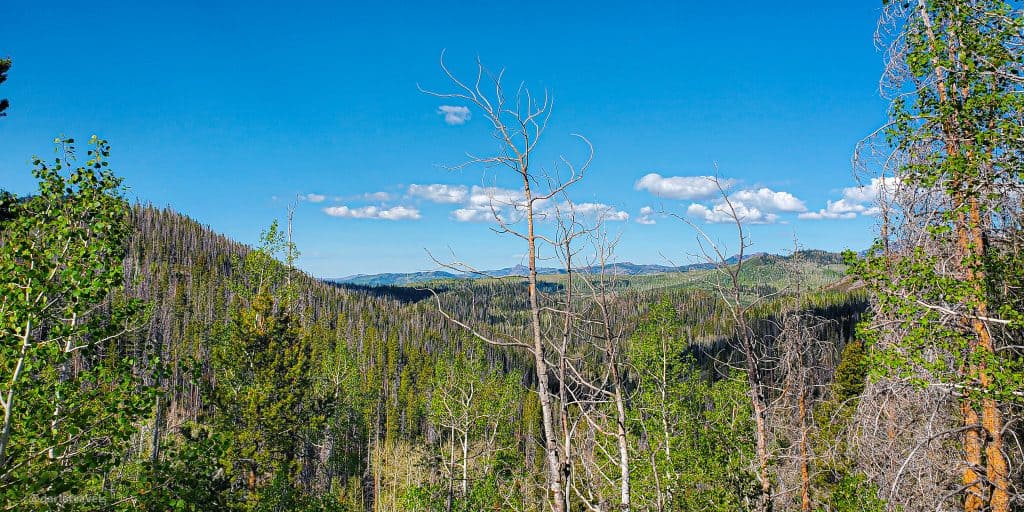 Overlook Trail
The Pearl Lake Trail intersects with another trail, the Overlook Trail, after about 0.9 miles (1.4 km). The Overlook Trail, or Forest Service Trail 1190.1, is a 3.6 mile (5.8 km) out and back trail that also terminates at Forest Service Road 429.
The ends of the Pearl Lake Trail and the Overlook Trails are about 2 miles (3.2 km) apart on Forest Service Road 429. Altogether, the two trails and the road make a long loop of approximately 7.8 miles (12.6 km).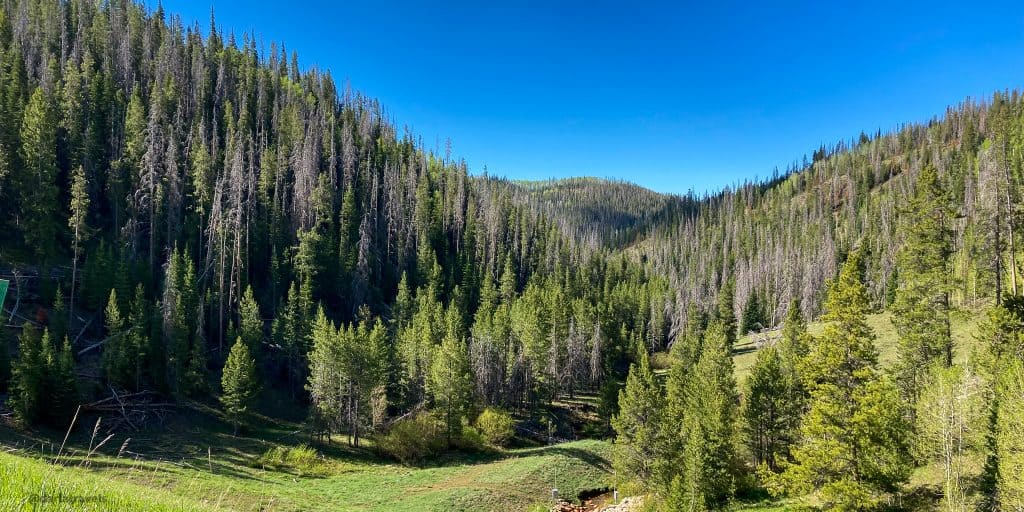 Coulton Creek Trail
Official sources, including the sign at the trailhead, indicate that Pearl Lake accesses the Coulton Creek Trail; however, I found that Coulton Creek is an entirely different trail, Forest Service Trail number 1188. I've included the Coulton Creek Trail on the map below for completeness. See the Colorado Trail Explorer COTRex page and the Forest Service page for more on the Coulton Creek Trail.
The Hiking Fail!
On an early summer day, I visited Pearl Lake State Park for hiking, the sky a bright and vivid blue dotted with cottony clouds. I'd love to tell you I was able to hike in the forest for hours, but alas, it was not to be.
The trek started well enough. The Pearl Lake Connection Trail was easy to find and easy to walk. At the end of the lake, the trail crossed the Lester Creek Dam. Here, there is an excellent view of Farwell Mountain.
Leaving the park on the Pearl Lake Trail, we headed uphill into the Routt National Forest near Lester Creek and by Lester Peak, passing through aspen groves and evergreens. Arriving at the intersection of the Pearl Lake Trail and the Overlook Trail and surrounded by trees, we paused to decide which way to go. As we prepared to move on, aspen leaves fluttered in the wind. Right then, a low-pitched sound made my hiking partner stop. After a minute, he said, "Let's go back."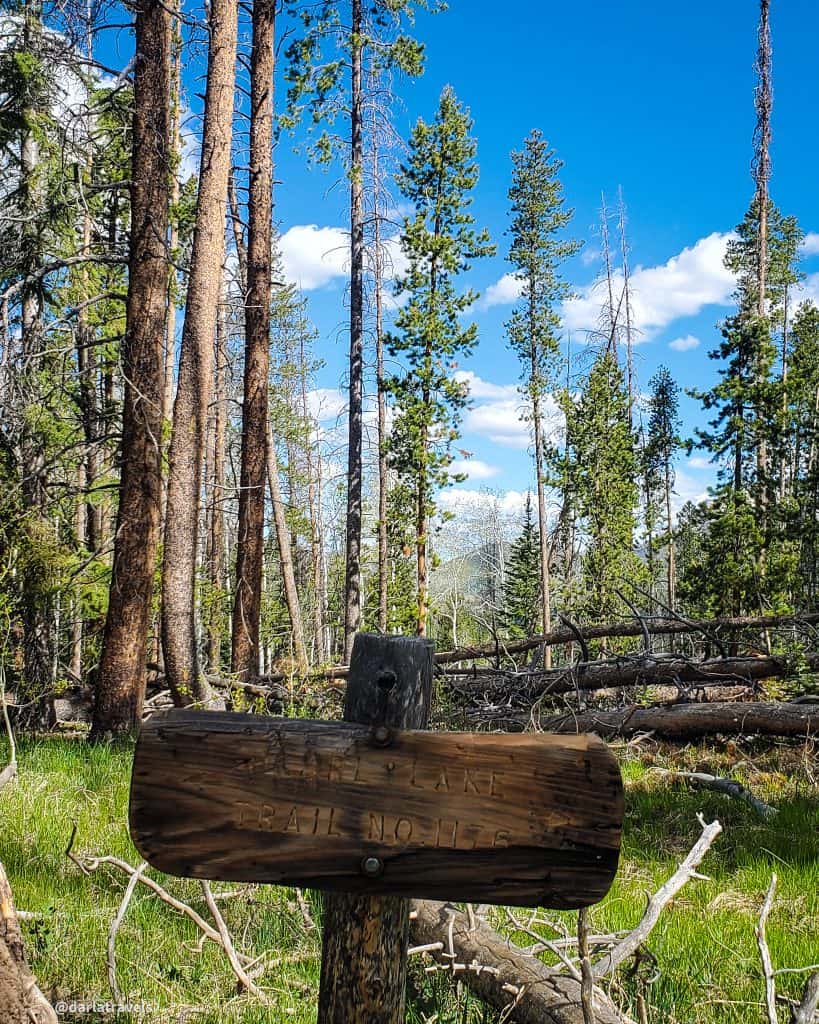 Having seen what was likely (somewhat fresh) bear scat on the trail about halfway up to this point, and knowing that that at least one bear had been spotted at nearby Steamboat Lake State Park earlier that week, I went into high alert mode. We didn't see anything moving, and we also didn't investigate any further. Of course, the national forest is home to many animals. Besides black bears, its inhabitants include moose, elk, deer, squirrels, rabbits, foxes, bobcats, mountain lions, and raccoons. Was the noise we heard a bear, some other animal, or nothing at all?
We'll never know. I followed my partner's advice and turned around, as I didn't want to hike in a state of anxiety. Backtracking toward the lake so soon was a little disappointing, but the hike was just as lovely as it was on the way up. At one point, I spotted a single deer standing on a hill above us, seemingly unconcerned with the possible proximity of bears or other predators. Other than birds, this was the only animal that showed itself all morning.
All told, the roundtrip hike was only 3.1 miles (5.1 km), considerably shorter than planned.
The Silver Lining on my Pearl Lake State Park Hike
The hike was short, but it was a picturesque trek. Besides Farwell Mountain, the view included the green slopes of nearby Lester Peak. In the distance, other mountains were visible across the acres of forest, which featured lodgepole pines over 70 feet tall and white-barked quaking aspens.
Back at the lake, canoes, kayaks, and paddleboards meandered silently over the flat water. The calm morning produced mirror-like reflections on the lake surface. With the sun warming things up, it made sense to linger and take it all in. We broke out the thermos and enjoyed a lakeside cup of coffee at one of the picnic tables.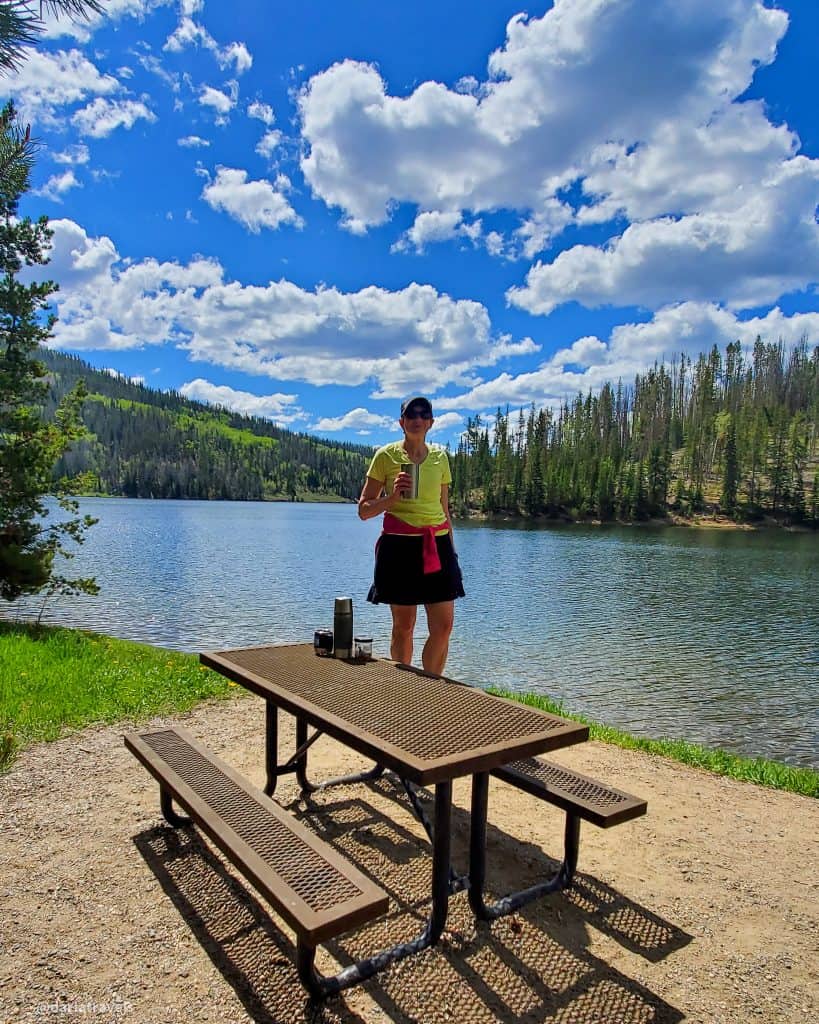 Pearl Lake and Routt National Forest Hiking on AllTrails
I marked the trails in and out of the park on an AllTrails map for convenience.
Red: Pearl Lake Connection Trail; Green: Pearl Lake Trail; Blue: Overlook Trail; Yellow: Forest Road 429; Purple: Coulton Creek Trail
Don't see the map or want to see the original? Click here to go to the map page on AllTrails.
More about Pearl Lake State Park
As mentioned above, the main focus of Pearl Lake State Park is its stunning lake. The lake is open to only non-motorized watercraft, making for a quiet experience.
Pearl Lake is a "Gold Medal" fishing spot for cutthroat trout. The Colorado Parks and Wildlife Commission bestows this title for high-volume fishing areas. Fishing at Pearl Lake requires only flies or artificial lures, along with a fishing license.
Swimming is not allowed, but a swim beach is at nearby Steamboat Lake State Park.
The road into the park is closed in the winter, but the park is open for snowshoeing, cross-country skiing, snowmobiling, and ice fishing.
Food and Drink
Plan on bringing your food and drink into the park. Besides the supermarkets of Steamboat Springs, groceries and a deli are available at the Clark Store in Clark, Colorado, on Routt County Road 129. In a pinch, the nearby Steamboat Lake Marina has a convenience store for quick bites.
For a sit-down meal, try one of the nearby restaurants in nearby Hahn's Peak Village: the Hahns Peak Cafe or Hahns Peak Roadhouse. A little further away in Clark, opt for Glen Eden Restaurant.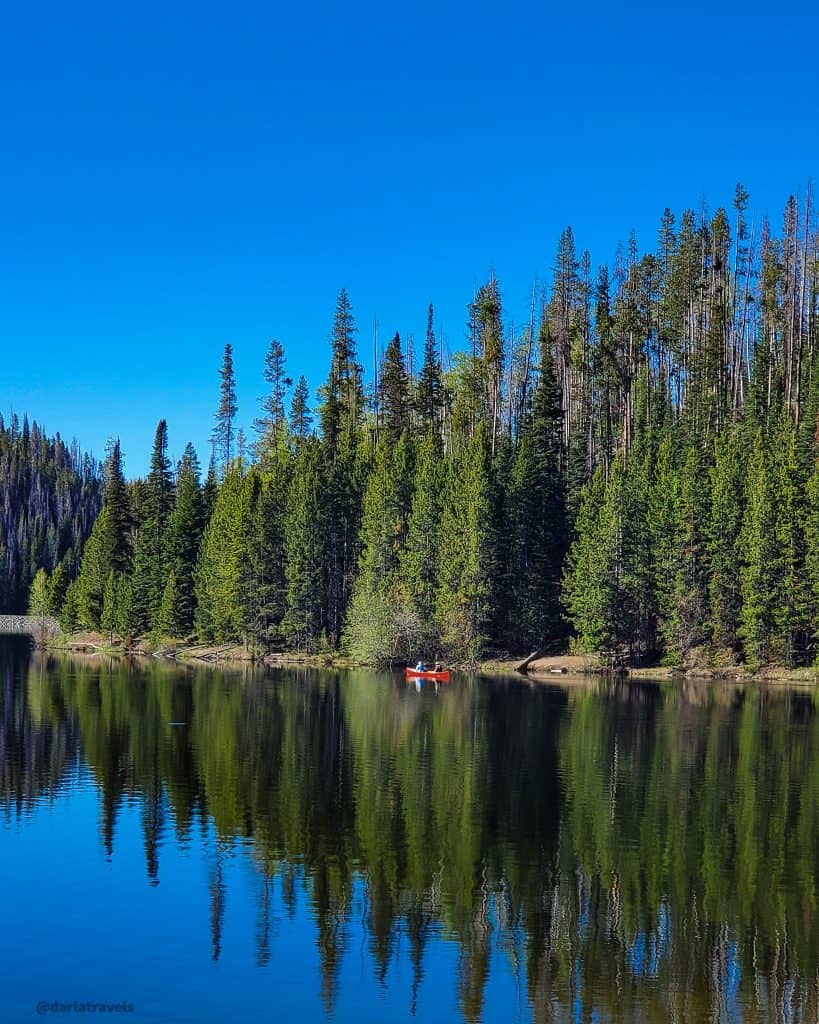 Accommodations
Pearl Lake State Park has a single campground with 35 basic camping sites. Water sources are available, but there are no electric hookups. The campground is closed in the winter (Oct. 1 to Apr. 30). For online reservations in the summer months, go to the CPW shop.
The Pearl Lake State Park campground also has two yurts that can be reserved, even in the winter! The yurts have lights and heat, but bring linens for the beds and camping cookware.
Camper services, including a dump station, showers, and laundry facilities, are available at nearby Steamboat Lake State Park.
Multiple hotels and vacation rentals are available in nearby Steamboat Springs. Smaller towns closer to the park, including Clark, Glen Eden, and Hahns Peak Village, also offer lodging. See the CPW list of options.
Park Fees
Daily Vehicle Pass: $9
Individual Daily Pass: $4
Annual Affixed Pass (one vehicle): $83
Additional affixed pass $40
Family Annual Pass (multiple vehicles): $123
Aspen Leaf Annual Pass (64+) (one vehicle) : $73
Aspen Leaf Multiple Pass (64+) (multiple vehicles): $36
Be aware that there is a park entrance fee (Individual Daily Pass, $4) if entering Pearl Lake State Park without a vehicle unless you can show a receipt from a yearly vehicle pass.
Getting There
Pearl Lake State Park is a 30-40 minute drive from downtown Steamboat Springs, Colorado. From the west end of Steamboat Springs, travel north on Co. Rd. 129 for about 22.5 miles (36 km). The entrance to Pearl Lake State Park is via a dirt road (Co. Rd. 209) on the right.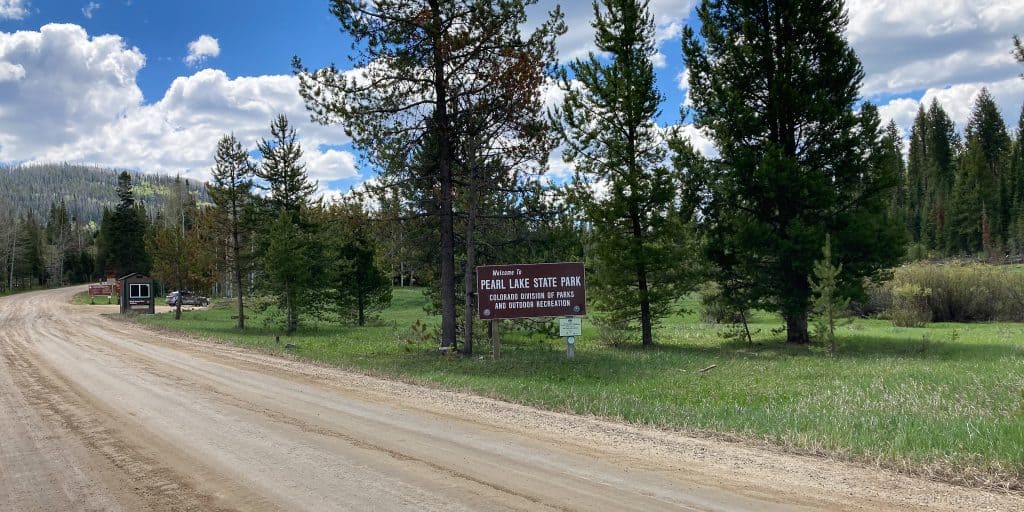 Steamboat Springs is approximately 160 miles (257 km) from Denver. Therefore, allow at least 3-3.5 hours to get to Pearl Lake if coming from Denver. Note that getting to this mountain retreat means driving over the Continental Divide. Additionally, just before reaching Steamboat Springs, the route travels over Rabbit Ears Pass.
The Colorado State Parks Passport
The free Colorado State Parks Passport booklet is a convenient and fun way to register a visit to each of Colorado's 43 state parks. To get a passport stamp for Pearl Lake State Park, it is necessary to go to the Visitor Center at Steamboat Lake State Park.
From the Pearl Lake State Park entrance on Co. Rd. 129, head north for about 2.5 miles (4 km). The Steamboat Lake State Park Visitor Center will be on your left, just past mile marker 25. Of course, also get a stamp for Steamboat Lake State Park while you're there. Steamboat Lake State Park has additional hiking trails.
Pin it for later!
Pearl Lake State Park may be on the small side, but this preserve centered around a serene mountain lake is surrounded by unspoiled National Forest land with additional hiking opportunities.
Have you been to Pearl Lake State Park? Leave a comment below!