** Darla Travels is reader-supported.
When you buy through our links, we may earn a commission at no cost to you. **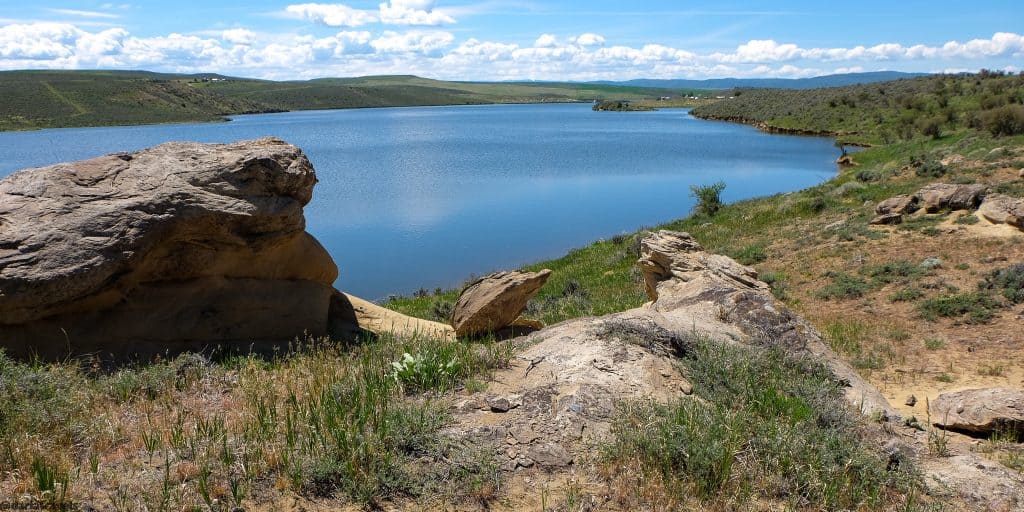 Elkhead Reservoir State Park was not built for hiking. As a result, the 10+ miles (16+ km) of trails in this Colorado recreation area seem an afterthought compared to water-based leisure activities. Nonetheless, the curious hiker will find wildlife, geology, and more in this high desert landscape.
Should you consider hiking in Elkhead Reservoir State Park? Keep reading to learn more.
About Elkhead Reservoir State Park
Elkhead Reservoir State Park is in northwestern Colorado, near the town of Craig. This high desert park extends into both Routt and Moffat Counties.
The significant elk population here gave their name to Elkhead Reservoir and Elkhead Creek, the water source for this 900 surface acre (364 ha) body of water. Indeed, Moffat County's large elk numbers make it the "Elk Hunting Capital of the World."
Elkhead Reservoir was first conceived in the 1960s when the Colorado Division of Wildlife considered damming Elkhead Creek for recreational purposes, mostly fishing. As the plan came together, nearby energy companies became interested in the possibility of using this water source for the steam-powered turbines in Craig's power plants.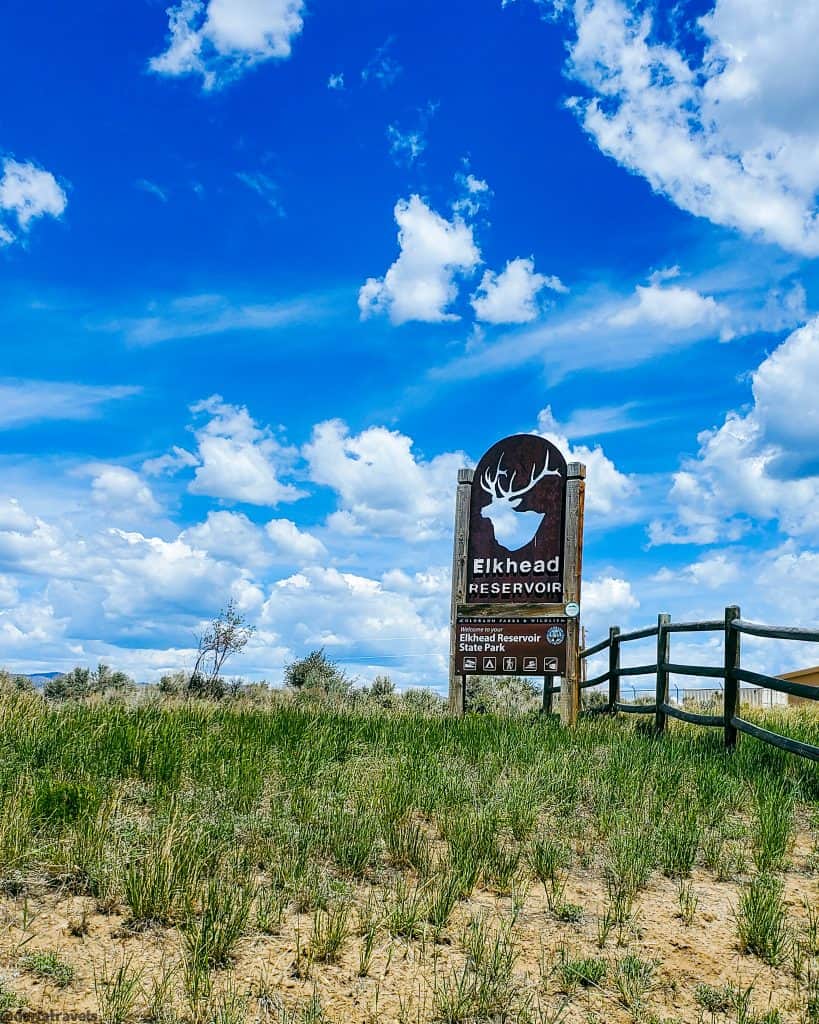 The Elkhead Dam was completed in 1974, and the reservoir opened for recreation in May of 1975. Although Colorado State Parks has long managed this water resource, the lake and accompanying 2,105 acres (852 ha) of land didn't officially become a State Park until 2006. That's also when a reservoir expansion raised the dam's height and doubled the reservoir's water capacity. It's one of Colorado's 43 state parks managed by Colorado Parks and Wildlife (CPW).
In addition to recreation, the reservoir's stored water is also a backup water source for the Yampa River in drought conditions.
Hiking in Elkhead Reservoir State Park
Other relatively close state parks (including Pearl Lake and Steamboat Lake State Parks) are in or near national forests, but Elkhead Reservoir is in a high desert environment. There are no quaking aspens or lodgepole pines here. Indeed, Elkhead Reservoir is almost entirely devoid of trees. The ground cover in the park is primarily short grasses and low shrubs like sagebrush. The vegetation seems sparse even compared to the nearby Yampa River State Park Headquarters, where lush tall grasses were already bright green on an early summer day.
On the other hand, Elkhead had something that I didn't see at the other parks: an abundant American pronghorn population. It was easy to observe these deer-like animals without trees around. They are recognizable by their tan and white coats and horns with curved tips. They are often called antelope, but this designation is not accurate. Antelope are related to cattle, but the pronghorn's nearest relative is the giraffe! Pronghorn are the only remaining species of their family (taxonomically speaking) in North America. They are the fastest animal in the Western hemisphere, running at speeds up to 55 mph (88.5 kph).
Elkhead Reservoir Trail System
The park has about 10.5 miles (16.9 km) of trails, generally following the lake shoreline for hiking, trail running, and mountain biking. The tracks don't go entirely around this body of water, but they cover most of the southern part of the reservoir, except the dam.
I found it challenging to plan a hike in Elkhead Reservoir State Park. While the park brochure roughly indicates trail locations, the official park website doesn't have a current trail map posted. I also found little information in other online sources.
It wasn't any better at the park. A comprehensive trail map was posted at trailheads, but I found no maps to carry with me. In addition, the park has no office or visitor center, so there was no one to ask. The only staff person I saw all day was a boat inspector.
The best online maps include this one on Trailforks and the Colorado Trail Explorer (COTREX) Page. The Trailforks map is reproduced below. Note that some trail names on these maps don't match. Unfortunately, there is little to no cell service in the park, so download a map before arriving.
I couldn't find the trailhead where I wanted to start when I arrived. So instead, I parked at the main lot and located the trailhead for the Sand Rocks trail near the park entrance. This trail followed the water line north.
The Sand Rocks Trail
The Sand Rocks Trail (2.1 miles, 3.4 km) is a "lollipop"- an out-and-back trail with a loop at the end. The end loop part of the trail overlooks Greenwood Cove, which has its own parking lot. Threading between the reservoir shoreline and the Pronghorn Campground, the start was not too promising. But past the campground was more varied terrain. The trail dipped around small coves before climbing to an elevation with a better vantage point.
A group of pronghorn grazed in the distance. The four-mile-long (6.4 km) reservoir followed the bends of Elkhead Creek and stretched out to the point where I couldn't tell where the lake became a creek again.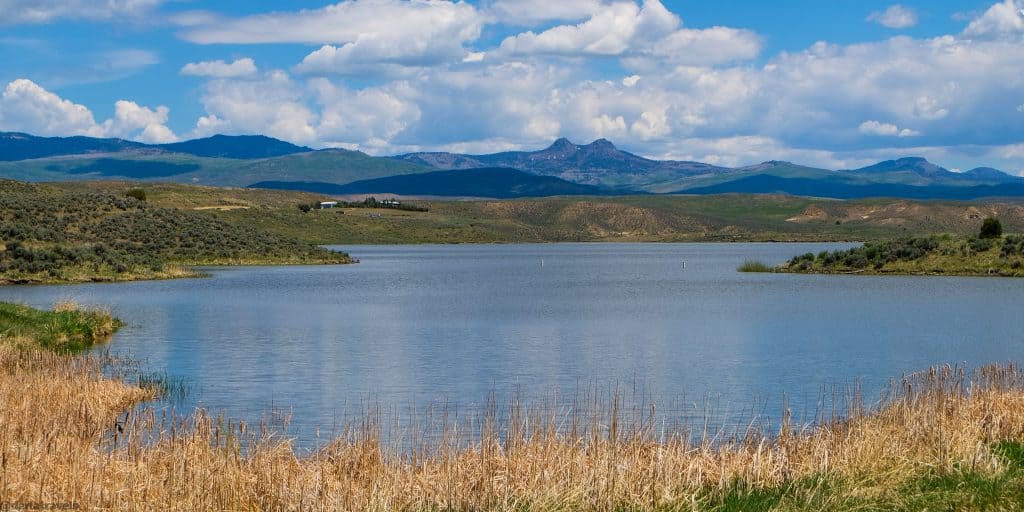 This route also provided terrific views of Bears Ears, a distinctive mountain in the Elkhead Range. It is so named due to the appearance of its double peak. The peaks or "ears" top out at about 10,500 feet, with the northwest being slightly taller.
I understood the trail name when exposed rock appeared along the path. Darker rock layers topped yellowish sandstone formations that seemed to be weathered and smoothed by environmental influences.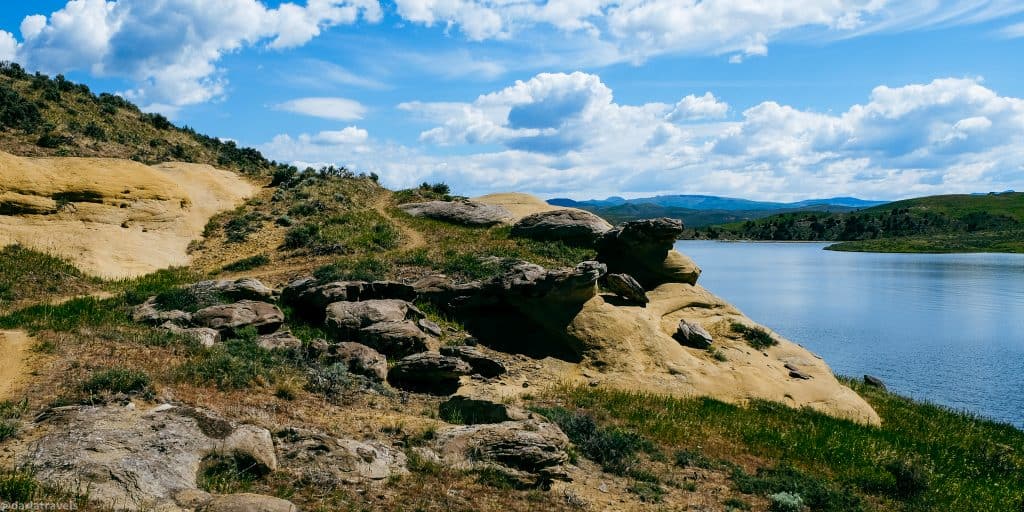 Other Park Trails
The Dam Overlook trail heads south from the same parking lot as the Sand Rocks trailhead. It terminates after about half a mile (0.8 km) at a fishing area ahead of the Elkhead Dam.
There is no trail across the Elkhead Dam, only the dirt road that partially circles the lake.
Crossing past the dam, a series of trails on the southeastern side of the lake form a more or less continuous path for about 7.1 miles (11.4 km). Among these trails are a few connectors and alternate routes that include short loops with the main route.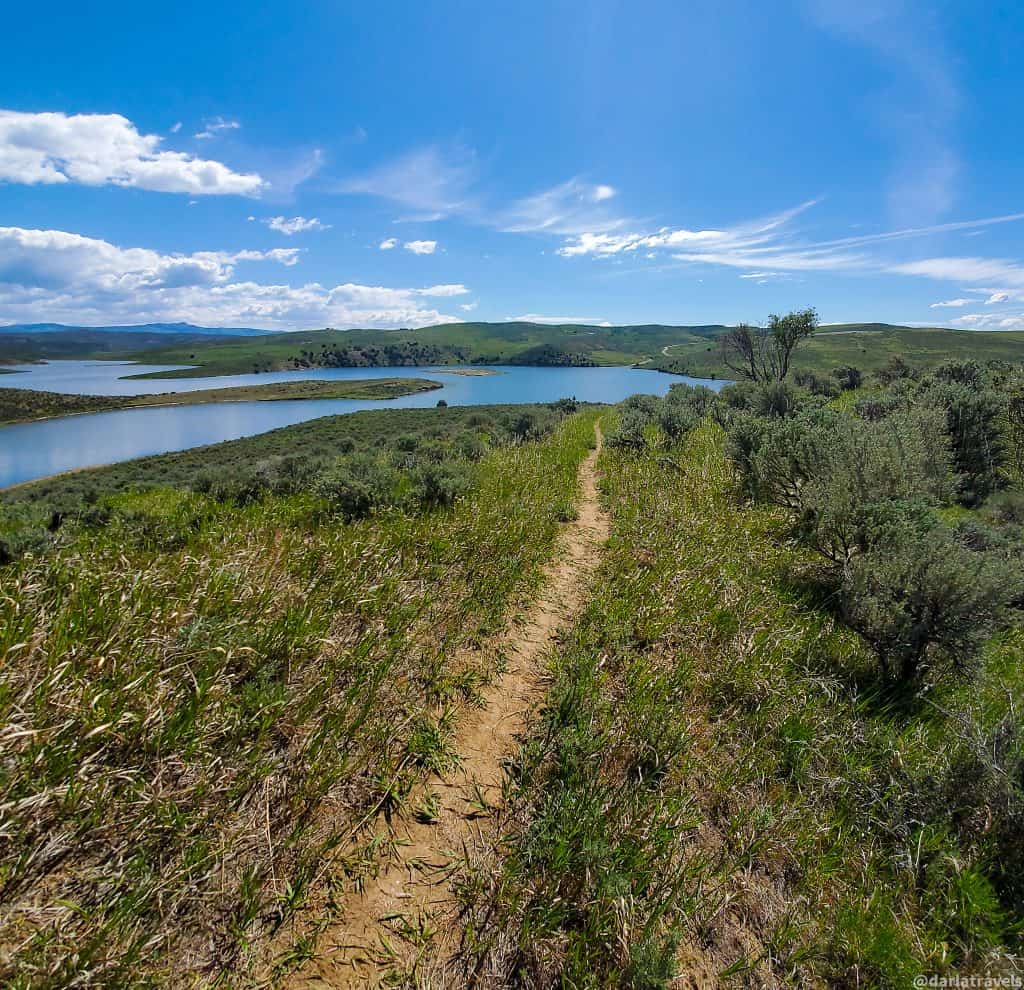 The first path in this series is the Bears Ears. Unfortunately, I didn't see the trailhead, but it's shown on the map below. (If you find it, take a photo and send me a message!). Bears Ears has an upper and lower branch. The Wetland Connector forms a loop with Bears Ears and offers an alternate route closer to the water.
The Bears Ears Trail ends at the East Beach trailhead. But the trail continues past here, now named the Osprey Trail. The Osprey trail also has two branches that merge shortly before reaching the North Access trailhead. On the other side of this trailhead, the track is now named Mountain View. Two connector trails branch from Mountain View and form short loops. Finally, this trail terminates at a high point overlooking the lake.
Maps of Elkhead Reservoir State Park Trails
This TrailForks map shows the Elkhead Reservoir trails.
Elkhead Reservoir
on
Trailforks.com
Click here to go to the Trailforks web page for this map.
More to do in Elkhead Reservoir State Park
Fishing is a favorite activity within the park. Other recreational water activities include boating (May-September), jet-skiing, water-skiing, and paddleboarding. Swimming is best done at one of the two swim beaches in the park, but be aware that no lifeguards are present.
On land, patient birdwatchers may spy eagles, hawks, shorebirds, and wading birds in this park (no luck for me).
The trails are also suitable for mountain biking, and in the winter, snow-shoeing.
Part of the park is open for hunting after Labor Day. Check with park officials for details.
Dogs are welcome in the park, just not in the water. They must be on a leash, and owners must clean up after them.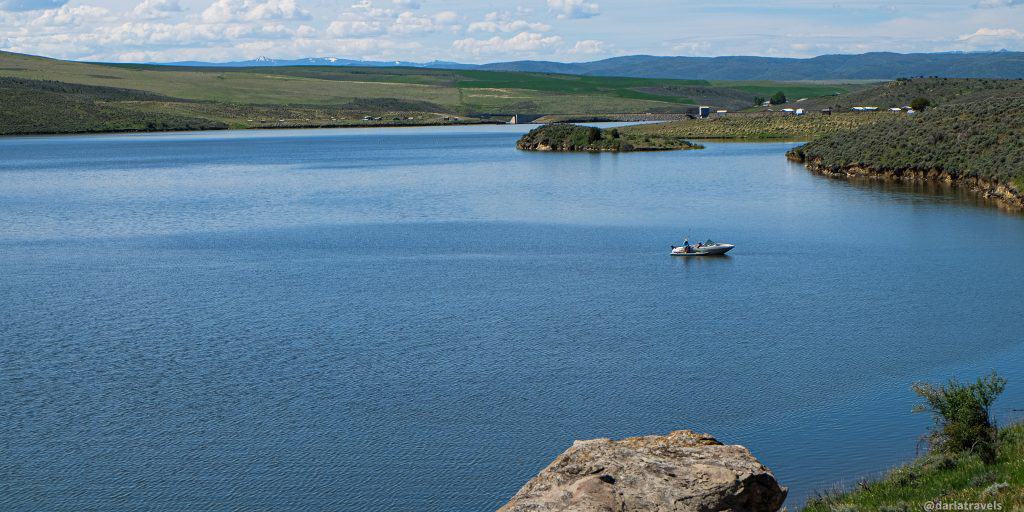 Precautions at Elkhead Reservoir
Elkhead reservoir has only minimal amenities for park-goers: a place to park, restrooms, and shaded picnic areas. With no visitor center and few staff around, there won't be a lot of help in an emergency.
There is no place to get water in the park, so plan on bringing your own in adequate amounts. In this unshaded environment, the Colorado sun can heat things up quickly. Even on an early summer day, I was feeling it before noon. The lack of shade also means that sun protection is a must.
Food and Drink
The park has no food and lacks potable water, but it does have picnic tables. Bring a jug of water and your own picnic supplies from Steamboat Springs or Craig.
Or Stop into Craig before or after your visit to try one of the many restaurants in town. Of course, you'll find some nationwide chains, but there are plenty of locally-owned eateries. For example, try BBQ at The Seasoned Brisket or Italian fare at Carelli's Pizza and Pasta.
Camping and Accommodations
Elkhead Reservoir State Park has two campgrounds. At the north end of the dam, Bears Ears Campground has 16 campsites with no water, sewer, or electric hookups. On the east side, the newer Pronghorn Campground has electric hookups but no water or sewer. Campers can access water and a dump station at the Yampa River State Park headquarters on Highway 40. Reservations are required for camping in Colorado State Parks and can be made online.
From Craig to Steamboat Springs, traditional lodging in hotels, resorts, and vacation rentals abound. In addition, both cities have a mix of chain and independent hotels.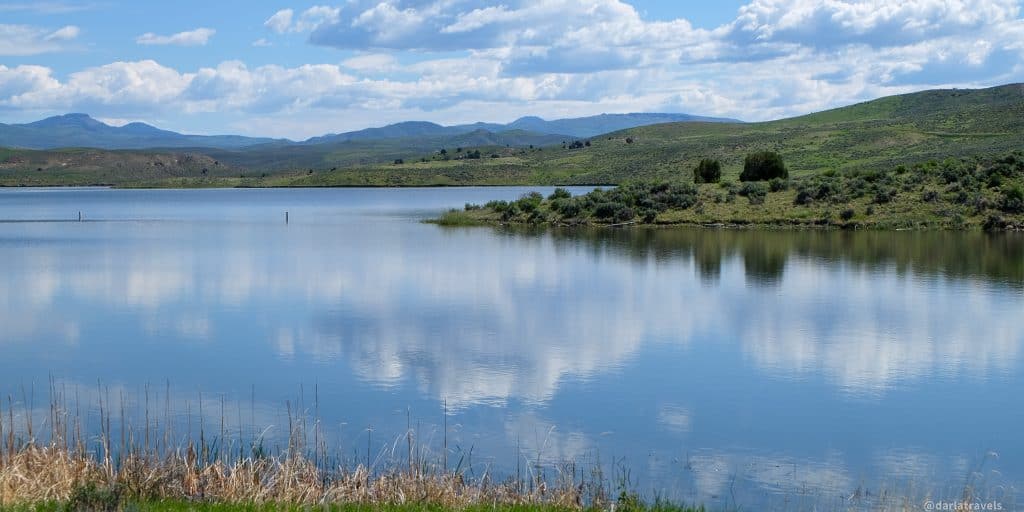 Park Fees
Daily Vehicle Pass: $9
Individual Daily Pass: $4
Annual Affixed Pass (one vehicle): $83
Additional affixed pass $40
Family Annual Pass (multiple vehicles): $123
Aspen Leaf Annual Pass (64+) (one vehicle) : $73
Aspen Leaf Multiple Pass (64+) (multiple vehicles): $36
Elkhead Reservoir State Park is one of the state parks that requires an entrance fee (Individual Daily Pass, $4) if entering on foot (or bike)–unless you can show a receipt from a yearly vehicle pass.
Getting There
Elkhead Reservoir State Park is about a 45-minute drive from downtown Steamboat Springs, Colorado. Steamboat Springs is about a 3-3.5 hour drive of 160 miles (257 km) from Denver and through the Rocky Mountains. The official address is 135 County Road 28, Craig, CO, 81625.
To get to the park from Steamboat Springs, head east on Highway 40. The Yampa River State Park Headquarters, about 3 miles (4.8 km) from Hayden, Colorado, is a recommended stop. Elkhead Reservoir has no visitor center, and the staff at Yampa River can help out with information. Past the Yampa River HQ, continue on Highway 40 for another 13-14 miles (21-22.5 km) and turn right on Co. Rd. 29. The park entrance will be on the right after about 3 miles (4.8 km).
If arriving from Craig, travel about 7 miles (11.3 km) east on Highway 40 before turning right on Co. Rd. 29.
The Colorado State Parks Passport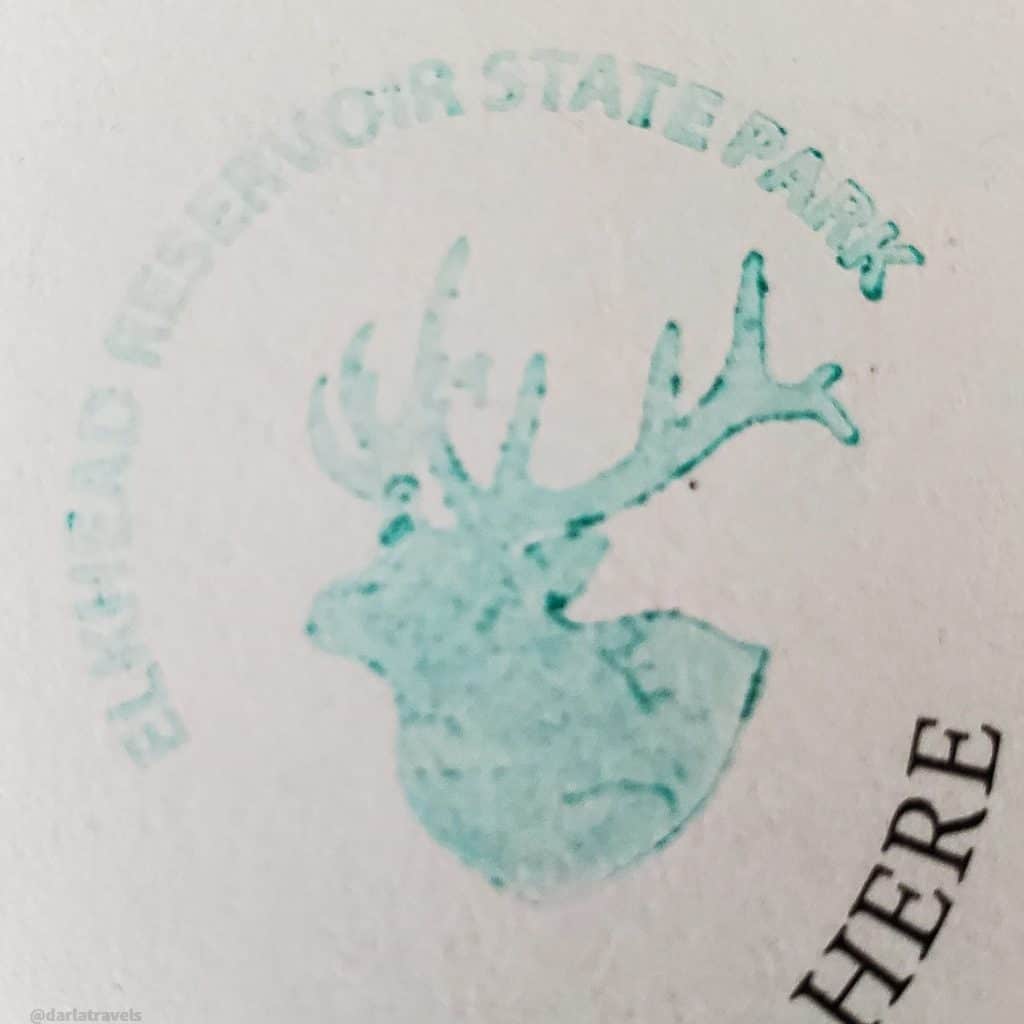 The free Colorado State Parks Passport program lets park visitors collect a different stamp at each State Park. Remember, Elkhead Reservoir does not have a staffed visitor center. Therefore, visitors to Elkhead Reservoir State Park must go to the Yampa River State Park headquarters to get the stamp. Yampa River State Park is east on Highway 40 (away from Craig and toward Hayden and Steamboat Springs), about 20 minutes away by car.
Each park has a unique stamp design. For example, the stamp for Elkhead Reservoir State Park features an elk head silhouette.
Pin it for later
Hiking might not be the primary activity in mind at Elkhead Reservoir State Park. Yet, this high desert park offers landscape and wildlife observation to reward the interested hiker.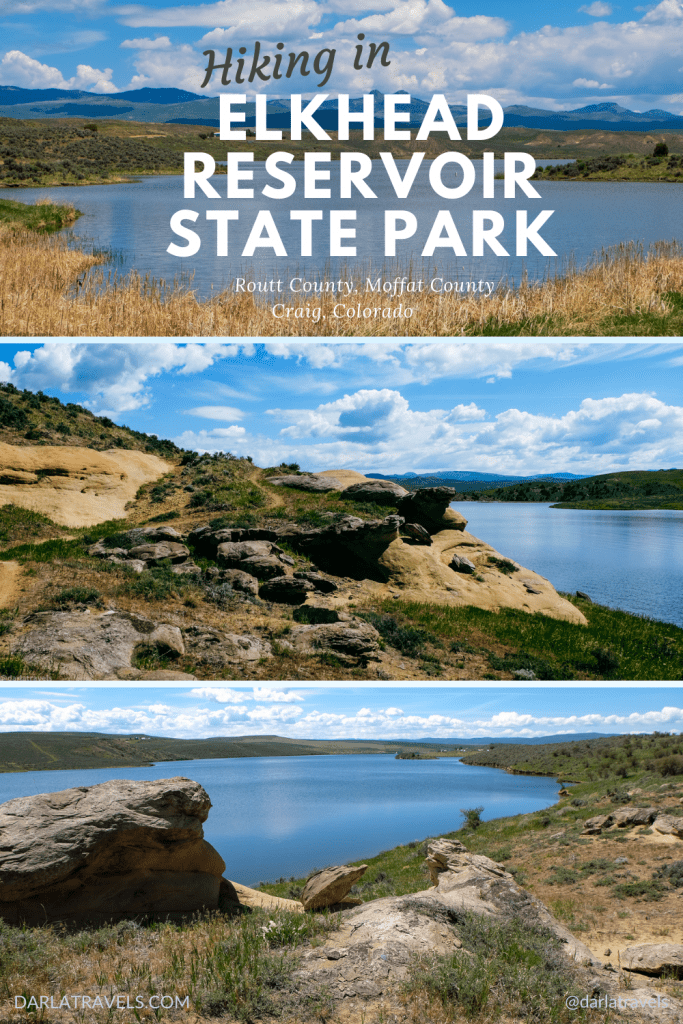 Have you been to Elkhead Reservoir State Park? Leave a comment below!